After 16 rounds of Phyrexia: All Will Be One Draft and Pioneer on Friday and Saturday, Reid Duke found himself down 0-2 to reigning World Champion Nathan Steuer in the quarterfinals first thing Sunday morning.
Steuer, playing Lotus Field Combo, assembled his combo a turn earlier than Duke could assemble his Izzet Creativity combo in Game 1 to jump out to an early lead. Steuer then mulliganed to five cards in Game 2, but drew perfectly to combo Duke out once again.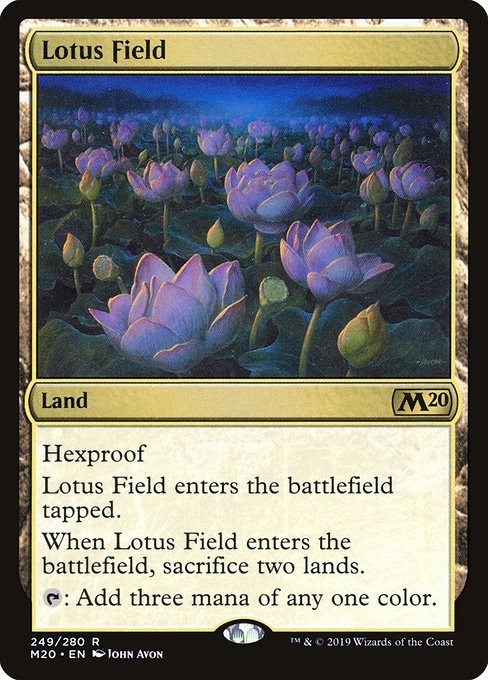 "It was pretty much the maximally discouraging start to the match," Duke said. "First of all, losing both games, but also both games I felt like I had pretty good positions at points and things slipped away from me. It was tough, back against the wall, but I knew that I had some good weapons after sideboarding and I was pretty comfortable with what I needed to do to win. So I did my best to keep it together and execute."
And execute he did. Duke boarded out the combo of Xenagos, God of Revels and Worldspine Wurm—which, when combined with Indomitable Creativity allows Izzet Creativity to attack for 30 out of nowhere—and leaned into the deck's control element and Hullbreaker Horror to take Game 3.
But then Duke reversed course for Game 4 and boarded the combo back in. Steuer clearly didn't expect to see the combo again after sideboarding—and neither did the coverage crew—so there were plenty of surprised faces when Duke cast Indomitable Creativity and immediately flipped a Worldspine Wurm, then Xenagos, to win Game 4.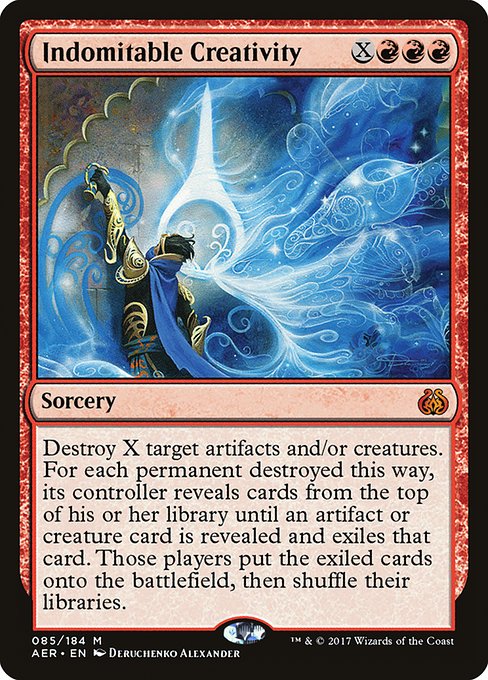 It wasn't clear if Duke would keep the combo in for the decisive Game 5. Steuer landed an uncounterable (and un-answerable) Dragonlord Dromoka and seemed to be in great position to advance to the semifinals…until Duke once again cast Indomitable Creativity to find the combo and win out of nowhere.
Asked about his sideboarding strategy after the game, Duke said: "I think Creativity vs. Lotus Field is a really intricate matchup where it matters more how the cards are played and less what the cards are. Which is kind of a long way of saying that I just didn't want Nathan to know what I was doing and make it tough on him and keep him guessing."
The rest of the Top 8 was less eventful for Duke, as he breezed past Derrick Davis on Enigmatic Fires in the semis to face Benton Madsen on Selesnya Auras in the finals. Unfortunately for Madsen, mulligans his the Auras deck hard and he couldn't outrace the consistent speed of Reid's Izzet Creativity deck, giving Duke a 3-0 win and crowning him Pro Tour Phyrexia Champion.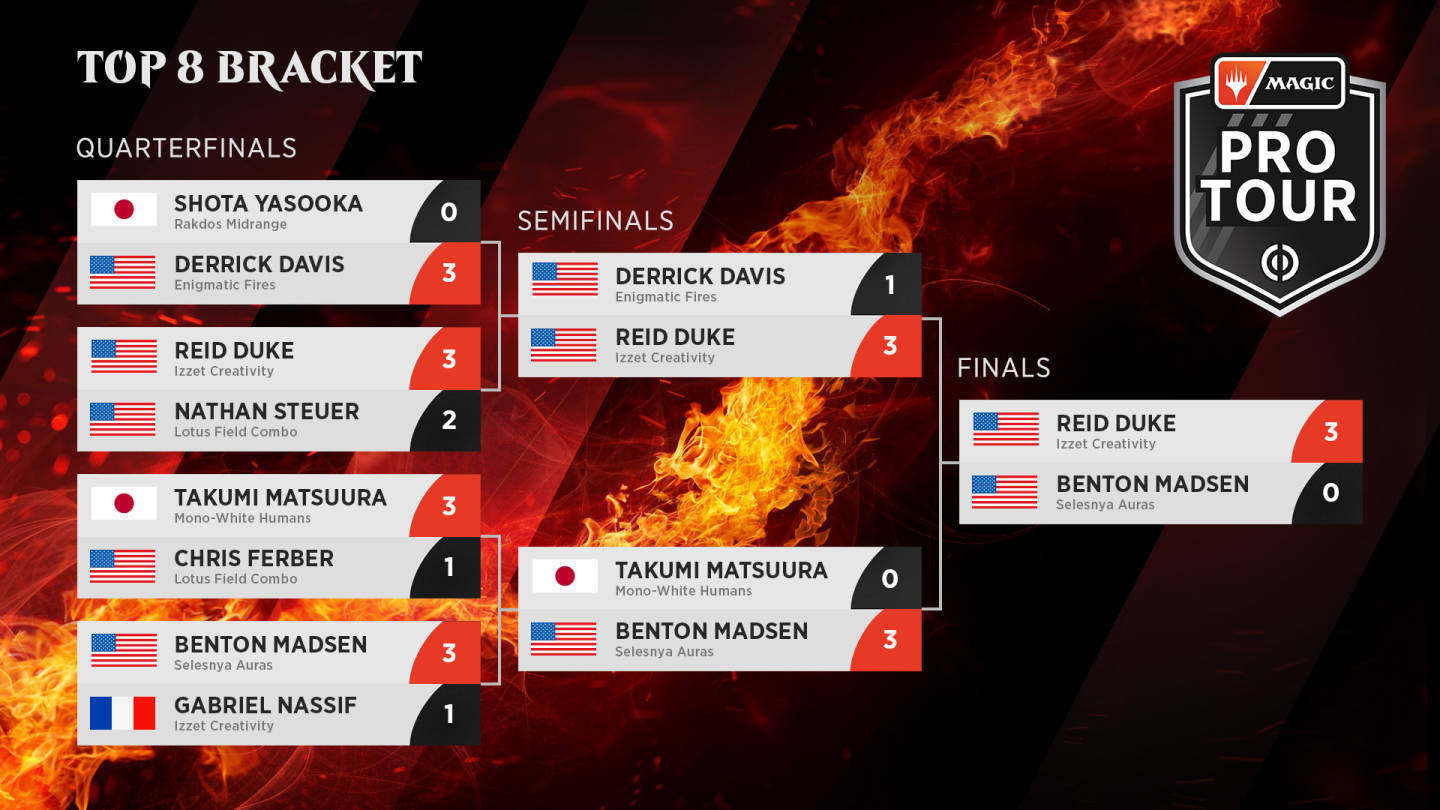 The victory is Duke's second high level victory, but his first on the Pro Tour. Duke broke onto the Magic scene in 2011 when he won the Magic Online Championship Series; since then, he had racked up five more top finishes, including a second place finish at the 2013-14 World Championship and four Pro Tour Top 8s. Today marks his seventh total—and most prominent—top finish.
"There's your dreams and your fairy tales," Duke said after the finals, "and then the reality of what has actually happened and can actually happen—and sometimes those two things don't match up. So I always pictured this moment my whole life playing Magic…but it was never real until now. I'm not even sure it's real yet."
Top 8 Decklists
Reid Duke's Pioneer Izzet Creativity (1st)
Benton Madsen's Pioneer Selesnya Auras (2nd)
Derrick Davis's Pioneer Enigmatic Fires (3rd-4th)
Takumi Matsuura's Pioneer Mono-White Humans (3rd-4th)
Chris Ferber's Pioneer Lotus Field Combo (5th-8th)
Gabriel Nassif's Pioneer Izzet Creativity (5th-8th)
Nathan Steuer's Pioneer Lotus Field Combo (5th-8th)
Shota Yasooka's Pioneer Rakdos Midrange (5th-8th)