On Sunday, June 5, 2022, the original sketches for Displacer Kitten by Campbell White sold for $13,000 and $5,000, respectively on the MTG Art Market on Facebook.
Displacer Kitten by Campbell White is a digital artwork composed of two traditional components, both a concept sketch and a final sketch closely reflective of the final artwork.
These are works of graphite and colored pencil measuring 11 inches by 14 inches, and are the only traditional components to the artwork. The work was commissioned for Magic's summer release, Commander Legends: Battle for Baldur's Gate. It features a young Displacer Beast, a feline magical creature of the Forgotten Realms and classic Dungeons & Dragons monster.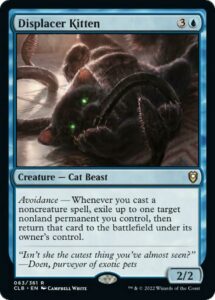 The auction was run on the MTG Art Market on Facebook by Vorthos Mike acting as agent for the artist. The works opened at $200 and $100 respectively, and the auction proceeded as normal with regular bidding through the week.
However, there has been a noteworthy trend in original Magic art, as its collectors are seemingly huge fans of any works including creatures akin to domestic house cats. As the auction neared its close inside of an hour, two private bidders began to bid in $500 and even $1000 increments for the two works! The early sketch would reach $5,000 and be hammered sold, and the final would continue on for several more minutes before being sold to the same collector bidding privately by message for a jaw-dropping $13,000.
These were unexpected prices realized, and nothing short of astounding. We have begun to see White, who is nearing 100 illustrations for Magic, offering his traditional sketches by way of auction, and this sale should only encourage more of the same.
Stay tuned to the Art Market minute on Hipsters of the Coast for more breaking MTG Art Market news.