During the week of November 1st, 2021, two traditional "afterpaintings" of Sorin the Mirthless, one by Martina Fackova and another by Justyna Gil, were sold on the MTG Art Market. Fackova's painting sold for $11,200 on November 1st, and Gil's for $5,100 on November 4th a few days later.
I've used the term afterpainting to describe these new traditional works painted after or in addition to the digital artwork created and submitted for use on the card. I'll be using this term moving forward to describe artworks of this sort, and to differentiate them from repaints, or traditional renditions completed after a traditional original has been submitted for card publication.
First, Sorin the Mirthless by Martina Fackova is a work of oil on canvas on frame and measures 19.7 inches by 25.6 inches. It is a 1/1 oil afterpaint of her digital card artwork, and comes with a Certificate of Authenticity stating that it will never be repainted. And second, Sorin the Mirthless by Justyna Gil is a work of oil on linen canvas and measures a slightly smaller 15.7 inches by 23.63 inches. It is also a 1/1 oil afterpaint based on her digital artwork used on the card, never to be painted again.
Fackova's Sorin the Mirthless is found in the standard frame and Gil's the Borderless frame, both Planeswalkers for Magic: the Gathering's latest set Innistrad: Crimson Vow.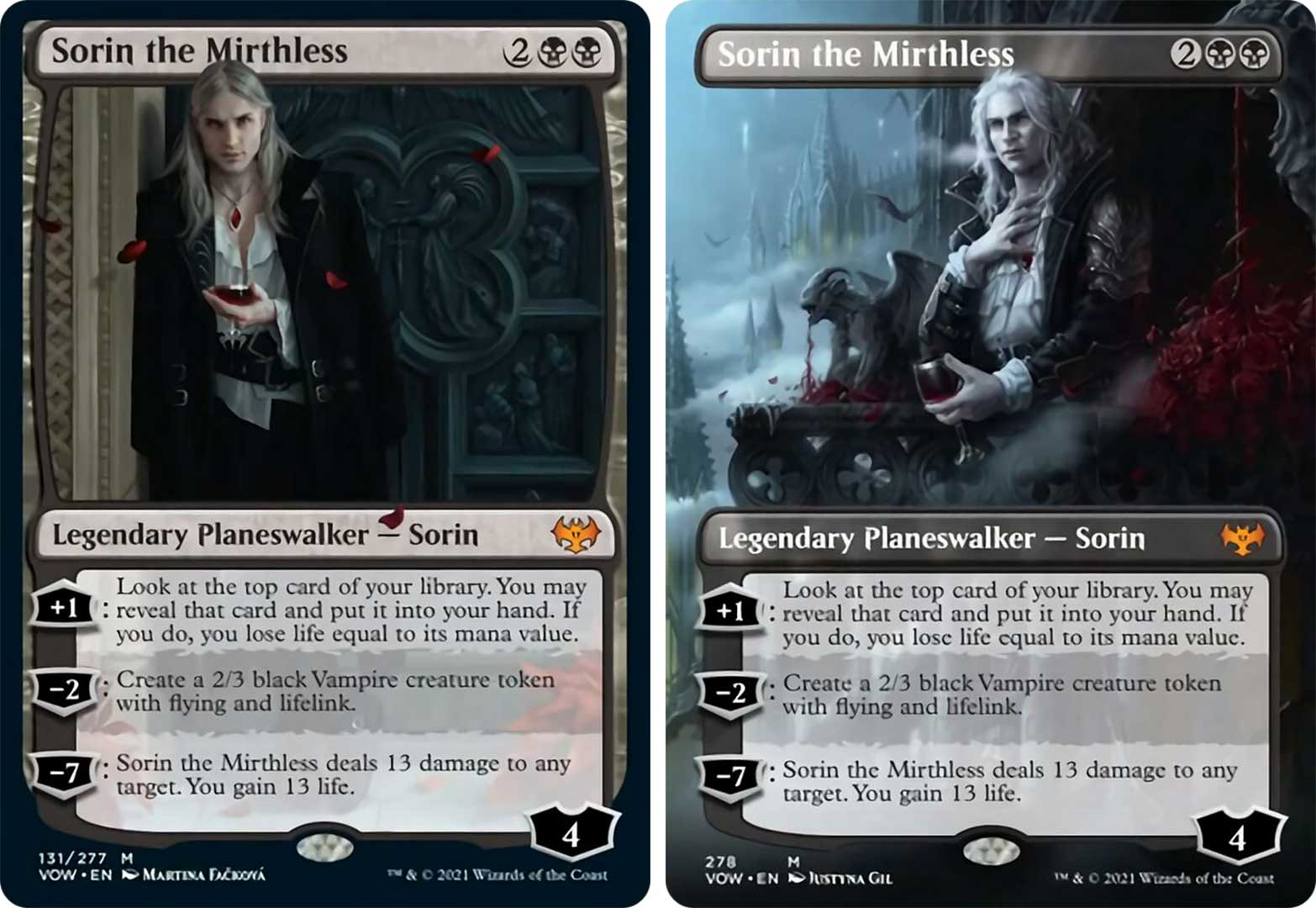 They were sold all but concurrently by two different agents, with Mark Aronowitz handling the auction for Fackova and Gil's partner, fellow Magic artist Piotr Dura, running the auction for Gil.
This slideshow requires JavaScript.
Fackova's Sorin is the only traditional component of her work, and the painting began at $3,500. It would nearly triple its opening bid with the majority of the action in the final hour. It sold to a private bidder for $11,200.
This slideshow requires JavaScript.
Gil's Sorin started at $2,500, and was one piece of what would be a suite of traditional work around this artwork. The painting sold for $5,100, a set of sketches for $1,500 via Buy It Now in a separate sale, and a color study sold in a third offering for $525 also via MTG Art Market auction.
Both of these works, by two rising female artists in the world of Magic: the Gathering, were high notes in the market amongst a bevy of new artworks from Crimson Vow. I think they are but a precursor to what these women will contribute to the game, and I expect to see more traditional work from them both in the future. Stay tuned.