Good morning everyone, and welcome to the second of a four article mini-series (read Volume 1) here in Masterpiece Theater. These articles will take a closer look at the new weekly-release Marvel Unbound set from Upper Deck Entertainment, an ePack exclusive set of cards that can be redeemed for their physical counterparts. It's made up of 52 different base cards and four quarterly achievement battle cards, each featuring new original work by smash-hit artists fred.ian!
fred.ian is an artistic duo made up of French artist and illustrator Fred Roy and his studio assistant Ian. They work traditionally in oils and have been painting comic book characters for the past eight years. You can find their sketch cards in various Upper Deck sets as far back as 2017, and now for the first time they've now been commissioned to bring an exceptionally vivid and hyper-realistic style to a full set of cards for Marvel.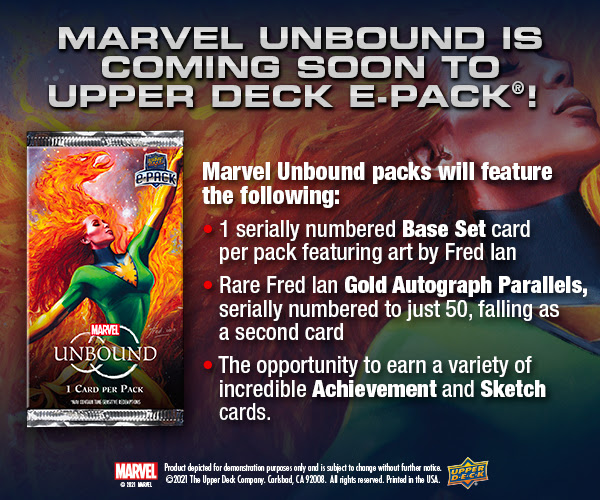 Begun a half a year ago and with another half to go, at 9am PST every Monday one card in the series is released via Upper Deck's online trading platform ePack. Collectors can purchase up to three one-card packs per transaction for as long as they are available (usually less than 15 minutes, and never more than a few hours; only one has lasted until the next day). Each card is limited to 999 numbered copies, along with 50 Gold Autograph Parallel variants- base cards signed by the artists and included as a second card in the pack. Base Set cards can be redeemed for Quarterly Character Achievement Cards, and when all four Achievement cards are earned, they can be redeemed for an exclusive 16" x 20" fred.ian signed lithograph! (And you do get to keep all the cards along the way).
For those collectors die-hard or lucky enough (or both), the first 33 full sets of 52 Gold Autograph cards can be redeemed for an exclusive and highly sought after fred.ian original Sketch Card at the end of the 52 weeks.
I've broken this series into four articles, looking at 13 paintings plus the battle Achievement card for each quarter as the year goes along. We'll look at each piece individually and I'll do my best to highlight what makes each one special. Today we look back at Quarter 2, and cards #14-26.
Quarter 2: Base #14-26 & Character Quarterly Achievement #2
#14 Iron Man
We start super old school, with a vintage Iron Man Mark IV who hails from the late 1960s and early 1970s. The beaming light over his shoulder mimics the arc reactor itself, still glowing in his chest, providing a backlight to make the armor shine. The linking of the background and foreground is something that carries through each of these pieces, and provides the set some parallels of undeniable symbolism.
#15 Jean Grey
This work is the faces of the set, and she graces each digital pack of Marvel Unbound as well as being the lithograph redemption for completing all 52 cards within the set. Jean and the Phoenix are shown as one, a single entity captured in a dance of overwhelming grace and power, of fire and flame. This is one of the works this set will be remembered by, and will love on as a quintessential depiction of the character.
#16 Kraven
The legendary hunter is shown coming down the catwalk, with piercing eyes that carry through the work and match the gaze of his lion vest eye for eye. There are a lot of textures at work here: fur, leather, steel and skin, and the artist's have done a brilliant job in making each perfectly legible within the minimalist palette.
#17 Loki
What an expression! The God of Mischief is shown with such a mischievous grin, his classic costume, and extra large horns on his helm to create all the trouble you can imagine. The Nordic knotwork border and celestial background is a nod to Asgard, and makes for a flavorful painting package of this ever-popular character.
#18 Luke Cage
Luke Cage, the Power Man, is seen blasting through the background, with chunks of wall launched in all directions. He is strong, confident and ready for action judging by the look upon his face, with all the muscle to back up that exuding swagger.
#19 Medusa
Medusa is most known for her hair, and fred.ian hasn't let us down in making that the focal point of this character's card. The moonlight provides an incredible backlight and source for highlighting her flowing locks, and they swirl about her as if they have a mind of their own.
#20 Ms. Marvel
Kamala Khan, a polymorph, can stretch and contort her body into any shape necessary, including that larger than life fist she's often seen sporting as shown here. We see her mid-flight, a scene yet to be explored thus far in the set, but the perfect setting for this life-saving superhero.
#21 Mysterio
For my regular readers you know Mysterio is one of my favorite Marvel characters, and I'll draw your eye again to the background that Fred and Ian have created. Mysterio is a master of special effects and stunts, so it's only fitting that he's shown against the smoke and mirrors that have made him who he is today.
#22 Namor
Namor is Marvel's first mutant, dating back to the first days of the comic book company and living on through today. He's shown as if underwater, and we're looking through aquarium glass, with light reflecting the blues across his skin. The marbleized water parts behind him, and his gaze begs the constant question of whether he is friend or foe.
#23 Nico Minoru
A character I am just learning more about, Nico Minoru is one of the Runaways, and goes on to become their leader. She wields the Staff of One, which is seen here crackling with incredible dark energy atop a rain-soaked city street. We do see more Runaways (as you'll see in the Q3 article, the cards of which have already begun releasing) and it seems this cast of characters may soon be more important to the Marvel Universe.
#24 Scarlet Witch
Wanda Maximoff has become one of this year's most popular Marvel superheroes, and she's seen here all in scarlet vintage, but still wearing the headpiece that is undeniably of the Scarlet Witch. The spells she casts transfix us as the viewer as the oil paint dances across the canvas; don't look too long, or you may never be able to look away!
#25 Squirrel Girl
I bet when Fred and Ian first found out about this set, they didn't think they'd be illustrating an actual squirrel as a part of the 52 cards! Nevertheless, the Unbeatable Squirrel Girl comes as a part of the second quarter cards, and she's brought one of her squirrels along with her as she scampers across the screen. We're not sure if that squirrel is Monkey Joe or Tippy-Toe, but in either case their the perfect compliment to this card illustration.
#26 Mystique
The final card of the second quarter is perhaps the strongest work in this group, and perhaps the entire set. This painting captures every facet of Mystique: the costume, the gun, the gaze, her best known form of blue skin and red hair, and let's not overlook another absolutely stunning background. The gunsmoke transforms into skulls before our very eyes, and we've got a portrait that is half art-nouveau and half Bond girl. She's a perfect way to end this second group of work.
Achievement Card #2: Hulk vs. Wolverine
At the end of every quarter, a collector can redeem one of each of the thirteen weekly cards for an Achievement card showcasing a signature superhero battle.
This group's quarterly Achievement card hearkens back to the Incredible Hulk #181, when Wolverine first exploded onto the scene and changed Marvel comic history forever. Unfortunately the card layout obscures this momentous fight, but both Wolverine and Hulk are captured in full figure and vigor, set against a Canadian background of driving snow and frosty trees.
BONUS: Marvel Unbound Artist Proofs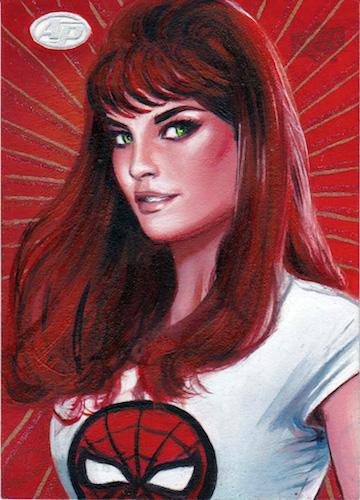 This time period also saw the release of fred.ian's Marvel Unbound Artist Proofs, blank sketch cards (not unlike the forthcoming redemptions) that the artist can make available for sale on their own behalf. The artists do not take commissions for APs but rather paint a character they like, and they're offered for straight sale through their agent at Kirby's Comic Art. The Unbound set offered three APs to the general public, each a beautiful depiction of a leading lady of Marvel.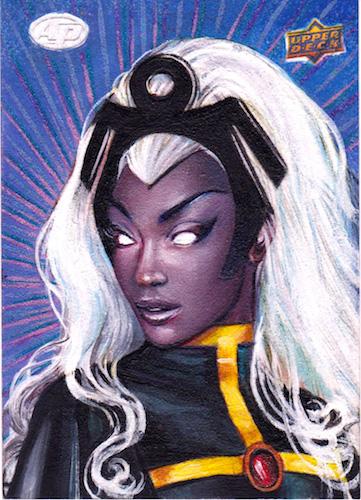 They sold instantaneously upon reveal.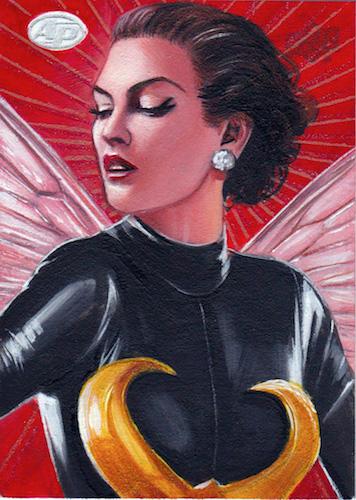 I was fortunate enough to be able to add Wasp to my personal collection, and I am over the moon to own a fred.ian original. It's still across the pond at the moment (more on that in a future article), but I'm looking forward to being able to see the magnificent miniature in person very soon.
Wrapping Up
This group marks the halfway point of fred.ian's Marvel Unbound set, and we still have 26 (plus 2) more pieces of art to admire over the coming weeks and months. Their hyper realistic style still stands alone in the wide world of trading card illustration: it's no easy feat to render ubiquitous characters in complete uniqueness, and yet that's what we see every Monday morning within this Marvel Unbound set.
I'll be back in another 13 weeks for Unbound #3, but stay tuned to Masterpiece Theater here on Hipsters of the Coast for more Marvel original artwork from Upper Deck Entertainment trading card and sketch card sets!
Donny Caltrider has been playing Magic since 2002 and collecting original Magic art since 2017. He has an M.A. in Museum Studies from Johns Hopkins University and enjoys telling stories about art, objects, and the intersection of fantasy with real-life. You can find him on Twitter talking about #mtgart, museums, and other #vorthos related goodness. Follow along and continue the conversation!