Magic: the Gathering artist Johannes Voss and Josh Krause of Original Magic Art have launched the Johannes Voss Playmat Collection Kickstarter, making Voss' artwork available on playmats for the very first time. Voss has illustrated more than 125 cards for Magic since 2010, and this project will bring some of his recent and most popular images to life on your gaming table.
The Playmats
Six different Kickstarter exclusive playmats were available at the campaign outset, featuring some of Voss's most recent smash-hit artworks, from the incredible aurora borealis of Kaldheim to the best dogs lying in a field from last year's Jumpstart:
This slideshow requires JavaScript.
In place of a signature, each mat will have an exclusive stamp designed by Voss that will be used for this campaign only, and will be destroyed at the end of the 30-day run to ensure these mats' exclusivity.
Rewards & Stretch Goals
Each mat from this campaign can be reserved for $40 per playmat, with incremental discounts in place for purchasing multiple mats.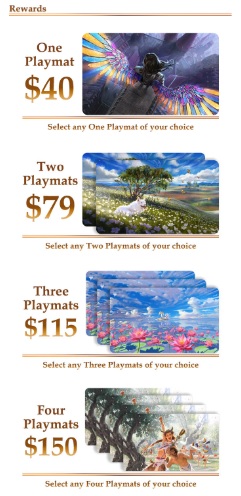 Stretch Goals at $15,000 and $20,000 are already in place to fire off a backer vote to unlock new artwork, and the higher the campaign goes, the more new artwork that can be unlocked!
The campaign is live now, and you can become a backer here. Remember, you only have 30 days to back the project, and the earlier you get in, the more input you can have into which other designs will be unlocked.
This is the first and perhaps only opportunity to collect this artist's work in playmat form—don't miss out!
This article contains affiliate links.