Cover image: Liu Bei, Lord of Shu by Zhao Dafu
Read our other entries: Introduction; The Yellow Scarves Rebellion; Dong Zhuo Takes Control; The Dying Embers of Rebellion; The Rise of Cao Cao; Cao Cao Conquers the North; The Battle of Red Cliffs
In the wake of the Battle of Red Cliffs, Liu Bei establishes the Kingdom of Shu-Han in the West. The Three Kingdoms settle into a long-standing stalemate, with victories on one field undone by losses on another.

Liu Bei captures Jingzhou (208CE)
Following the battle of Red Cliffs, both Liu Bei and Sun Quan coveted the province of Jingzhou. Once under the governance of Liu Biao, it was now controlled by Cao Cao's forces. Liu Bei and Kongming met with Zhou Yu some distance from the city of Nanjun, which was guarded by Cao Ren, Wei Commander.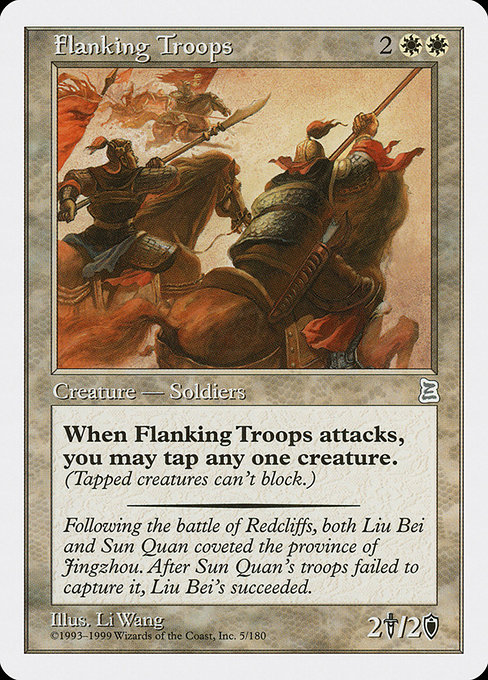 Not wanting a head-on fight, Liu Bei encouraged Zhou Yu to attempt to seize the city. With Zhou Yu occupied on the battlefield, Kongming used deception to allow Zhao Zilong, Zhang Fei, and Guan Yu to capture the cities of Nanjun, Jingzhou, and Xiangyang respectively. Despite being furious at Kongming's trickery, Zhou Yu was wounded by a Poison Arrow during his battle with Cao Ren, and was forced to withdraw to recuperate.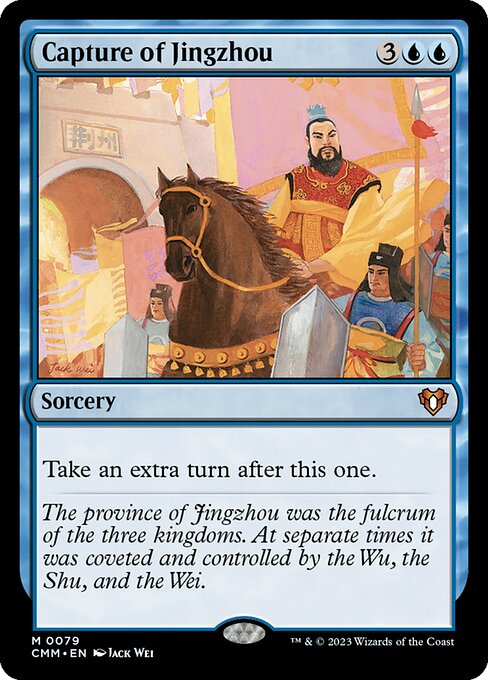 Incensed at Kongming's trickery, Zhou Yu sent Lu Su, who was well respected by Liu Bei and Kongming, to protest and negotiate. Wanting to maintain good relations with Wu but with nowhere else to settle, Liu Bei agreed to cede the cities to Sun Quan in the future, when Liu Biao's son, Liu Qi, passed away. Liu Qi was young, but ill.
Satisfied for the time, and fearing an attack by Cao Cao on their northern front, the armies of Wu returned to Sun Quan. This withdrawal gave Liu Bei the time needed to set about pacifying the rest of the province, solidifying his control over the region.
Sun Quan's Plans Fail (208-210 CE)
Hoping to capitalize on momentum from his victory at Red Cliffs, Sun Quan led troops north to Hefei. Even with reinforcements returning from their failed attempt to take Nanjun, Sun Quan could not take Hefei. Taishi Ci was killed, and Sun Quan was forced to retreat.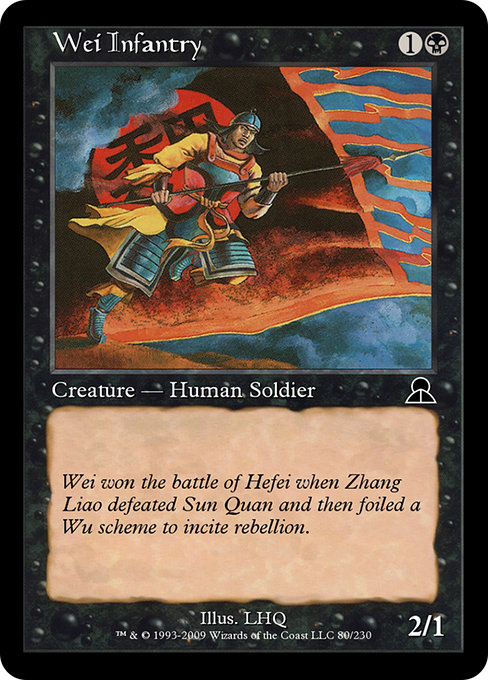 Soon after, Liu Qi succumbed to his illness and died. Lu Su was sent to remind Liu Bei of his promise. Kongming and Liu Bei were able to convince Lu Su that new terms were fair: Liu Bei's forces would withdraw when he had conquered the Riverlands and established a new base of operations.
Sun Quan was enraged by this, and he and Zhou Yu immediately plotted to lure Liu Bei into a trap. Liu Bei's wife, Lady Gan, had recently passed, leaving him a widower. Feigning the desire for an alliance, Sun Quan offered Liu Bei the hand of his younger sister, Sun Ren (sometimes called Sun Shangxiang) as a means of luring him to East Wu, where they plotted to kill him. Seeing through this, Kongming, Liu Bei, and Zhao Zilong foiled the plot by making the wedding as public an affair as possible, and winning the favor of Sun Ren's mother, Lady Wu.
Infuriated by this, and subsequent failures to outwit Kongming, Zhou Yu succumbed to the wound from stress and the Poison Arrow. He died at just 36 years old, crying to heaven, "After making me, Zhou Yu, did you have to make Kongming?!"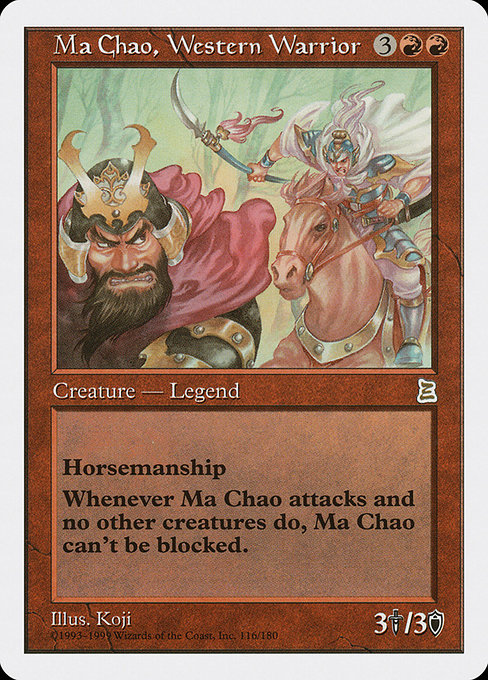 Ma Chao faces Cao Cao (211 CE)
Meanwhile, near the city of Chang'an, where Dong Zhuo had his capital, Cao Cao was at work, attempting to quell resistance in the west. Among those resisting was Ma Chao, Western Warrior. Cao Cao had killed Ma Chao's father, and together with his uncle, Ma Chao easily defeated Cao Cao's generals and conquered Chang'an, taking his revenge.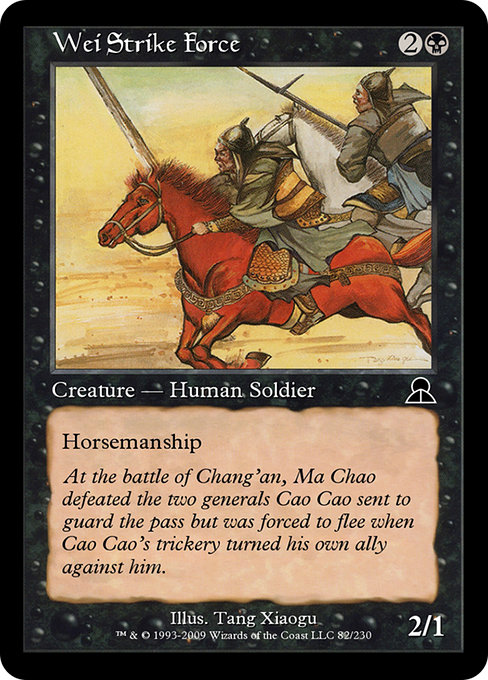 It was not to last, however. A forged letter from Cao Cao planted doubt in Ma Chao's head about whether his uncle was secretly working for Cao Cao, and distrust crippled their alliance, and Ma Chao's forces were defeated. The Western Warrior fled south with his allies Ma Dai and Pang De, where they would eventually enter Liu Bei's service.
Lady Sun returns to Wu (212 CE)
In the wake of Zhou Yu's death, Pang Tong, Young Phoenix had found his way to the service of Liu Bei, and advised him to conquer Shu, also called the Riverlands (modern-day Sichuan). News soon came to Sun Quan of Liu Bei's campaign. With the army marching west, the Lord of Wu began to plot how to seize Jingzhou.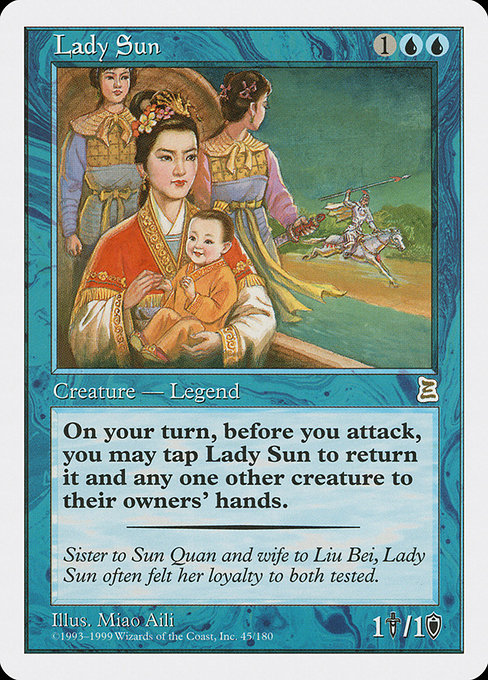 Not wanting to harm his sister, Lady Sun (Sun Ren), he thought to employ a ruse: he sent a messenger bringing false news of their mother's severe illness. He would then hold Liu Bei's son, A Dou (Liu Shan), for ransom, returning him in exchange for Jingzhou. The messenger succeeded in deceiving Lady Sun, and she agreed to return to Wu with A Dou.
Sensing something was amiss, Zhao Yun chased after them, and with the help of Zhang Fei and Kongming, recovered A Dou. Sun Quan's plan to conquer Jingzhou without a fight had failed, but he had succeeded in moving his sister out of harm's way and robbing Liu Bei of his wife.
Liu Bei conquers the Riverlands (213-215 CE)
The Riverlands was ruled by Liu Zhang, a distant cousin of Liu Bei. Though Liu Bei was loath to take the province from a kinsman, suspicion and ill-intent among their advisors turned the Lius against one another. In the wake of an unauthorized assassination attempt by some of Liu Zhang's men, Liu Bei decided to take the land by force. Here, the veteran general Huang Zhong and the younger Wei Yan distinguished themselves in battle.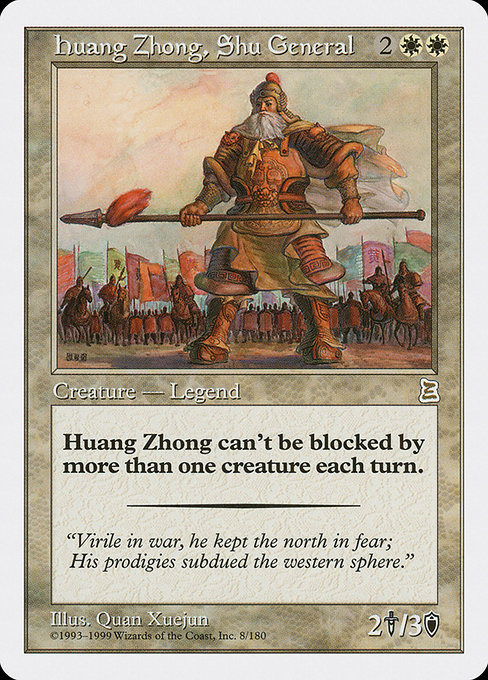 Taking Liu Bei's Dilu horse because his own had become startled, Pang Tong continued their army's advance. However, as he rode through a pass on the ominously named "Hill of the Fallen Phoenix," he was mistaken for Liu Bei and was peppered with arrows in an ambush by one of Liu Zhang's generals named Zhang Ren. With Pang Tong and his contingent of men killed, and his other commanders occupied with other battles, Liu Bei found himself without the soldiers necessary to advance. Needing reinforcements fast, he sent a fleet messenger back to Jingzhou.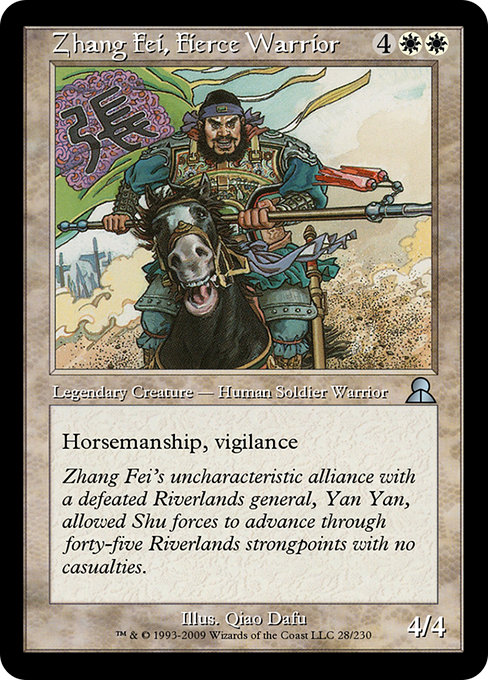 Arriving from Jingzhou with his forces, Zhang Fei—in a departure from his usual brash character—managed to trick the governor of the area, Yan Yan, by using a body double. As the body double passed, Yan Yan was deceived, and believing Zhang Fei to have been leading his troops, attempted to attack the army's rear. There waiting for him was Zhang Fei! Thus, the fierce warrior surprised the governor, compelling him to surrender.
Yan Yan controlled a vast swath of territory, and his surrender allowed Zhang Fei to advance to Liu Bei's position completely unscathed. Reunited, Huang Zhong, Zhao Zilong, Zhang Fei, Kongming, and Liu Bei drove Zhang Ren's armies back and lured him into a trap. The armies of the province were devastated, and Zhang Ren was put to death.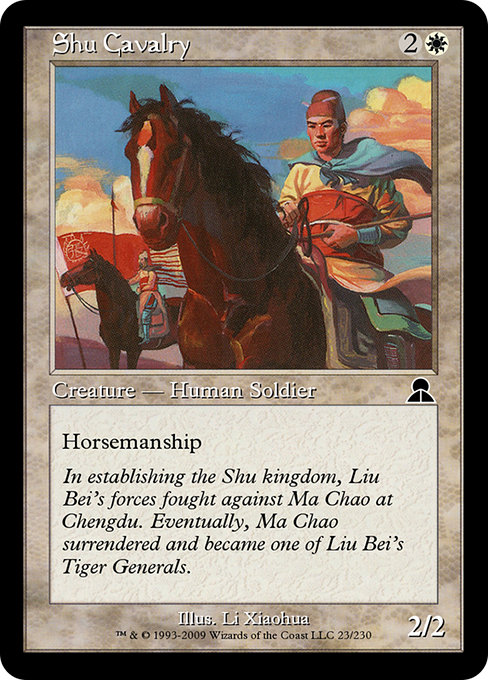 Now, all that remained for Liu Bei was to capture the regional capital of Chengdu. Who should he find in his way, however, but Ma Chao, who had answered a summons from Liu Zhang. Ma Chao and Zhang Fei dueled day and night each unable to score a blow against the other. Impressed by his might, Liu Bei, rather than fighting him, convinced Ma Chao to join his cause.
With such a mighty fighting force, Liu Zhang knew that Liu Bei could not be resisted. Liu Bei was welcomed into the city with fanfare, in order to spare the people more bloodshed. The people were returned to their towns and villages, and Liu Zhang was given holdings in Jingzhou. Liu Bei had at last established a land of his own.
What Was Not in the Cards
Earlier in the series, a saga I envisioned granted monarch status; and this week, I want to return to this mechanic, as Liu bei has finally established what will soon be called the Kingdom of Shu. To accomplish this, I've selected the following cards to add to the pool.
Palace Jailer, Palace Sentinels, and Throne Warden: These can fit into this set without any changes—the planar identity is muted, and this set is full of human soldiers.
Fall from Favor: Solid removal and monarch in blue, for the Kingdom of Wu.
Court of Ambition, Feast of Succession, Garrulous Sycophant: "Ambition" characterizes Cao Cao's court well, and the ability is similar to his card's. A+ flavor. The use of a poisoned cup or a "red wedding" scenario is attempted numerous times in the novelization of the Three Kingdoms era, and Feast of Succession fits that bill. Garrulous Sycophant is a human advisor, another creature type we see a lot of in P3K, and we can easily imagine one of these—especially in the early chapters, with the Ten—flitting about the courts of the Han emperor at Luoyang.
My design this week is a land that operates with the monarch mechanic. Behold, the Imperial Palace: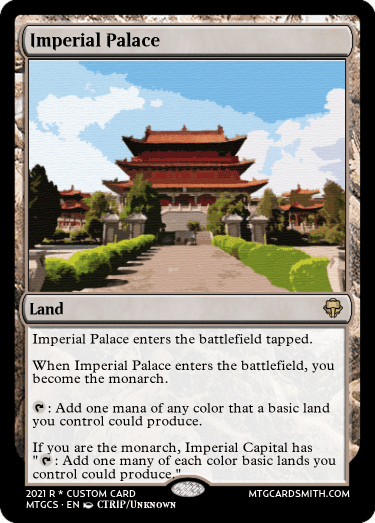 Imperial Palace rewards your efforts to gather "all the lands" together in unity and to hold the crown—at least long enough to untap!
Read On!
This week, we see Liu Bei finally succeed in his quest for a land of his own. While he has often treated his family as secondary to his quest to restore the Han, his relationship to his kinsmen has always been one of deference. For example, for as long as Liu Biao held Jingzhou, Liu Bei refused to take it by force. Likewise, when he seizes the Riverlands from Liu Zhang, he ensures Liu Zhang's safety and provides him and his family new holdings.
This is consistent with Liu Bei's understanding of benevolence—while present with Cao Cao and Sun Quan to some degree, Liu Bei has thus far received his holdings because wherever he governs, he governs with "wisdom and virtue," and practices benevolence toward the people. The people regard him as a hero.
Will Liu Bei be able to reign peacefully in Shu, or will Cao Cao or Sun Quan find a way to unseat him again?  Read On!
Recommended Media:
Luo Guanzhong, Three Kingdoms (trans. Roberts, 1991), Ch. 51-65. (pp. 386-502)
Zhang Qirong & Li Chengli, Romance of the Three Kingdoms (Asiapac Comic Series: 1995/2006), Vol. 5-6.
Jacob Torbeck is a researcher and instructor of theology and ethics. He hails from Chicago, IL, and loves playing Commander and pre-modern cubes.