We're returning to Zendikar later this month, which means a return of Black's signature sentient race: Vampires. Original Zendikar, back in 2009, turned Vampires from a casual dream to a potential playable deck. Vampire Lacerator, Bloodghast, Kalastria Highborn—these were FNM winners back in the day. Since 2010, Wizards of the Coast has pushed the tribe to be, if not top-tier, at least tantalizingly close to playability. Vampires in Historic have a host of aggressive Vamps, a quasi-lord in Sorin, Imperious Bloodlord, and now Thoughtseize. It's hard to imagine a better shell for the deck than that, although we may get more treats later in September.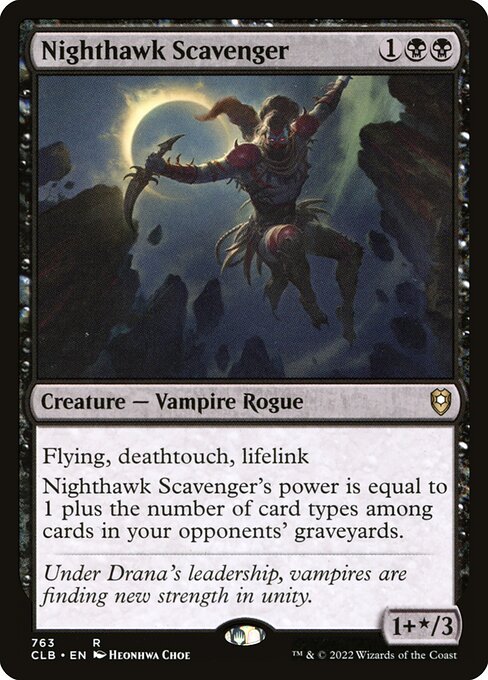 Our return to Zendikar, for example, brings with it a new tool for Vampires in Nighthawk Scavenger. This pseudo-Tarmogoyf seems weak in Standard, where Uro Escapes and Scavenging Oozes keep graveyards empty; but I like what it brings to older formats, especially in Vampires. I've been having success with Historic Vampires on Arena, taking the deck from Silver to the cusp of Diamond this season, and I'm reserving a slot for Scavenger when he drops.
Historical Vampirism
The only issue with the deck is that Historic is relatively hostile to throttle-open aggressive decks. I've been running mono-black Vampires against the gauntlet; between Wrath of God, Settle the Wreckage, Languish, Storm's Wrath, Witch's Vengeance, and Anger of the Gods, it's hard to keep the pressure on. So I've turned to a splash for Collected Company, which cuts a turn off our clock and allows us to bounce back from a board wipe. A mid-combat or end-of-turn Company can, in conjunction with Silversmote Ghoul or Drana or something as simple as Dusk Legion Zealot, leave you either with an army or several cards up.
The addition of green also opens up some removal of our own in the guise of Assassin's Trophy and Maelstrom Pulse. I've also had success with Heroic Intervention, which can really tilt opponents who expect to counteract your Vampire rush. Here's the list as it stands:
Historic Vampires
I've found Champion of Dusk, while excellent with Sorin, to be a bit clunky in the context of a CoCo version of the deck. One copy to replace the Sanctum Seeker may be right, but the Seeker acts as a quasi-lord to increase our damage and buff our win rate against Red decks. Most Red decks, that is—this deck has performed relatively poorly against Muxus, Goblin Grandee. Your only options are to race them or hope you draw enough Thoughtseizes. Necromentia comes in against the deck, but game one is iffy.
Vam, Pioneers!
Pioneer gives us a more tribally-oriented core, with Mutavault, Stromkirk Condemned, and Kalitas, Traitor of Ghet. I haven't yet seen anyone testing out Collected Company in mono-black Vampires, but the resiliency it offers the deck (along with the all-sizes removal suite) is attractive.
While I haven't tested Pioneer Vampires as extensively as in Historic, this is what I've been drawn to:
Vam, Pioneers!
The Pioneer version has the same upsides as the Historic—your lifelinking bloodsuckers keep you out of burn range, you're playing Thoughtseize, and your creatures are efficient enough to face down non-combo decks.
Knight of the Ebon Legion keeps proving their worth every time I see them; it's easy to buff them up with Sorin, and the threat of the pump ability means opponents make suboptimal choices when determining whether to block or not. There are layers of strategy to the card, both for its controller and its opponent—sometimes, it's better not to pump the Knight, or even attack with it at all, in favor of further developing your board. Sometimes it's better to wait until turn seven to deploy it, so you can double pump in response to removal. And sometimes people appear to just outright forget that it gets deathtouch along with Giant Growth—seeing that pause followed by an "Oops" message is one more reason to love the deck.
Sadly, I doubt there's space for Nighthawk Scavenger in Pioneer; while I love him with Drana and in Historic, a Fatal Push-able creature with no immediate impact is dubiously playable in Pioneer. Yet another benefit of Knight of the Ebon Legion: you're generally comfortable having it get Pushed.
With just over half of Zendikar Rising previewed, we may still have surprises waiting for us in Guul Draz. so these decks will be worth revisiting in the coming weeks. I don't have much hope for low-to-the-ground Vampires in upcoming announced sets—Viking Vampires or wizards' academy Vampires don't seem especially likely—but next November's Innistrad Vampires set will, presumably, provide the final pieces for a serious contender. And like any good vampire, we'll return to feast again at that point.
A lifelong resident of the Carolinas and a graduate of the University of North Carolina, Rob has played Magic since he picked a Darkling Stalker up off the soccer field at summer camp. He works for nonprofits as an educational strategies developer and, in his off-hours, enjoys writing fiction, playing games, and exploring new beers.