Mythic Championship VI kicks off this Friday in Richmond, Virginia. Here's everything you need to know about the last major Standard tournament to feature Oko, Thief of Crowns. (We can only hope!)
This is an excerpt from this week's Hipsters Weekly MTG Newsletter. Every week we tell you know what you need to know about the week's most important Magic news. Subscribe here! 
The Event
Mythic Championship VI starts on Friday, November 8 at 9 AM Eastern and will end on Sunday, November 10. The tournament will take place at the Greater Richmond Convention Center in Richmond, Virginia and will be streamed live on twitch.tv/magic.
The winner of the Mythic Championship will take home $50,000, while second place will be awarded $20,000, third place $15,000, fourth place $10,000, all the way down to $500 for anyone outside of the Top 100.
Mythic Championship VI is the final event in Magic's long-running Pro Tour series. While all premier Magic events in 2019 were rebranded as Mythic Championships, the tabletop events were essentially the same system as Pro Tours, just with different names. However, 2020 will see premier tabletop events transition to three regional Players Tours and three Players Tour Finals per year, a large break from the old Pro Tour system.
The Players
Nearly 500 players are invited to Mythic Championship VI, including the 32 members of the Magic Pro League and many of the top Rivals looking for their shot at the Magic Pro League and Magic Rivals League.
Those rivals include: Raphaël Lévy, Chris Kvartek, Luis Scott-Vargas, Gabriel Nassif, Matthew Sperling, Peter Yeh, Kai Budde, Yoshihiko Ikawa, Greg Orange, and Jacob Wilson.
The Format
Mythic Championship VI will feature Best-of-Three Standard Constructed and Best-of-Three Throne of Eldraine Draft. Field of the Dead was banned from the Standard format a few weeks ago and early results indicate that Simic and Sultai Food are the decks to beat in the new format.
Day 1 will begin with three rounds of Throne of Eldraine Draft followed by five rounds of Standard. All players with records of 4-4 or better will return for Day 2, where they will again play three rounds of Draft and five rounds of Standard. The Top 8 players will return for a single-elimination bracket on Sunday using their Standard decks to crown a champion.
Like Mythic Championship V last month, the Standard format has a clear best deck, UGx Food, which makes up around half of the metagame. The previous Mythic Championship resulted in Field of the Dead getting banned and it seems likely that more bans will follow Mythic Championship VI.
The Commentary Team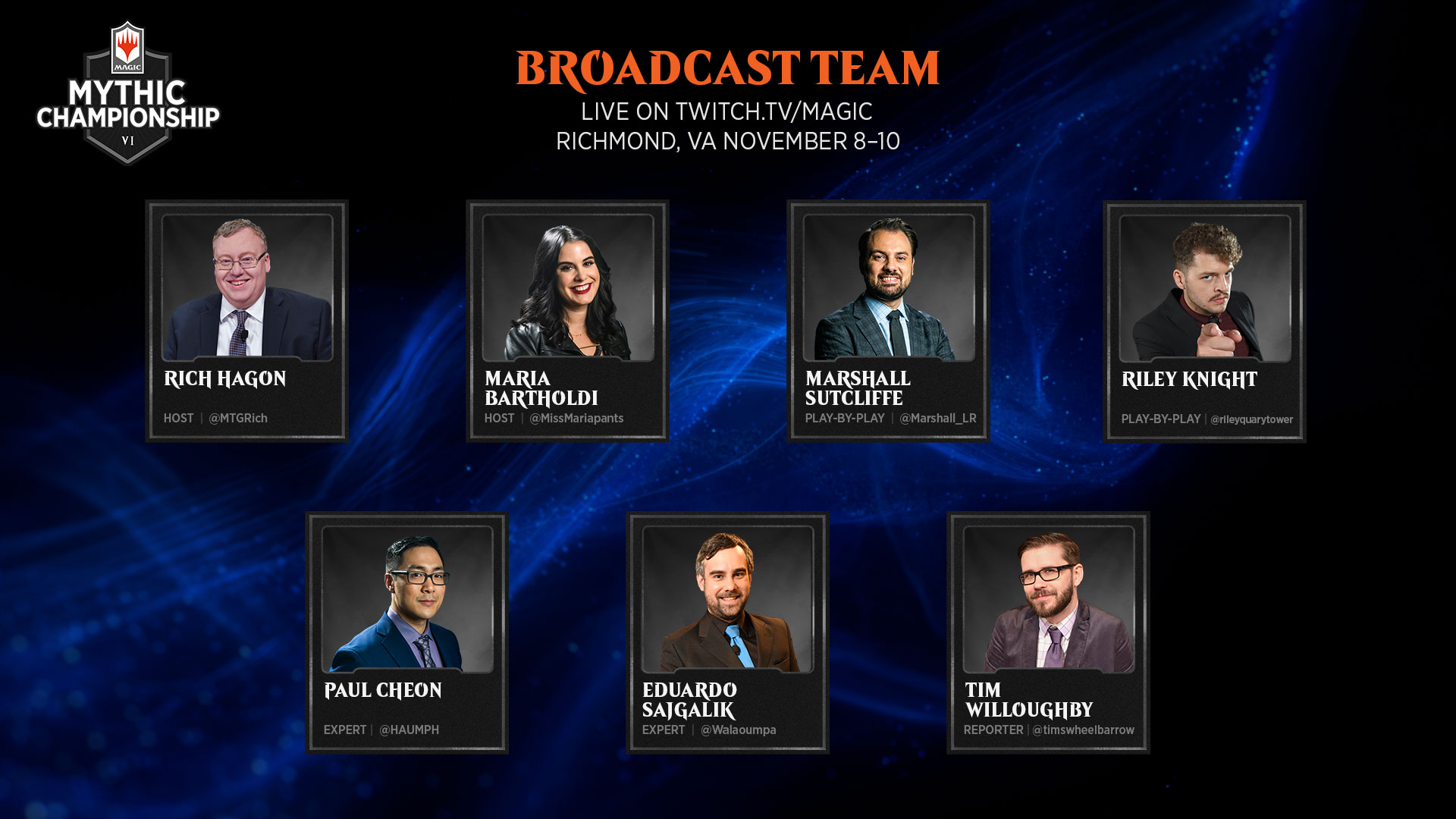 The final event of the old Pro Tour system will feature a familiar cast: Rich Hagon and Maria Bartholdi as hosts, Marshall Sutcliffe, Riley Knight, Paul Cheon, and Eduardo Sajgalik in the booth, and Tim Willoughby reporting from the feature match area.