Hipsters welcomes Urchin Colley, who tells the origin story for the Modern Paradoxical Urza deck.
I love Modern. Deeply and obsessively. The Modern metagame is a glorious landscape of archetypes, and I love tracking how they evolve around each other. The card pool is deep, and its eternal nature lends a continuity to its progression over time.
Most of all, I love brewing in Modern. I don't seek the best deck—thousands of people developing an archetype over months or years will always do better. I brew to learn the format as deeply as I possibly can. That said, I always keep the competitive metagame in mind when I'm working. It fuels creativity and focuses critical thinking.
So how did I end up involved with the deck I call UrzaDox? (Others may know the deck as Paradoxical Urza or Urza's Outcome, depending on which format you play.) That deck is actually good. It perplexes me daily that I helped create something legitimately competitive. Let me tell you that story, and along the way explain some of the methods I use for brewing in Modern.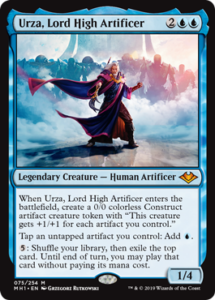 Have you ever been blinded by love at first sight? My vision went blue the day they spoiled Urza, Lord High Artificer. His text box held all my mind could desire. What a complex, potent card!
The hardest thing about brewing with a new card, especially one that demands to be a centerpiece, is a lack of direction. Synergies and 5-0 lists are signposts, but with a brand new card, you've got 360 degrees of possibility. Too much freedom can be just as hard on the creative process as too little, as many Commander players can attest. But when you find your inspiration, you have to give it a try.
To start, look around and see if your new favorite 2.5" x 3.5" friend fits well into any existing decks. If it does, analyze why. Look for what it is doing and how it is meshing with the rest of the deck. Is the synergy worthwhile? Why? Once you've found something that seems strong, you can keep transforming the deck from there; or you can pluck the relevant synergy out of the existing deck and shape something new around it.
I imagine that's how the Urza Thopter-Sword decks came to be. Thopter-Sword was a known quantity. Before Modern Horizons, it wasn't heavily played. I ran it in a Narset-Puzzle Box style deck, but an abrupt infinite combo didn't make sense alongside a hard prison strategy. It didn't take long for midrange builds to emerge to better exploit the combo.
Conjurer's Baubles
Thopter-Sword was not where I started with Urza, though. Travel back with me, if you will, to a teriyaki joint in Portland, right around the release of Modern Horizons. I had "Urza" sharpied on the back of four bulk Magic cards, as did Devon, my brewing buddy. We'd each cobbled together unwieldy artifact piles and were racing them like speedboats between Snow-Covered Islands. It was a test to see how fast we could go, and how likely we were to crash.
Devon was repeatedly untapping Astral Cornucopias with a Paradox Engine and casting his deck with Urza and Planar Portal. I was generating buckets of Urza mana with Grinding Station, picking up my trash artifacts with Paradoxical Outcome, then shoving them all back through my Station so I could win with Mirrodin Besieged. I cut Paradoxical Outcomes at the time because they seemed too "win-more."
The table was littered with pseudo-Sapphires, and we kept scribbling out more proxies as we tore chunks from our brews to try more angles.
Early UrzaDox
The Grinding Station
Change things up frequently when you're freely exploring like this. You're not looking for your deck yet. You're looking for a signpost. It's particularly helpful to work in a design space where you are comfortable, i.e., a style of deck you've played a lot previously. You'll already know a lot of cards and interactions that are playable, even if they haven't yet been competitive. That gives you a natural set of things to try. Try as many as you can.
I love a good Mox Opal deck, so I immediately reached for familiar pieces: Semblance Anvil, Etherium Sculptor, Myr Retriever—the usual suspects. The best thing I found early on was the interaction between Urza's mana production ability and Grinding Station's untap trigger. Devon found the harmony between Urza's exile-and-cast ability and Paradox Engine's untap. Neither of us built a real deck, but we collected real ideas.
I can't overemphasize the value of working with other people on a brew. You will find insight, from your teammates and the process of debating with them, that you never otherwise would. Find people you communicate with well, and work together closely.
Don't throw out your incomplete lists, your bad lists, or your worse-still lists. My original drafts were terrible. I ran playsets of one-ofs, all of the wrong "eggs," and I cut the pivotal freaking card from the deck. I was determined to include a Time Sieve in every version I drafted. (We all have character flaws!) Still, I didn't throw out my lists. There's also no reason to brew in isolation, and it will weaken you to do so. You aren't the only one experimenting, so keep your eyes peeled for other takes.
All we made then were wildly inconsistent, glass-cannon combo decks. I gave it a rest and picked up the early builds of Whirza. A few months and a couple decks later, I got a text from Devon. "I was an idiot for not paying attention when you were testing Paradoxical Outcome. There's something real here."
Paradoxical Outcome
Devon found a 5-0 list involving Paradoxical Outcome, and cooked up a fresh build based on it. It was closer to the Vintage Outcome deck than to my original nonsense. Grinding Station seemed bad before, so we left it out and leaned into Mirrodin Besieged as the combo finish over Ghirapur Aether Grid. We both tested the deck persistently, altering and iterating as the weeks went by. The manabase was recreated, splash colors came and went, and we argued over which Darksteel Relics were the least useless until our faces were bluer than our mana pools.
UrzaDox 2.0
Devon and I worked on UrzaDox through Hogaak summer, and tuned specifically for that matchup. We vastly overestimated our chances in that matchup, as so many did. But we were emboldened by our resilience to graveyard hate, so we took the deck to GP Vegas. We got summarily 'Gaaked. The banning was a relief. We cut our Path to Exiles and smoothed out our sideboard. And yet, while free from the oppressive necropolis, we stalled.
This happens a lot when you really drill down into a brew. You burn through the bad ideas and lock in chunks that are working well. Those aren't bad things to do, up until your list is completely rigid and your deck has hit a ceiling. We stalled pretty badly and started losing heart. Whirza was clearly the best deck in the format. Pack up your Opals and go home.
It was a stroke of luck that, right as we were shelving the project, someone posted a 5-0 with another take on the deck. It cut all of the maindeck interaction and utility artifacts, and finished with Paradox Engine and Nexus of Fate over Mirrodin Beseiged. We tried the 5-0 list, felt out the clunkier elements, performed some surgery, and restored what fit from our Vegas build. Unpack those Opals, baby, we're back in business.
The Missing Link
The deck felt good—very good. It ignored the graveyard, it could win through Stony Silence, and Shatter effects were almost always trade-downs. Everyone had their guns trained on Whirza, and no one was guarding the back door. The deck had an opening, but it needed to be one step better.
The real breakthrough was, quite literally, a shower thought. I flipped out as I processed its implications, and got so excited that the idea slipped away. Oh no. What was it? I leapt out of my think tank to text Devon. "I broke the deck… and I can't remember how. It's a one-of. I think it's a 2 CMC artifact."
He knew instantly. It was Grinding Station.
UrzaDox 3.0
The value of an idea is contextual. A card has an impact relative to what it's played with. Grinding Station is a finisher, but it's not only that. I'm a strong advocate of combo finishers that function well when you're not ready to close the game yet, and Grinding Station being able to tap for blue via Urza between its untap triggers is extremely powerful. It all came back to that interaction I'd stumbled into at the teriyaki place.
A strategy is effective relative to what it's playing against. Everyone was packing six or more pieces of graveyard hate that UrzaDox could ignore. UrzaDox can win through the Stony Silence effects that have come back into fashion since the Hogaak banning.
A brew is powerful relative to a metagame. While our Hogaak matchup was winnable, more often than not we were not fast enough to turn the corner against the 'gaak. The banning of Faithless Looting has slowed the format down enough for UrzaDox to really shine.
Devon added one Grinding Station to the deck the night before he took it to an MCQ. Then he hit Top 8. The satisfaction we both felt, and the pride—it's something distinct from merely winning.
I believe that brewing in Modern teaches the format, broadly and deeply. Even if you play metagame decks at your competitive events, there are insights to gain from invention. Devon and I are still working on UrzaDox, and with Eldraine here, we're testing all the potential improvements both we and other brewers have come up with.
UrzaDox of the Future
UrzaDox is not ours anymore, and though we put a lot of work into it, it never completely was. Since Vegas, a number of Pros and SCG grinders picked it up and developed it further. The deck is far from solved, and the outpouring of new ideas is incredible. Devon and I used to enjoy a ton of equity from no one knowing what our deck was doing. Now we're teching for the mirror!
This past weekend, the SCG Philadelphia Open saw three teams top 8 with UrzaDox in their Modern seat. It's a little surreal, and not at all the outcome I expected.
I've got my eyes on the horizon for what the metagame will do next, including how UrzaDox is influencing that. The more you understand where the format is and where it's about to go, the better you can build around that. Maybe my next deck will be a Paradox-hunter instead, to stay one step ahead of the other artificers. Either way, it's only reinforced my love for Modern.
With gratitude to my teammate Devon Straub.