Just 48 hours after Wizards of the Coast revealed the fall expansion set, Throne of Eldraine, at San Diego Comic Con, and announced that Brawl would be coming to MTG Arena later this year, Gavin Verhey took to Daily MTG to talk more about the growth of Brawl as a format, discuss the preconstructed Brawl decks that would be part of Throne of Eldraine's product catalog, and show off not one but two new cards from the upcoming expansion!
In the article, Verhey acknowledges that Brawl got off to a shaky start, "while we had initially planned this as kind of a smaller test to gauge how it went, the format had picked up a lot of discussion quickly. On one hand, that was great . . . but on the other, there was a clear problem: we didn't have anything lined up for it."
The release of the format, it turns out, was about a year ahead of the release of products for fans specifically designed to support the format. Verhey continued, "So even though pretty much right after Brawl's release we started quickly spinning up work to release preconstructed Brawl Decks, you're only finally seeing them with the release of Throne of Eldraine."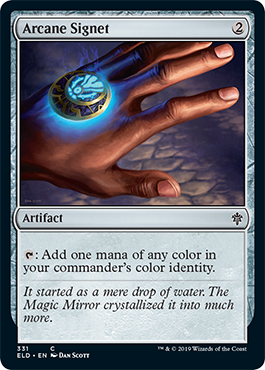 With Brawl coming to MTG Arena later this year it makes sense that Wizards of the Coast will want to fully support the format as a flagship product. The four preconstructed decks releasing with Throne of Eldraine will be the first test of this support. The format has previously had some problems with balance, specifically with Baral, Chief of Compliance, which Verhey acknowledges in his article.
It will be important for Brawl to have fun and flavorful Commanders to attract players to the format. It should garner broad appeal on MTG Arena however, by allowing players to do more than just grind the Standard ladder while still showing off their collection.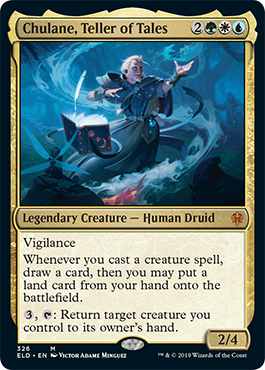 Chulane, Teller of Tales, is In line with Eldraine's top-down design as "Camelot meets Grimm's Fairy Tales" as it represents a top-down design of Chaucer, a 14th Century poet who is widely regarded as one of the earliest English literary figures and is best known for the Canterbury Tales. Most importantly though, a fictionalized version of Chaucer was played by Paul Bettany in the 2001 film, A Knight's Tale. I look forward to Bettany reprising the role for the (hopefully) live-action Magic show.