Mythic Championship III takes place this weekend in beautiful Las Vegas, Nevada. It will be the very first Mythic Championship played on MTG Arena and we'll be watching action packed games of Best-of-Three Standard all weekend long!
Here is the metagame breakdown for the event from Wizards of the Coast.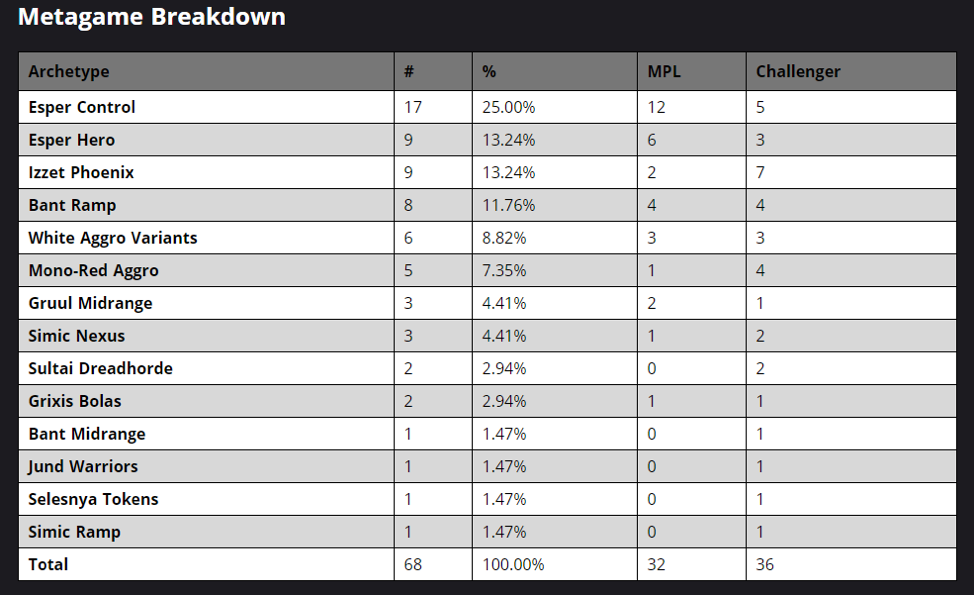 It's clear from the metagame breakdown that Esper is the favorite to take down the event as its two incarnations make up 38.24% of the field, with a jaw dropping 56.25% of Magic Pro League members playing the color combination. Even though both decks have the same core spells in Thought Erasure, Oath of Kaya, and both Teferis, the changes made to the supporting cast can swing individual matchups and, at the end of the day, these are very much two different archetypes.
So let's take a look at how they're different as well as what the other top Standard decks will be at Mythic Championship III Las Vegas. Make sure to use this information when drafting your favorite cards in our Mythic Championship fantasy leagues on Thousand Leagues!
Esper Control
Standard Esper Control
Esper Control is a deck that looks to trade resources with the opponent as often as possible to keep the board clear so that it can take over the game with its card advantage engines. This controlling flavor of Esper is built to prey on the midrangey Planeswalker decks in the format with a slew of Planeswalkers of its own and maindeck copies of both The Elderspell and Command the Dreadhorde as key cards in any 'walker-based grind fest.
Even with access to a game one sweeper in Kaya's Wrath, this deck can still really struggle against an aggressive start backed up by a problematic non-creature permanent like Experimental Frenzy.
Esper Control looks to be the deck to beat based on the metagame, and we're gonna see a lot of it at the top tables.
Esper Hero
Standard Esper Hero
Esper Hero is your quintessential midrange deck of the format, featuring lots of creatures, hand disruption, removal, and some card advantage to pull ahead in a longer game. This is a deck that wants to face the aggro decks Esper Control can struggle against and can play the grindy games with the other midrange decks, too, but isn't terribly well equipped to do so with The Elderspell sitting in the sideboard and no copies of Command the Dreadhorde.
I think Esper Hero is a solid deck for this weekend and it should do well as long as they are prepped for the midrange grindfests.
Izzet Phoenix
Standard Izzet Phoenix
Izzet Phoenix is a deck that I've always been fond of. It plays a ton of cantrips and cheap burn-based removal spells to enable its namesake, Arclight Phoenix. The archetype doesn't truly excel against any one matchup, but the ability to put two Phoenixes in play as early as Turn 4 will beat almost anything in Standard, and the density of cantrips give you a lot of control over which direction the game is going.
What holds this deck back is the same thing that makes it so powerful: synergy. Your cards all require other cards to function to their fullest extent; if you have a Phoenix or a Drake and no spells to go with them, they just aren't up to snuff for the format, and same goes for if you have a bunch of cantrips or removal without a threat to get the game over with.
I expect Izzet Phoenix to have a pretty poor result at this event as it can really struggle with the Esper decks after they board in their Cry of the Carnariums.
Bant Ramp
Standard Bant Ramp
Bant Ramp is a very powerful archetype looking to use early mana accelerants like Llanowar Elves and Paradise Druid to play Nissa, Who Shakes the World ahead of schedule. It then uses Nissa's Heartbeat of Spring static ability do borderline broken things with a lot of mana, with payoff spells like Hydroid Krasis, Mass Manipulation, or Finale of Glory.
These decks are something I've worked on a lot. I think Nissa is hands down the best card in Standard, but her supporting cast doesn't quite cut it. Hydroid Krasis is the perfect payoff for this strategy, but everything after that is either too cute, doesn't synergize well with the rest of the deck, or leans into cards you are already weak against. These decks can also suffer from not finding a Nissa and having a bunch of clunky cards that aren't that good without her.
This archetype has the tools to succeed, but has an inherent weakness to Esper Control and their Kaya's Wraths, so my optimism is tempered.
Mono-White and Azorius Aggro
Standard Azorius Aggro
White aggressive strategies are built around one-drop White creatures to maximize the effectiveness of Legion's Landing, Benalish Marshal, and Venerated Loxodon. The deck excels at getting ahead early and never letting your opponent catch up thanks to its early creatures and removal that lets it play to the board in Conclave Tribunal. This is another archetype that can beat almost anything off the back of a good opening hand, but the deck doesn't mulligan very well and it doesn't have a good plan to combat mana flood.
White aggro is an excellent choice if the Esper decks only bring their Kaya's Wraths and leave their Cry of the Carnariums at home, but I don't see that being the case this weekend. We have another contender likely held down by the dominance of Esper.
Mono-Red Aggro
Standard Mono-Red Aggro
This Mono-Red deck is not the same thing as the traditional red deck wins, whose strength lies in the early creatures and finishing you off with a flurry of burn spells. But this Red deck isn't like that—the early creatures are the worst cards in the deck and only serve as a bridge to powerful card advantage engines to bury its opponents in cardboard.
This Red deck still looks to get ahead early, though, and either burn you out or cement it's lead with a four mana card advantage engine in Experimental Frenzy or Chandra, Fire Artisan. With the shift in focus from early creatures to midgame payoffs, this Red deck is much better equipped to compete with the Esper menace of the format and will do quite well if people sleep on how good Red still is.
Esper seems to be the deck for the weekend and the popularity of the color shard at Mythic Championship III Las Vegas seem to show that. Maybe one of these other archetypes can rise to the challenge, but I'm mentally preparing myself to watch a lot of grindy Esper mirrors and I think you should too. Oh—and don't forget to draft your favorite cards or players in one of our Mythic Championship fantasy leagues on Thousand Leagues!