On Monday May 27th, the original painting for Ranger-Captain of Eos (the now-promoted Ranger of Eos) by Ryan Pancoast sold for $5,800 on the MTG Art Market.
Ranger-Captain of Eos by Ryan Pancoast is a work of oil on stretched canvas measuring a substantial 18 inches by 24 inches, the soldier now (re)commissioned for Magic's newest set Modern Horizons. Pancoast is quickly closing in on 100 cards published for Magic and is among the very best Magic illustrators, both past and present. The auction was run exclusively on the MTG Art Market by Vorthos Mike acting as agent for the artist, and included the preliminary thumbnails for the painting once the piece passed $5,500.
It was won for a fabulous price realized of $5,800 by a new collector bidding privately, taking down the auction with a single bid at the end. Sometimes all it takes is one bid.
In looking at the painting, not often does an artist get to revisit a non-legendary character, but this illustration is literally Pancoast's Ranger of Eos, now promoted to Ranger-Captain.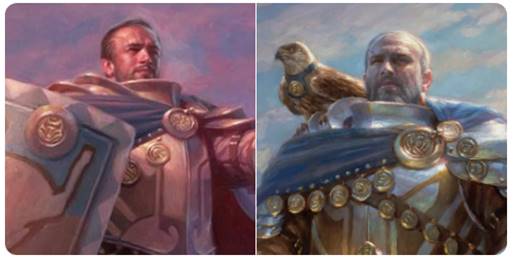 He is older and wiser, with more medallions and a powerful new mount, but the same falcon friend still rides upon his shoulder.
This slideshow requires JavaScript.
Pancoast's details, as we've come to expect, are simply exceptional. The lion appears as if he could step straight out of the painting, and everything is so very real it's as if we've known this veteran our entire lives. This is another triumph from the artist, and yet another masterpiece within his already impressive oeuvre.