Ryan Pancoast's newest work is also Magic's newest Mox, and on June 2, 2019 the original painting for Mox Tantalite sold for an exceptional $16,000 on the MTG Art Market.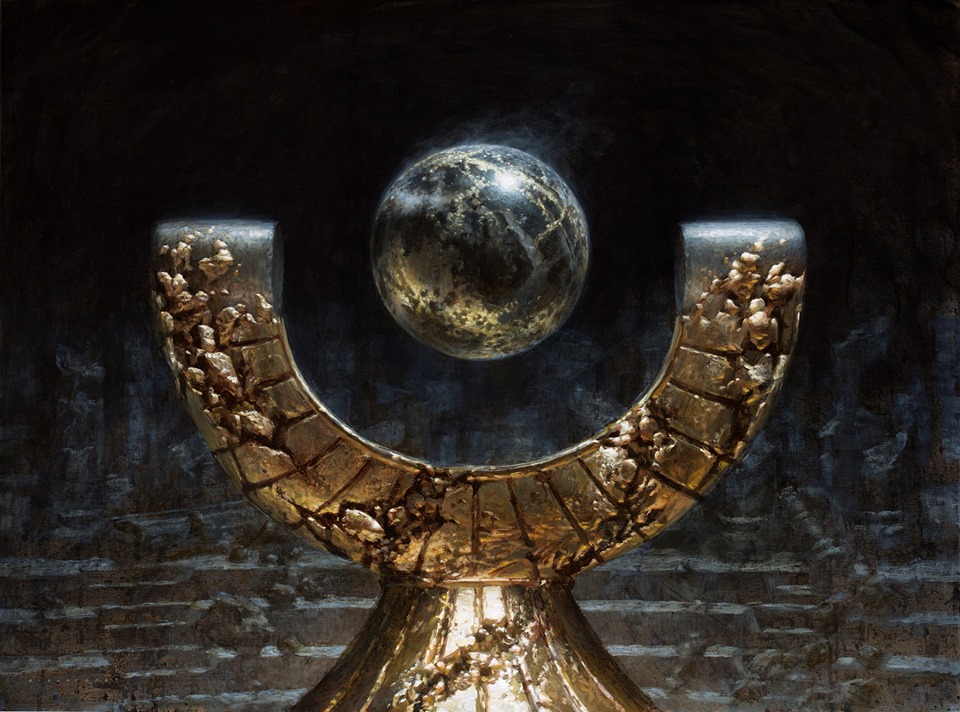 The Facts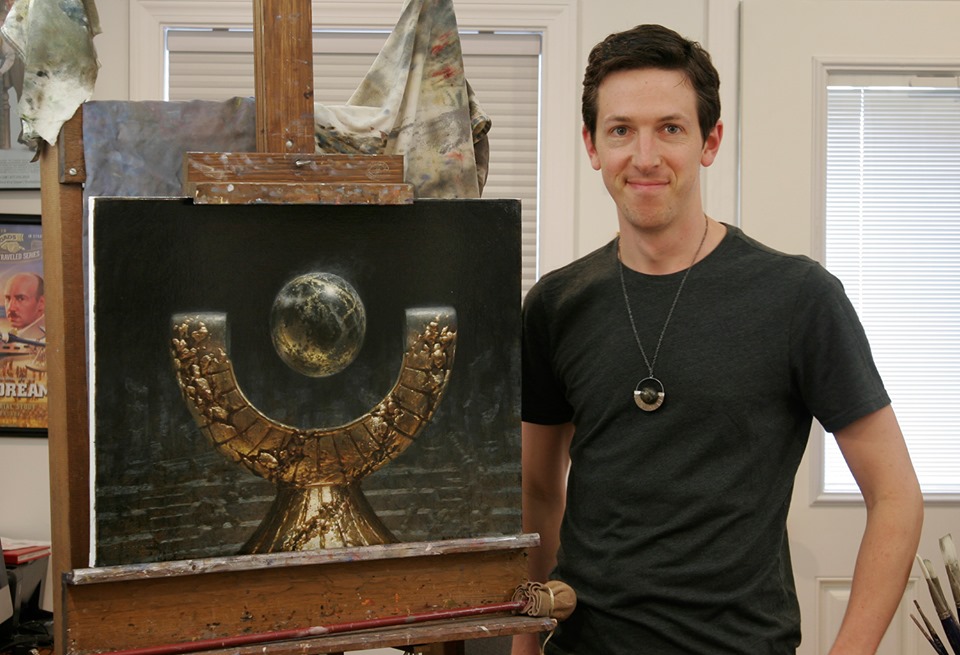 There may come a day when I stop talking about Ryan Pancoast leveling up each time a new Magic illustration is released, but today is not that day. Mox Tantalite is a large work of oil on stretched canvas measuring 18 inches by 24 inches, and was commissioned in the Mythic Rare slot of Magic's newest expansion, Modern Horizons. It is the tenth playable Mox in Magic's history, and is only one of a few that are not Legendary, allowing you to have multiple copies of the powerful artifact in play at the same time.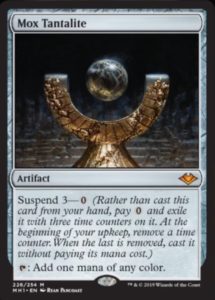 The Suite
The offering for Mox Tantalite, run by the artist's agent Vorthos Mike on the MTG Art Market, was actually a group of five different items in total. The first sale was for the magnificent painting we've seen about, which opened at $10,000 from multiple parties. Another bid came in at $10,500, and shortly thereafter a major collector offered $15,000 for the painting. Later that evening, a $16,000 bid was placed privately, and that bid would stand for the duration of the auction. Vorthos Mike noted that that buyer was not entirely unknown, so I would expect to see the owner of this painting reveal themselves in due time.
In addition to the final painting, four other pieces of artistic process were offered. The original thumbnails, where Pancoast began his work on Mox Tantalite, sold for $550.
The next piece along the way was the piece of reference, including a miniature stand and a miniature orb (though not the one actually used for reference) in order to capture the correct lighting. That sold for $650.
The final step before the oil painting in the Pancoast Process is a miniature color study. These are wonderful, and a bidding war ensued in the final minutes between two private bidders, both trying to add this piece to their wall for a fraction of the price of the original.
The last piece of this suite was a very special necklace. A collaboration between the artist and his sister, a goldsmith at Fairbank & Perry (https://www.fairbankandperry.com/about), it incorporated the actual orb used as reference for the painting set in a way to mirror the final painting. It was met with incredible interest, selling for $1,825 to a private bidder.
The Art
I want to talk just briefly about the art, because it is almost unfathomable that it's an oil painting.
The world got to see Mox Tantalite revealed slowly over 45 minutes on the Weekly MTG live stream, after a conversation on Twitter between some artists and Blake Rasmussen revealed one of Pancoast's signature Gumroad videos existed for the piece. While only arranged the day before, Pancoast was able to come on the livestream and talk about his art, career, and Mox Tantalite, as far as I know a first for preview season.
This slideshow requires JavaScript.
This painting is so perfectly executed, at first glance even to those folks at Wizards thought it was a photograph. From Art Director Cynthis Sheppard:
"There was so much disbelief at my desk when this piece came in that it was an oil painting. "You're lying! Show me the brushstrokes!" they said!
If Tolsimir, Friend to Wolves was Pancoast's *mic drop* then this is his re-entrance encore. I don't know how it gets better from here, but I'm sure excited to see him make it happen.