Another three dozen planeswalkers joined the Legacy format last weekend. It takes a lot to break into eternal formats, but a few new walkers have already started to show up in Legacy decks.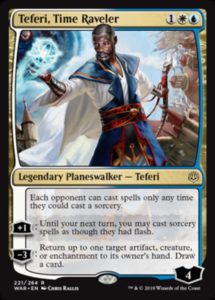 I think it's safe to say that Teferi, Time Raveler was the most hyped up card for eternal in War of the Spark. People's initial thought was to put it right into the format's premier UW deck, Miracles. Teferi's static ability gives you a significant edge in the blue mirror, rendering opposing counterspells mostly useless.
So far the only notable finish with the powerful three-mana planeswalker has been AnziD's, Anuraag Das, top 8 Legacy Challenge finish. This deck does the usual Miracle things.
Miracles
EWLandon took a bit of a different approach with Teferi, instead choosing to splash white in Mono-Blue Omnitell to abuse the one sided Defense Grid. The minus can helps bounce hate cards after sideboarding. Teferi even gives your Ponders flash, if you're feeling particularly spicy.
Azorius Omnitell
The big issue with Teferi is his effect doesn't slot in well to existing decks in his color pair. The card doesn't do enough on its own, and fair decks like Miracles or Stoneblade don't benefit enough from the effect. If you're specifically looking to beat blue mirrors, he's great. Unfortunately there's a lot Thalias, Chalices, and Griselbrands out there that can just ignore him.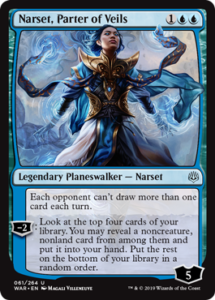 This card was the sleeper hit of the set, but I think the secret is already out. Anything with the words "opponents can't draw more than one card each turn" always deserves another look in a format where Brainstorm is the poster child.
In a lot of ways, Narset is analogous to a mono-blue Leovold, Emissary of Trest that can't attack. At worst it comes down, draws one card, then dies. At best it locks out the premier cantrip of the format and all of its friends. The list doesn't stop there though: Sylvan Library, Palace Jailer, Glimpse of Nature, Baleful Strix, and Jace, the Mind Sculptor also get stopped or severely weakened with Narset across the table.
Anuraag also featured this card in his Miracles deck above. I could see this card finding a slot or two in any blue midrange or control deck, namely Stoneblade or Grixis Control.  If you want to dig a little deeper, you can get cute and play it in High Tide.
That said, Narset is just another generic blue card doing blue stuff. The minus effect is pretty replaceable, and even pretty slow for three mana. Her static ability is very powerful though. If Leovold is any indication, you can build around this. Thankfully, 1UU is a must easier ask than Leovold's difficult UBG casting cost.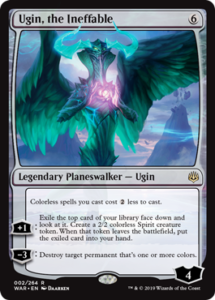 I'm not totally sure how I feel about Ugin, the Ineffable in Legacy. His static effect seems powerful but inconsistent. On one hand, you just cast a six-mana spell. You can probably cast most of the other spells in your hand, and deck, regardless of Ugin's static effect. That said, with slower hands where you didn't already vomit your hand onto the table, he has the potential to generate a psuedo four to six mana if you double or triple spell the next turn.
The -3 ability interests me more. Having a faster and cheaper out to Back to Basics or Blood Moon besides Ratchet Bomb or hard-casting Ulamog is nice. I don't think Ugin is worht playing four copies, but wouldn't be surprised if Cloudpost finds a permanent home for one or two.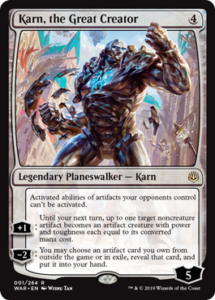 Karn on the other hand, I do think is worth playing all four. He can be anything except a boat. Playing against Death and Taxes? Get Walking Ballista. Playing against Lands? Grab Sorcerous Spyglass for Wasteland. Dredge? Tormod's Crypt. If the game goes late enough, you can even assemble the game-locking combo with Karn's static ability plus Mycosynth Lattice. All permanents are artifacts, and now your opponent can't activate anything, even their own lands for mana. How convenient.
Karn, the Great Creator also synergizes well with Karn, Scion of Urza, allowing you to grab artifacts exiled with silver counters.
Twelve Post
Of all the new walkers, I believe Narset, Parter of Veils has the highest potential simply because of her low deck–building requirements. Azorius decks for Teferi are hard to come by, Ugin is limited to Cloudpost and Eldrazi decks, and Karn's deckbuilding requirements are pretty steep in comparison.
What decks are you trying out these new sweet walkers in? Let me know @DankConfidant or @TeamNovaMTG.