It's finally here, the 2019 Grand Prix Schedule has arrived… wait, hold on one second, scratch that, the schedule of Grand Prix events being held at MagicFest weekends in 2019 has arrived! Rolls right off the tongue doesn't it?
Introducing MagicFest
The biggest news of the day should be the schedule itself, or the myriad changes in Pro Tour qualifications, or maybe the payouts for the Grand Prix tournaments, or the fact that Pro Tour events will be held concurrently with Grand Prix events.
No, the biggest news of the day is that these weekend conventions are now going to be known as MagicFest Weekends. The major tournaments will be referred to as, for example, "The Grand Prix at MagicFest Cleveland." That's the same MagicFest Cleveland which will host Pro Tour Cleveland on February 22nd through 24th next year.
The official hashtag for the series of events is #MagicFest and individual weekends will use the hastag #MTGCityName (e.g. #MTGCleveland).
Saying Goodbye to the Preliminary Pro Tour Qualifier
Beginning with Pro Tour the Pro Tour at MagicFest Dallas/Fort-Worth in June, the qualification system will be getting an overhaul as the short-lived PPTQ/RPTQ system is being replaced by, well, a system that looks much like how it used to look before the PPTQ/RPTQ system was installed.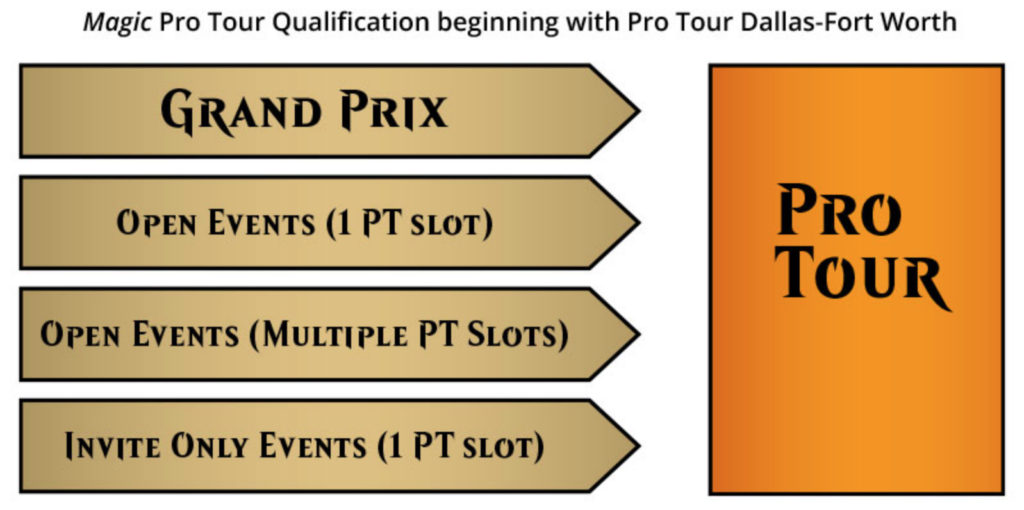 First, there will still be a Pro Players Club with levels and invitation privileges. That's not going away, but it is being revamped. Second, Grand Prix held at MagicFest Weekends (TM) will still award invitations to the Pro Tour but instead of the next Pro Tour in general, it will be the next Pro Tour to be held in your region.
Finally, there will be several flavors of Pro Tour Qualifier events including open events which can award one or more Pro Tour invitations and invite-only events which will only award one invitation. At a minimum, an open event will be held on every day of every MagicFest. Beginning in 2019, WPN Stores can apply for "best-in-class" status which will allow them to run some form of qualifier event.
Other details around these events are expected in the future. Also there is no change coming to the qualifiers currently held on Magic Online.
Is That a New Payment Schedule in my Grand Prix Schedule?
Why yes, yes it is!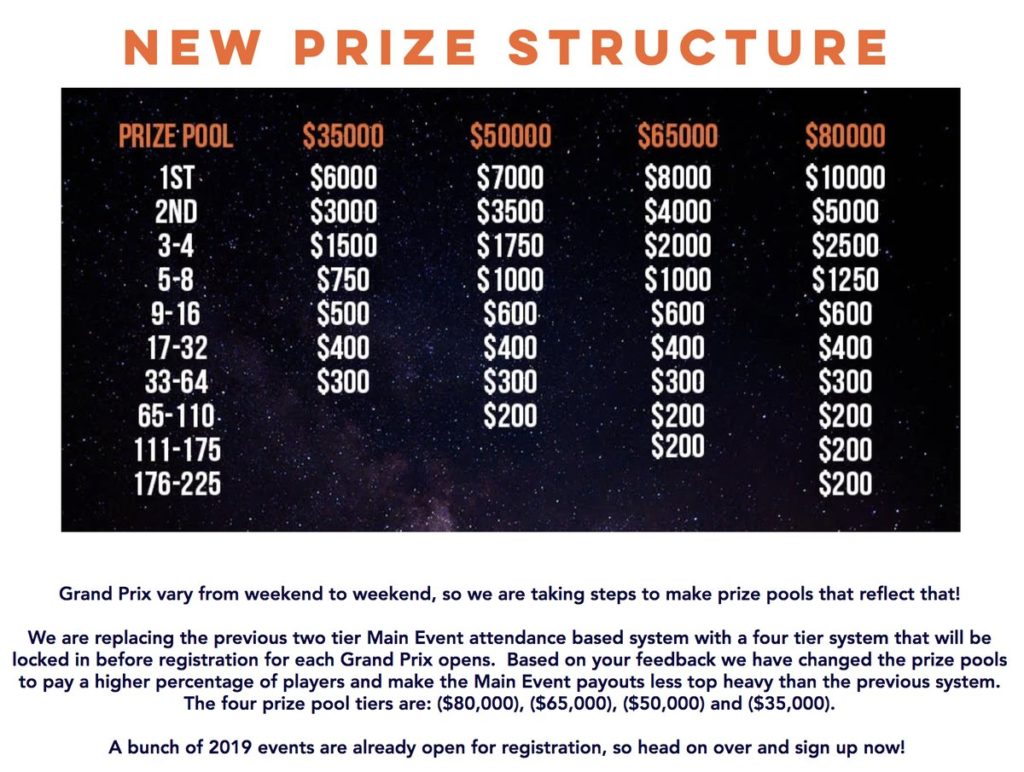 The key changes here are that a higher percentage of players will get paid prizes and that the payout pool is determined for each event ahead of time instead of being determined by attendance. For comparison, here is the 2018 prize payout schedule for Grand Prix: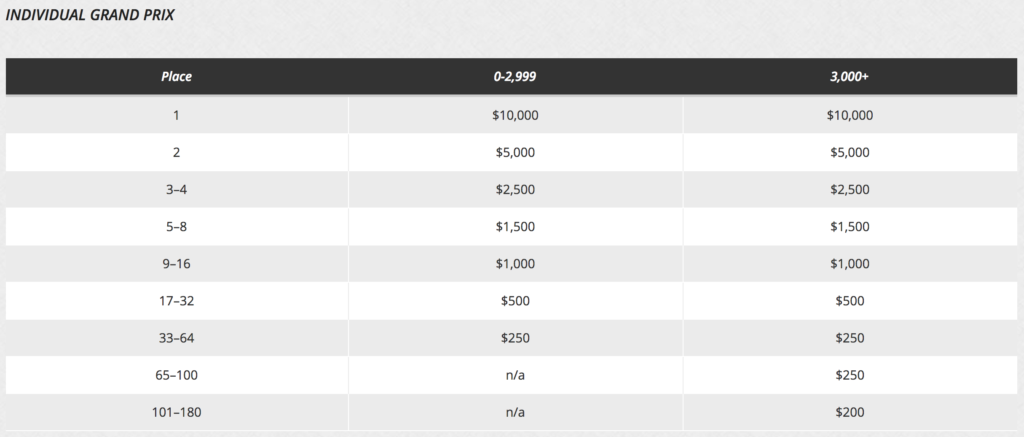 That's a $50,000 payout for fewer than 3,000 players and an additional $25,000 to bring the payout up to $75,000 for over 3,000 players (a number rarely seen these days for attendance).
What About the Actual Schedule?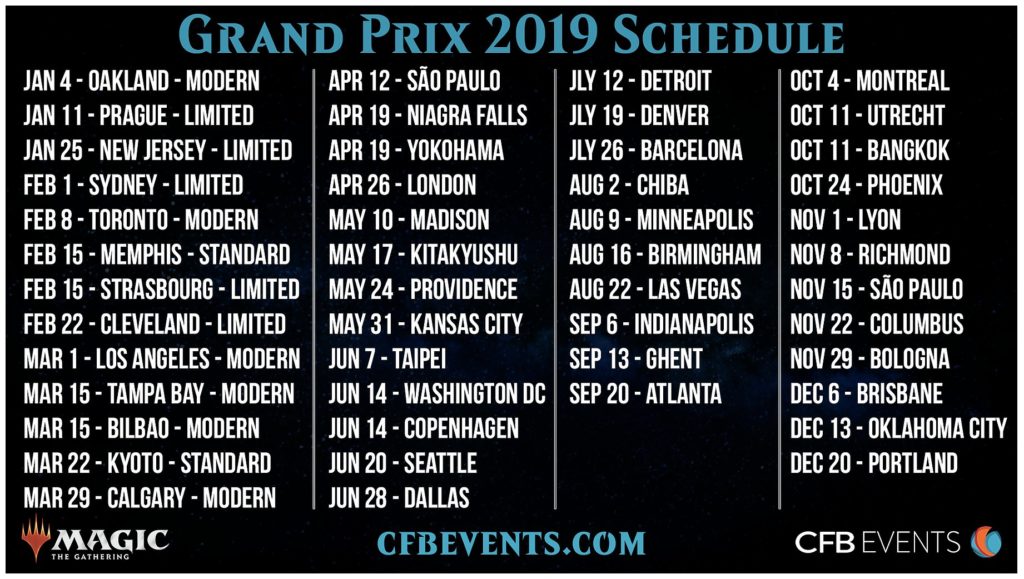 A few quick notes on the schedule itself:
There is a TBD APAC MagicFest Weekend in the final three months of 2019
Formats will be announced on the first day of the preceding quarter (e.g. Q2 formats announced on Jan 1st, Q3 formats on Apr 1st, etc)
Stay tuned to Hipsters of the Coast on social media for more information and opinions on today's announcement!