In late 2002 I found myself with my family in the mall during a trip inside Electronics Boutique (a precursor to today's GameStop) when a certain game on a shelf caught my eye: Magic Online. Today it's easier than ever to purchase an account, download the install file, and go to town; but back then the game required you to purchase an installation disc that came with a code to set up an account. Only a handful of sets were available—7th Edition and Invasion through Onslaught—with earlier sets not showing up for years down the road.
Back then the game had all kinds of now defunct variants including Singleton, Prismatic, Two-Headed Giant, Classic, and my personal favorite Tribal Wars. As a twelve-year-old I didn't have many opportunities to obtain new cards, so these variants offered a fantastic budget solution to play the game I loved dearly. When I settled in to play one of my first ever matches of Tribal Wars, I used a deck I'd found online through an introduction to the format which at the time required you to have at least twenty cards in your deck of one type (this was later changed to be a third of your deck). That deck was Elves. The deck was fun to play and blew my mind the first time I found myself in a mirror match where both players amassed huge board states and massive life totals thanks to the likes of Ambush Commander, Wirewood Hivemaster, and Wellwisher.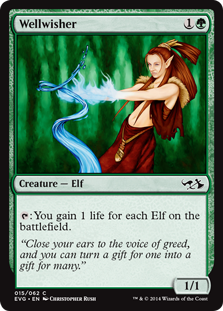 With Tribal Wars I found my love for a more competitive style of play. I also fell in love with the Elves archetype as a whole. No other version of the deck has given me so much joy as that first deck until I discovered Pauper, a modern Magic Online-originated variant format that revolves primarily around commons. Through countless matches I learned the deck inside and out and it became arguably not just my favorite Pauper deck, but my favorite deck of all time. It packs both a powerful punch, a heaping dose of nostalgia, and a swath of new toys I didn't have back in the early 2000's.
Over the next few weeks I want to introduce you to my favorite deck in one of the fastest-growing formats the game has to offer, which I will follow up with other decks thereafter. As many others have shown, Pauper brings a lot to the table. You have lots of power in many commons from over the game's long history, strong affordability with even the most expensive decks generally capping around $150, and a format that never experiences rotation. This means that while the metagame may shift from time to time, your cards will always be playable and sometimes even usable in other formats. This is especially true with Elves, which contains staples of the archetype from other formats—Quirion Ranger and Nettle Sentinel to name a few. Let's have a look at my most recent 5-0 list and see how the deck functions:
Pauper Elves!
At first glance you might not see just how the deck goes off the way it does. It's simultaneously the beauty and the downfall of the Elves deck. Individually, each elf doesn't really do all that much. A topdecked Llanowar Elves mid-game, for example, won't do much for your game and will probably feel pretty bad. When you put all those elves together, though, they form one of the most explosive board states the game has to offer. You achieve this by playing some number of mana dorks at a very rapid rate and winning with a game-ending card like Timberwatch Elf or Viridian Longbow, slamming in with a massive Elvish Vanguard, or going incredibly wide utilizing the likes of Lys Alana Huntmaster.
All of these options are accelerated by two cards which generate massive amounts of card advantage compared to even the best decks of the format: Lead the Stampede and Distant Melody. As a way to help ensure you're able to survive long enough to achieve this goal, you gain tremendous amounts of life with Essence Warden and Wellwisher or boosting your defenses with Spidersilk Armor. Finally, one last thing you'll notice is the very small amount of lands. Thanks to the plethora of mana dorks, often acting as lands in their own way, you can often go off with just a single land on your board!
Let's look at another version of the deck.
Elves! (5/6/18 Pauper Challenge 22nd place by thatMagic)
While my list is largely standard, many players have chosen to forego the deck's blue splash for Distant Melody by focusing on a mono-color build. This was enabled by the downgrade of Lead the Stampede in Iconic Masters last year which, for a time, also pushed the deck to the top of the metagame. The deck was always a force to be reckoned with but was prevented from regularly putting up true results due to the prevalence of removal-heavy decks. Distant Melody, after all, doesn't do very much when you have an empty board. Lead the Stampede changed everything by allowing you to rebuild your board after your opponent had exhausted all of their removal spells. One other benefit the deck got in the last few years was the downshift of Elvish Vanguard, which enabled the deck to go tall as an option to combat certain decks. Prior to that, it was often seen as a deck that just couldn't cut it.
Like many great decks, there's a tremendous amount of ways in which it can be built and played. Next week we'll cover different options from the wide swath of elvish options at our disposal. Then I'll follow that up the week after that with a bit of discussion about the different matchups and how the many sideboard options can prepare you and better your game against them. Until then, keep that elfball rolling!
Kendra has been playing Magic since Urza block and never looked back. Playing a variety of formats and being known for championing Pauper in particular, the Elf Queen can be found hanging out on Twitter as well as streaming on Twitch, always seeking to better the community at large.