It's time to upgrade another Challenger Deck! This time we're going to be taking the powerful Hazoret Aggro list (found here along with the other decks). We'll bring it up to competitive standards using the list I played in Grand Prix Seattle a few weeks ago. This deck was quite potent, taking me to an 8-0 undefeated day one finish (with no byes to boot) and ultimately 10-5 overall. Let's have a look at the list.
Mono-Red Aggro (10-5 GP Seattle by Kendra Smith)
When you look at the this list side by side with the preconstructed deck, it's almost shocking how nearly identical the main deck is between the two. The more finished version swaps some maindeck spells and lesser creatures for tighter threats, and there's also a bit more utility to the lands. Sunscorched Desert is pretty decent at getting some incidental points of damage through, but I found Grasping Dunes to be useful in most matchups over the course of the weekend. It often caught opponents off guard as well, with them usually needing to pick up the card to see what it did.
In addition to these updates, the sideboard goes through a nearly complete overhaul. A large number of cards in the precon's sideboard feel like they should be in the maindeck (Pia Nalaar) or cut from the 75. Cards like Sentinel Totem, Key to the City, and Kari Zev's Expertise aren't necessarily bad on their own, but there's are so many better options—see Scavenger Grounds in the case of the Totem. Then there's the four copies of Chandra's Defeat, which seems extremely suspect here. The card isn't a bad option at times, but suffers currently in the metagame where the only cards you usually want to be hitting with it (Glorybringer and Chandra, Torch of Defiance) aren't seeing nearly the level of play they were for awhile.
Hazoret Precon Update #1
With the first upgrade, we pick up a number of the smaller rares. One thing you might notice is that in comparison to the Second Sun Control upgrade I discussed last week, the new cards cost noticeably more in this first update list. They're arguably the most affordable though, being a few dollars here and there. Only the lone extra Hazoret pickup may cause a serious dent in your wallet. However, it's such a key card for the deck you really should have more than one at the very least.
Certain cards also get removed while others switch to the sideboard. Soul-Scar Mage is a cool card and does show up sometimes in competitive lists, but I find it's not as good these days seeing less gods out there. Harsh Mentor moves to the sidelines here—while the card is great and triggers surprisingly often in the current metagame, cards like Earthshaker Khenra are simply better. Keep it in your back pocket as a way to punish particularly ability-heavy decks. We also add Fiery Cannonade to deal with pesky token decks and Aethersphere Harvester as a counter to other aggressive decks.
Hazoret Precon Update #2
With the second upgrade we start picking up more of the expensive cards. This time there's a very noticeable jump in how much you'll be spending acquiring these cards. The remaining two Hazorets and one Chandra will easily set you back $50 at the very least while a pair of Dire Fleet Daredevils will run you another $20. Thankfully, however, these cards are well worth your investment. Not only will you get a great amount of mileage out of all of these cards in your Standard deck, but all of these see some degree of play in other formats. Hazoret and Chandra both see play in different Modern and Legacy decks while the Daredevil has been making rounds in Modern's top dog Five Color Humans.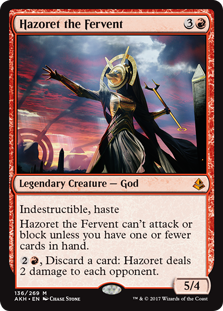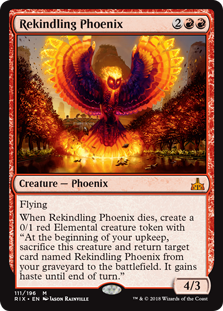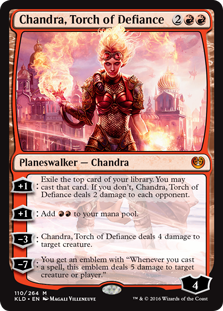 For the final upgrade, we grab the last Chandra and a pair of Rekindling Phoenix. The Phoenix, unlike the previously mentioned cards, doesn't see much play in other formats just yet, if at all, but can be an absolute house in many matchups. If you're expecting to see a lot of Vraska's Contempt, however, the card's value does sadly go down. When it gets there, though, boy does it get there, with the recursion making itself better. And while Contempt is certainly a problem for the card, you can even shoot it down yourself in response provided you still have mana available in order to ensure it comes back next turn. Glorybringers certainly can't do that, no matter how much glory they try to bring.
Ultimately the deck has been exceeding my expectations in overall playability and has been showing me just how good Standard is right now. I'm actually having fun with the deck, which is way more than I've been able to say about the format in the last couple of years.
Dominaria is only likely to add more fuel to that fire. While I don't think the set will bring too much change, there's some cards for this deck that are just too good not to check out. Goblin Chainwhirler seems like the most obvious inclusion, being an easy replacement for the Fiery Cannonades as the former only hits your opponent's field. Cards like Fight With Fire, Ghitu Lavarunner, and Keldon Overseer seem close to hitting the mark, but are likely too conditional or expensive to get maximum value over other options at your disposal.
Siege-Gang Commander offers a great late game play against certain decks. Verix Bladewing likely doesn't make the cut over the Phoenix or Glorybringer, but it does offer a decent budget option that's likely to see play post-rotation. What will likely be a contender for the slot, however, is Traxos, Scourge of Kroog. With Bomat Couriers and a plethora of legendary spells, it's not difficult to turn this monstrosity online and smash your opponent's life total away.
I hope you pull these and many other great cards to burn away your opponent's life totals this weekend at the Dominaria prerelease events. I'll be back next week with the spectacular Vehicle Rush deck. Rev up those Heart of Kirans!
Kendra has been playing Magic since Urza block and never looked back. Playing a variety of formats and being known for championing Pauper in particular, the Elf Queen can be found hanging out on Twitter as well as streaming on Twitch, always seeking to better the community at large.