Welcome back to part two of the Challenger Deck article series! I'm fresh back from an amazing weekend at Grand Prix Seattle and I hope by now you've had an opportunity to check out these incredible decks. After my brief overview of all four lists last week, I'm now going to take you through how to upgrade what's arguably the weakest of the bunch: Second Sun Control.
Make no mistake, the deck plays well on its own; but the preconstructed list features questionable card choices over more obvious options. For example, the two copies of Kefnet the Mindful in the 75 stick out like a sore thumb. They have no place here. If you're looking to make a few small upgrades, you should look to take these out along with some Farm // Market and Aether Meltdown and replace them with Disallows and more Settle the Wreckages.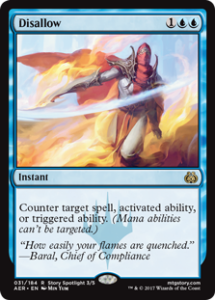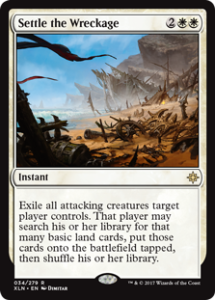 If you wish to go for a more true competitive upgrade, however, there are a few different ways you can go about it. Unlike the other Challenger Decks, the Second Sun Control archetype has branched out into a couple different flavors. The most represented of these in the metagame is currently Mono-White Approach, followed by the Blue-White Approach, and White-Blue Cycling. While many may wish to upgrade towards the blue-oriented versions, the goal here is to upgrade to the most competitive version of the deck in the most cost-effective manner. With that in mind, let's have a look at a fully finished Mono-White Approach list.
Mono-White Approach (Comp League 5-0 by cov3rtpanda)
This deck controls the game much like its Azorius cousin. Instead of focusing on countering your opponent's spells, though, it focuses on reacting to their game plans. With the metagame being largely creature-based, packing plenty of removal to hammer away at their threats as you build up to casting your Approaches can be back-breaking. In addition, cards like Cast Out and Ixalan's Binding shut down non-creature permanents. Your sideboard acts in a more transformative fashion, turning into a creature based deck that can act as a foil to oppressive creatures and take your opponents by surprise. Thankfully, the preconstructed deck can be upgraded towards this list in just a few steps.
Precon Upgrade 1
With this list we upgrade some of the glaringly mediocre cards in the original list (which can be found here) with some very affordable options. Cards like Baffling End and Ixalan's Binding give your deck a better removal suite while Arch of Orazca and Orazca Relic provide more utility options. These come at the cost of some of the solid blue options like Censor and Glimmer of Genius, but Supreme Will acts as both in one while Opt offers premium card selection earlier.
All of the upgrades in this step cost, as of this writing, just over $20 at Card Kingdom. You can probably earn that back in store credit from placing at a couple local store events. That means that the cards required here can be picked up rather easily.
Precon Upgrade 2
Now we go to our second round of updates. This time we're going to be picking up some more expensive staples. As such, this may take a little more time to build, but ultimately enhances your deck greatly.
Moving towards a pure-white build, the list now foregoes blue completely while still maintaining plenty of utility. Treasure Map gives you plenty of card selection which culminates in your choice of extra mana and card draw, allowing for a multitude of options in a single card. The Immortal Sun, on the other hand, enhances all possible ways of playing your deck. Whether you're looking to cast cheaper spells, boost your transformative sideboard game plan, or else shut down your opponent's planeswalkers, it does a tremendous amount for a single card.
While all of these cards offer great options, however, it's best to make all of these changes at once. Obtaining the cards is important, but jamming them straight into the deck will likely dilute blue to the point of it being useless. Make an overarching swap all at once.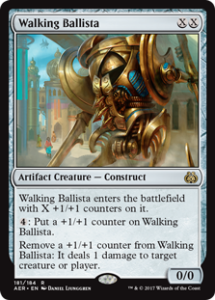 The last change to bring it to the presented list is a simple but expensive one: remove the four Renewed Faiths from the sideboard and replace them with Walking Ballistas, as well as swapping two Plains for another two Scavenger Grounds. While two Grounds can work effectively, the lists often run four for extra utility, especially with the new Blue-Red God-Pharaoh's Gift deck popping up this past weekend. However, the card can be pricey, so the last two should be among the last cards you grab. Similarly, Walking Ballista is probably the single most expensive card you'll need to pick up for the deck, and with it being a full playset here, you can swap them out at your own pace. Even if you obtain your set of Ballistas closer to rotation, however, it's a multi-format all-star. That means your investment should remain largely intact.
With Dominaria landing next weekend, the Second Sun Control archetype is sure to get even more sweet new tools. We already have a few worth keeping an eye on—looking at you Seal Away. Let me know what cards you're looking forward to trying out as well as how the preconstructed deck performed for you on Twitter! I'll see you next week when I'll go over taking the Hazoret Aggro precon up to the list I took to a 10-5 finish this past weekend.
Kendra has been playing Magic since Urza block and never looked back. Playing a variety of formats and being known for championing Pauper in particular, the Elf Queen can be found hanging out on Twitter as well as streaming on Twitch, always seeking to better the community at large.