Editor's Note: Check out the end of this article for how to enter to win one of the Challenger Decks Kendra has been upgrading, courtesy of Card Kingdom!
On day two of GP Seattle, I arrived at the convention center anxious to get started with the event. Coming off of day one with an undefeated record, I was absolutely reeling. When I finally sat down for my first match, I found myself across the table from Andrew Shain, a teacher who said he was there to have fun and do his best. I lost that match, but between rounds continued to cheer him on as he piloted his take on Mardu Vehicles all the way to the top eight. Today we're going to take the already-fantastic Vehicle Rush Challenger Deck and bring it all the way up to his list from the top eight finish.
Mardu Vehicles (GP Seattle Top 8 by Andrew Shain)
Holy staples, Batman! If you read my last two articles, you might remember how I talked about expensive cards like Walking Ballista, Hazoret the Fervent, Rekindling Phoenix, and Chandra, Torch of Defiance and how they were the top end, more difficult cards to acquire. That remains true, with all of the aforementioned cards present alongside other expensive cards such as dual lands—something unnecessary in the last two lists I covered due to them being mono-colored—as well as Fatal Pushes. All of these combine into the priciest deck covered yet, as well as one of the more cost prohibitive decks in the current metagame.
But there's some good points to this as well! For one, as I mentioned previously, all of these cards are staples not just in Standard but in other formats as well. As such, even if their value drops off a bit post-rotation in the fall, they're the most likely to retain their value. For another, of all four Challenger Decks, Vehicle Rush actually feels the most complete. Second Sun Control was missing key cards like Disallow while Hazoret Aggro only had a handful of the more expensive cards. As you'll see next week, Counter Surge is no slouch either, however feels like it lacks something earlier versions had (like Grim Flayer and Emrakul, the Promised End) or the powerhouses in current Sultai versions builds. Vehicle Rush looks almost identical to a number of Mardu Vehicles' earlier incarnations. Because of this, it functions very well in its current form and we're just building on the base the preconstructed list gives us.
Vehicle Rush Precon Upgrade #1
For the first upgrade, we're going to tackle some of the deck's weaker points. Those include the mana base and the sideboard. Thankfully the meat of the main deck functions quite strongly. However, the lands used make things quite a bit difficult to play the non-artifact cards, so we're going to upgrade all of these first and foremost. The good thing about upgrading this deck is we already have a few sweet budget options at our disposal as we upgrade. Aether Hub offers mana of any color and Evolving Wilds and Unclaimed Territory can help you churn out a number of cards but in a less-than ideal manner. As such, you can upgrade these however you want, ideally removing the Territories first. You can also use Isolated Chapels and Clifftop Retreats if you have them, a welcome option that Dominaria brings to the table.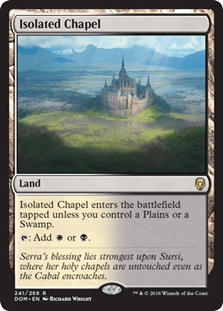 The other aspect we look at is the sideboard. By copying the list's sideboard given to us, we get a plethora of choices. This is much better than the preconstructed list and removes some of the more questionable choices like Harsh Mentor and Crook of Condemnation. Lastly we also remove a Cultivator's Caravan and a lone Lightning Strike to make room for two Cut // Ribbons, which act as removal and a finisher.
Vehicle Rush Precon Upgrade #2
With this next upgrade we grab some of the more expensive cards. Replacing the remaining Lightning Strikes with Abrades helps deal with a variety of threats, especially now that cards like God-Pharaoh's Gift are shaking up the metagame. Also unlike the mono red list, your other removal spells will also deal plenty of extra damage to your opponent. Like the mono red list, however, we're adding in a couple Hazorets. While Depala gives us some potential card advantage, dropping a few vehicles and the first two Veteran Motorists for the versatile Walking Ballista means we're getting less out of it. Meanwhile, Hazoret the Fervent gives us a lot of reach in being able to swing for massive damage, crew vehicles, and activate her ability for those extra points of damage.
For the last upgrade, we pick up the remaining pricey cards in the form of the last few Walking Ballistas, the Rekindling Phoenix, and the Chandra, Torch of Defiance. With these, we bring the deck into full focus with lots of great options and powerful beats. With Dominaria coming out this week, though, we have to wonder what that amazing set may bring to the table to up the deck's game.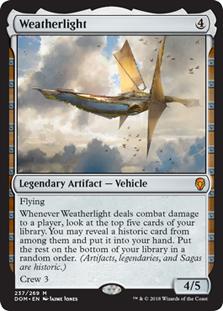 The new checklands obviously got a mention, but like last week I absolutely need to mention great cards like Goblin Chainwhirler, Siege-Gang Commander, and Traxos, Scourge of Kroog. All of these can offer great options either by wiping out tokens, making flingable and crewable tokens, or else just beating face in ad nauseum. They do have limits, however, as it's questionable just how much they bring to the table. It's arguable that Chainwhirler, an absolutely ridiculous card in its own right, is the best, but the triple red casting cost is a real limitation in a three-color deck.
Beyond those, we also have cards like Daring Archaeologist, which gets back your lost Heart of Kirans, and Garna, the Bloodflame can bring back any other creatures you lost in the fray. Weatherlight helps you dig for key cards and gets crewed much the same way as Heart does. Lastly, cards such as Phyrexian Scriptures, Cast Down, Cabal Paladin, and Shalai, Voice of Plenty all give you great reach options, particularly for your sideboard.
With great decks like this and great play, you can also reach great heights at competitive events much like Andrew Shain did in Seattle. And what better way to do this than to get your own deck to start with? Card Kingdom has given Hipsters of the Coast a full set of Challenger Decks to give away and I'm here to tell you all about it! Go to this link to enter. Following next week's article, I'll be doing a stream around 6PM EST that same day taking some of these finished lists for a spin and drawing four winners near the end. Each winner will submit a list of their preferred order of deck choices and will be given the highest chosen one. If more than one entrant has the same first choice, the winner of that deck will be chosen randomly and the others will receive the next possible deck.
I hope to see you then as we climb to victory by taking the final Challenger Deck, Counter Surge, and making it into a Sultai Constrictor list fit to sit atop the Winged Temple of Orazca!
Kendra has been playing Magic since Urza block and never looked back. Playing a variety of formats and being known for championing Pauper in particular, the Elf Queen can be found hanging out on Twitter as well as streaming on Twitch, always seeking to better the community at large.