Jeremy Hambly, the content creator behind the controversial YouTube channel Unsleeved Media, previously known as MTG Headquarters, was suspended indefinitely from the DCI by Wizards of the Coast today.
In a statement, Elaine Chase, Wizards' Vice President of Global Brand Strategy, said that the company is taking steps to "to help foster a better, more inclusive Magic community. As part of this effort, today we took action against a number of players for violations of the Magic Code of Conduct."
Hambly's lifetime ban is a part of a larger wave of suspensions announced this evening, including the year-long suspension of Magic pro Travis Woo.
On his main Twitter account, Hambly shared a screenshot of the DCI's email informing him of his suspension. According to the screenshot, Hambly's "DCI membership has been suspended indefinitely and [his] Magic Online account has been deactivated."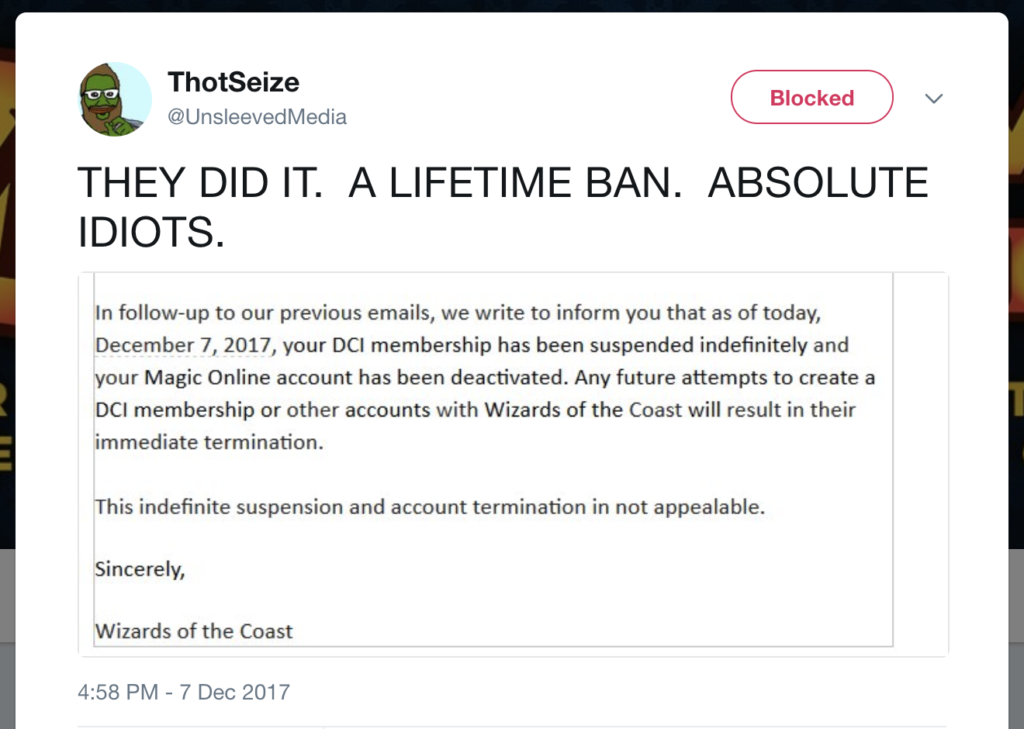 In the past several weeks Hambly has been under the spotlight after popular Magic the Gathering cosplay personality Christine Sprankle announced her decision to leave the community. Sprankle, made it clear that Jeremy Hambly's videos and tweets about her were a key factor in her decision.
Julia Alexander of Polygon had a very in-depth review of the events that transpired including YouTube taking down at least one of Hambly's videos about Sprankle as well as a collection of other videos and tweets that the Magic community has identified as harassment of either specific people such as Sprankle or entire groups.
Many members of the community have called on Wizards of the Coast to suspend Hambly's DCI membership and bar him from entering sanctioned events. Much of this stems back to Grand Prix Las Vegas earlier this year when Hambly began making threats to harass other YouTube content creators at a panel at the Las Vegas event.
Hambly later claimed that the threats should not have been taken seriously and ultimately Wizards of the Coast and Channel Fireball chose not to suspend Hambly or bar him from the event. No incidents took place between Hambly and other community members while at Grand Prix Las Vegas.
Hambly has acknowledged multiple times that a DCI suspension would have minimal effect on him as he only very rarely attends sanctioned events and produces most of his content from his in-home studio and not at event sites.
We will continue to update this story as it develops.