"I just found this gem from 2008, the Top 8 is spicy as f*%k!!!"
This is how a message began from the one and only Aaron Gazzaniga, a close friend and fellow writer for Hipsters of the Coast. The decks in this Legacy tournament from years gone by were indeed thought-provoking. It was filled with some of the coolest decks from Magic's history, decks that are all but extinct in today's metagame. Aaron and I decided to set out on a shared journey of revitalization. Over the next few weeks we will be updating these awesome decks so that they can be competitive in a modern day tournament. Aaron has already come out with the first installment.
The Old and Busted
Without further ado, let's dive into the deck we will be updating today.
Dreadstill by Damien Colomb
Dreadstill used to be a terror in the legacy metagame. Attacking from all angles, it combined the card advantage of Standstill, the control of Sensei's Divining Top plus Counterbalance, and the raw combo power of Phyrexian Dreadnought.
The deck would lock its opponents out of the game and then finish them off with a massive 12/12 trampler. Phyrexian Dreadnought is also a lot scarier when you take into account that Emrakul, The Aeons Torn and Griselbrand were still years away from being printed. Phyrexian Dreadnought was the de facto B.A.M.F. of the day.
So what happened? How did this deck go from a dominating archetype to barely posting more than a handful of top eights in the last five years? The answer is quite simple. Dreadstill's downfall can be tied to the printing of a single card.
Abrupt Decay is the perfect answer to Dreadstill. A compact, uncounterable removal spell that turns your scary 12/12 into dust. Since you had to combo out Phyrexian Dreadnought with a Stifle, Abrupt Decay was a two-for-one card advantage swing that cruelly snatched away victory. Oh, and it kills your Counterbalance too. To add insult to injury Wizards recently printed Fatal Push, which is an even more efficient answer to spoil our fun.
The New Hotness
In order to bring Dreadstill back to its glory days we are going to have to find a way to counteract these answers. Luckily I have a plan!
Dreadstill by Jerry Mee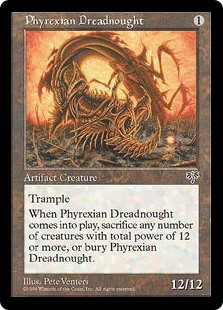 What I love about this list is that it is essentially mono-blue. This allows us the flexibility to splash whatever colors we want in order to find the answers that we need. Tarmogoyf has fallen out of favor in today's metagame. The fact that it also dies to Abrupt Decay means it no longer has a place in the list. We don't need for green mana so the Tropical Island gets cut. Fire / Ice is a cute card that has a special place in my heart, but unfortunately there are better options in this day and age. That means the Volcanic Island are also out.
Cutting red and green means we have room to splash one of my favorite Esper combos, Thopter Foundry plus Sword of the Meek. Thopter Sword also plays very well with the existing Standstill shell that is carried over from the original deck. In a nutshell, the goal of any Standstill deck is to have plenty of on-board tricks and mana sinks to use instead of casting spells. This is why creature lands like Creeping Tar Pit and Mishra's Factory are popular choices. Thopter Foundry acts in a similar manner. Once the combo is in place we can sit under a Standstill and spend all our mana gaining life and making 1/1 tokens.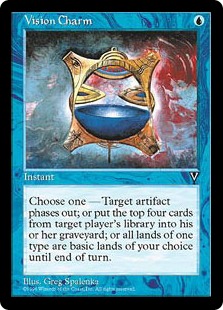 Adding a second artifact based combo significantly increases the need to add Vision Charm to the decklist. Phasing an artifact combo piece out of existence in response to an Abrupt Decay is a great way to counter an uncounterable removal spell. Tuck the Phyrexian Dreadnought or Thopter Foundry safely in another dimension while we wait for the coast to be clear.
As an added bonus, Vision Charm also acts as a backup Stifle for the main combo. Instead of countering the sacrifice ability on Phyrexian Dreadnought the way Stifle does, Vision Charm removes the Dreadnought so you do not have a legal target for the sacrifice trigger. When the Dreadnought phases back in, it is no longer considered to be "entering the battlefield" so big baddy Dread gets to stay and have some fun.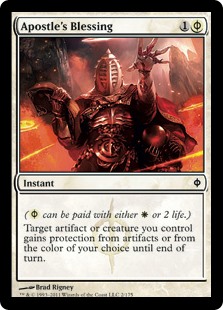 The Spicy 61st
Apostle's Blessing has been overshadowed by their more popular siblings: Mental Mistep, Gitaxian Probe, Dismember, and Mutagenic Growth. The Phyrexian Mana mechanic has proven time and time again to be borderline broken. Apostle's Blessing allows protection from virtually all forms of removal. In a pinch it can also give an attacker protection from blockers in order to seal up the last few points of damage. Costing a single generic mana allows Apostle's Blessing to have some serious versatility, especially with the numerous colorless mana sources in this deck.   
Hope you all enjoyed this trip down memory lane. Check back next week to see what ancient deck Aaron will be resurrecting.
Jerry Mee is a Boston Native who has been playing Magic since Onslaught Block. Primarily a Legacy player, he cohosts the weekly Leaving a Legacy Podcast found on Mtgcast.com. He can be reached on Twitter at @Jmee3rd