The last couple weeks I have mostly been focusing on Standard—I made top eight of a PPTQ with the green-black "Aristocrats" deck featuring Nantuko Husk, Cryptolith Rite, Westvale Abbey, and friends. It was good but a bit too much work in a metagame full of Kalitas, Traitor of Ghet and sweepers. Since then, I've been working on a deck to play this weekend at Grand Prix New York. Look for my report next week!
Despite all this sixty card shuffling, I still made some time to draft. Shadows Over Innistrad continues to impress me as a draft format. The set is overflowing with sweet uncommons and many archtypes are strong if you build them correctly. My favorite so far has been blue-green clues. I put together a great version the other day: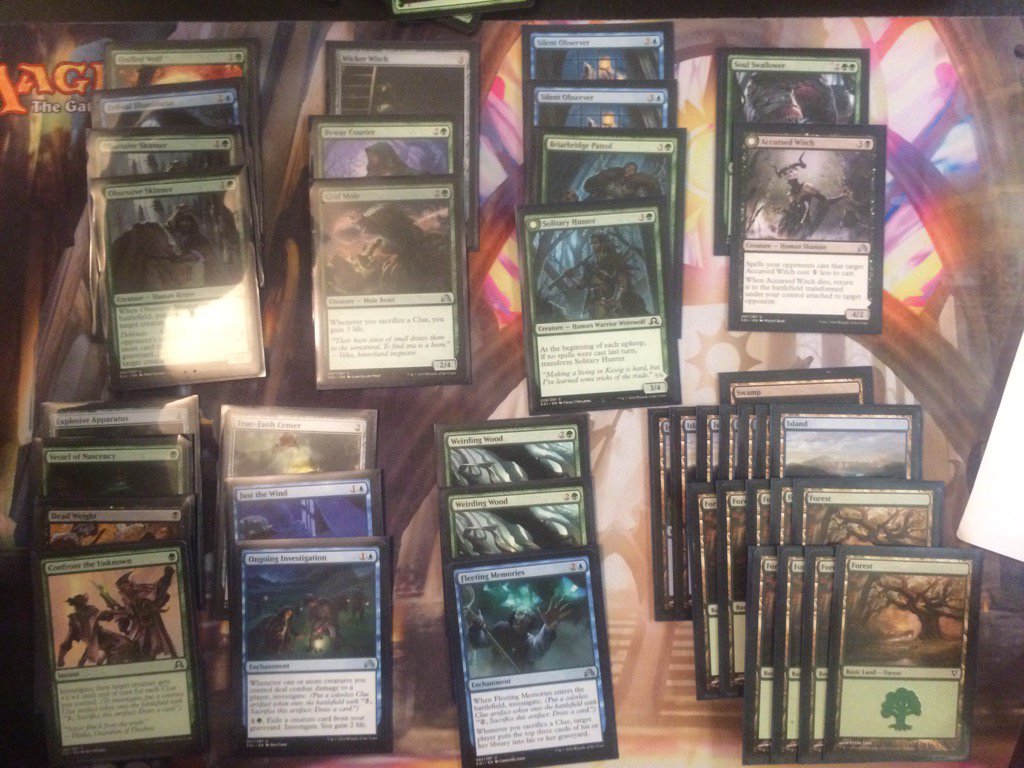 Get Weird
This deck was a real treat. I had to dig deep to win two matches against strong red-green werewolf decks, and I cruised easily past white-green delirium for the 3-0 draft victory. It was a lot of fun.
The draft was actually quite tricky. I started off picking Seasons Past, saw some decent black, and was hoping to draft green-black delirium. Things were going fairly well in pack two, but I noticed that blue was wide open. When I saw Ongoing Investigation pick six in pack two, I figured I could splash it at worst, and maybe even switch into blue-green. The rest of pack two provided Just the Wind and Silent Observer, so I went into pack three with options.
To start pack three, the drafter to my right revealed Elusive Tormentor. I decided that if he passed it to me, I would stay in black, but otherwise I would switch to blue as my pair with green. He took the double-faced rare, I went into blue, and ended up with the deck you see.
I decided that I should splash Dead Weight and Accursed Witch, which was pretty easy thanks to my pair of Weirding Wood. That enchantment is quite underrated, and it proved its worth throughout the draft. The splash also rewarded me—Dead Weight is always good, and Infectious Curse won a game in the finals as it padded my low life while I stabilized against the werewolf onslaught.
Like most achetypes in Shadows, you want to get as many strong uncommons as you can. If you get strong uncommons mid- or late-pack, take that as a strong sign the archetype is open. When I saw Ongoing Investigation in the middle of pack two, that was an engraved invittion to jump in. It's very hard to lose once you get the engine going, and it's totally reasonable to pick it first to start a draft and build around. Ulvenwald Mysteries is the other amazing enchantment to get in blue-green, but you can see plenty more in my deck—Erdwal Illuminator, Graf Mole, Briarbridge Patrol, and even Weirding Wood. Plus there's Byway Courier, a premium common that is generally better than Briarbridge Patrol.
The deck wants to draw the game out, gain life, draw cards, and eventually win the game. Fleeting Memories is a legitimate win condition as long as you have a steady stream of clues, and I would have played the two Manic Scribes in the draft pool if someone else hadn't scooped them up first.
I never actually cast Fleeting Memories, however. In round one against werewolves, I sided it out for Seagraf Skaab after losing the first game. I made some more tweaks before round three, and when I went back to my main deck post-match, I forgot to put the enchantment back in. Round two I played a long game one against white-green delirium, and I slowly realized I couldn't draw to Fleeting Memories as an out. I got lucky and his milled both Declaration in Stone and Descend Upon the Sinful with Vessel of Nascency deep into the game, so I was able to get aggressive and win behind my two very delirious Obsessive Skinners. Then in round three I had the same pattern against the even better werwolf deck, siding it out after losing the first game. Maybe Fleeting Memories is better in the sideboard, but it is a card worth drafting in the archetype.
I wasn't sure whether I should have played the second copy of Vessel of Nascency. The card is great, but I felt like I needed more tools in my toolbox. True-Faith Censer might look out of place, but vigilance is such a great ability in a defensive deck. If I had put Fleeting Memories in the board, the second vessel probably would have gone into its place.
Graf Mole is a ridiculous card. Gaining three life whenever you crack a clue adds up fast. Plus, it's a 2/4 for three mana. You know, like Courser of Kruphix. I had a turn six against werewolves where I cast Graf Mole, targeted it with Confront the Unknown, cracked my single clue, drew a card and gained three life, then passed the turn. This transformed my opponent's board back into Hinterland Logger and Convicted Killer. In short, it won me the game. Don't be afraid to "throw away" a card like Confront the Unknown when you need to cast it but won't get full value. If I tried to wait to cast it in combat for value, I probably would have lost.
Amusingly, I didn't even play my first pick Seasons Past despite being heavily in green. I didn't have any spells that cost more than four mana, and drawing cards in the late game was not going to be a problem. If I had gotten into a very grindy matchup, I could have brought in Seasons Past as decking insurance, as you can cast it and put it on the bottom of your empty library every turn if necessary. Epitaph Golem is a much better way to do this, but both Seasons Past and Ever After can keep you alive indefinitely in a pinch.
Speaking of Epitaph Golem, I am so happy that the card has turned out to be useful. Five mana 3/5 creatures are one of the unexciting playable creature sizes that nobody seems to want in draft but generally overperform. Thraben Purebloods is Shuhei Nakamura's favorite card for a reason! Being colorless, Epitaph Golem can help fill a defensive hole in any color of deck. Plus it has an ability. When the set was released, I suspected that the library-bottoming ability had to be useful in the format or else they wouldn't have bothered to put it on the card. Innistrad is a land of niche uncommons, and it turns out Epitaph Golem has a niche. Awesome!
Anyway, I highly recommend trying out the getting a clue in Shadows draft when you get a chance. Draw cards, gain life, see the world. Get down with the Graf Mole!
Carrie O'Hara is Editor-in-Chief of Hipsters of the Coast.