@Die_Obliterator I want to see you write more articles about the art in new sets. Preferably ignoring the rules text entirely.

— Adam Barnello (@AdamNightmare) March 11, 2015
Ok ok ok. I'm in love with the illustration for the alternate version of Dragonlord's Servant. Hunter Slaton sent it to me in Hangouts when it was spoiled. It's so sad and cute and I love it.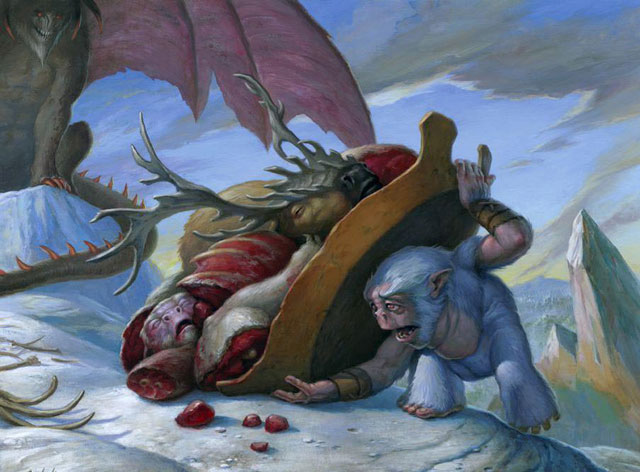 He's tired and bummed out, really bummed out. He's serving a plate of crudely prepared meat to a dragonlord.
The pieces of flesh falling off of the serving tray look like strawberries.
But wait, what's this? He's serving one of his own kin to the wretched powerful dragonlord. It's like a season five episode of the Walking Dead. How devastating!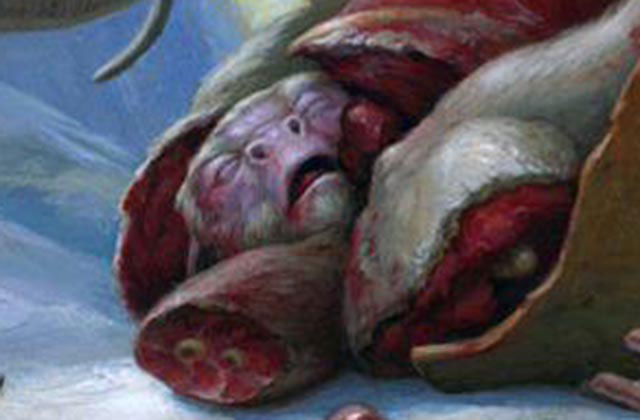 Maybe it's his brother, his wife, his lover? Do goblins have lovers? I bet they do. Oh! It's too much.
So, true to my nature, I emailed Carl Frank to find out more about his illustration. He responded and answered my questions!
Matt Jones: What was the description you received to do the illustration?
Carl Frank:
Setting: DRAGONS OF TARKIR
Clan: Atarka
Color: Red creature
Location: Atarka's perch (see notes)
Action: This is an alternate take on a hapless servitor of the hungry Atarka dragonlord. A MALE ATARKA-CLAN GOBLIN is staggering under the weight of a CRUDE WOODEN PLATTER as wide across as he is tall. Heaped on top of the platter are hunks of butchered deer, wolves, and the like, and perhaps the head of a Kolaghan horse or even another dead goblin. Maybe some gnawed bones are littering the ground.
This is a grimly humorous scene, but no exaggerated mugging please.
Please keep the gore PG-13.
Focus: The goblin
Mood: Enjoy your meal. Please don't eat me.
MJ: I'm assuming there's a guide to the way the goblins in the re-imagined present of Tarkir look. Sort of abominable goblins with the white fur. how do you feel about this lil' guy having to present what is clearly one of his brethren to the dragonlord? An elk, sure, but another white furred goblin? Must be terrible.
CF: The "world guide" that I was provided contained concept-art examples and descriptions of Atarka, Atarka's Perch, these Tarkir-style goblins, and some of the world-specific animals I might use, in pieces, on the platter. Since I had also recently depicted the unique Elk of this setting (on the card, Stampeding Elk Herd), I decided to include the head of one on the platter as a tie-in to my other card. I sought to emphasize the pathos of the oppressed and terrified goblin; I really feel for the poor little guy. As for the "grimly humorous" mood that was requested…. well, I think I got the "grim" part down, anyway.
Since this was to be an alternate version of the card, with another depiction of a similar scene by Steve Prescott, art director Dawn Murin showed me Steve's in-progress sketch, and asked me to make sure mine would be distinct from his. In the sketch that was selected to be the final piece, I decided to show the scene from a completely different angle and imagine that the goblin had lost his balance, spilling the platter before he was all the way up to the dragon. His expression was meant to be one of exhaustion mingled with fear of being eaten for his blunder.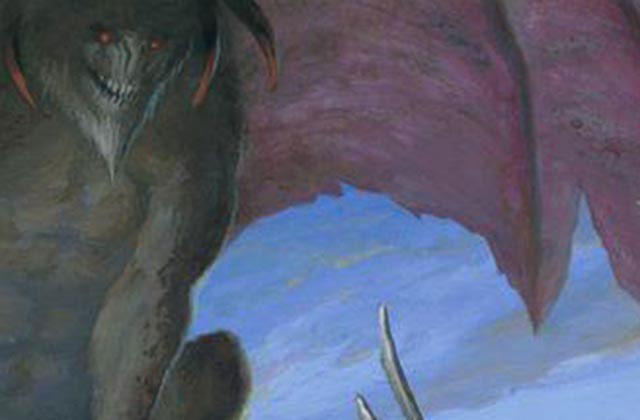 MJ: Can you talk a little about how you went about depicting the dragonlord itself? It's a very mysterious looking dragon, unclear as to which type of dragon it is, and it's much more engaging than the other more comic book like dragons on other cards.
CF: As you now know from the art description, the dragon is meant to be Atarka. However, I intentionally kept my depiction of Atarka somewhat subdued, hazy and vague, to keep the focus on the poor suffering goblin. Anyway, I haven't generally tended towards an "over the top" style in most of my work, unless I am specifically asked to do so. I'm glad you like it, though I'm sure it's not to everyone's taste.
MJ: This painting is hearkens back to the kind of art in earlier Magic: The Gathering sets. Can you talk a little bit about your style and influences?
CF: Well, I guess that's not surprising, since it has been several years since the last work I did for Magic; I have done a handful of Magic cards over the years, with some long interruptions due to other on-staff jobs coming my way. Perhaps I have a bit of an "old school" approach, whatever that might mean. What else can I say about it? I love details, but I also like to retain a certain amount of looseness in my work. Rather than seeking to consciously achieve a specific "style", I try to just let it evolve naturally, deriving from my ongoing practice, learning, and experimentation, blended with my own personality quirks. I think that's what most artists do, in general. All but one of my Magic pieces has been in the medium of acrylic paints, sometimes with a bit of digital touch up or adjustment, if necessary.
As for my influences, Michael Whelan is one of my earliest favorite fantasy illustrators, and his work has certainly influenced my work to some degree. Additional inspiration comes from a list of too-numerous-to-mention artists, many of whom are fellow Magic contributors, like the artistic giants Todd Lockwood and Donato Giancola, as well as younger Magic powerhouses like Cynthia Sheppard. I feel privileged to be in the same company as these amazing folks, as a part of Magic's artist community. I regret only mentioning these few that came instantly to mind, and leaving out so many others that I could have just as easily cited, but I'm sure you want to keep this post to a reasonable length, if it's not already too late for that.
It's not too late for that, Carl. Thanks for taking the time to respond to my questions so clearly and openly!
I ended up buying the painting from Carl. I love it so much. It'll be here waiting for me when I get back from Paris.
Oh right, that brings me to my trip to Paris. I'll be living there for a month and will be on a mini-sabatical from Hipsters during this time. I may write about my experiences abroad here and there. It's likely I'll go to ProTour Brussels to hangout with some famous Magic friends of mine (I've got some art buddies in Brussels who'll give me their couch for a couple nights). I'm sure I'll write about that, too. But for now I bid you temporary adieu, dear reader. I'll be back at the end of April.
Matt Jones (born 1980, Rochester, New York) is an artist living and working in Brooklyn, NY. Matt works between a variety of inter-related genres that explore mythology, archaeology, ancient history, theoretical physics, comedy, and the paranormal—all developed and inspired by research and personal experience. Together his bodies of work form a way for Matt to evaluate, negotiate, and play with the world around him. You can check out his art at www.mattjonesrules.com. Matt's played Magic since early 1995, took a break for a decade or so, and came back to the game the weekend after the New Phyrexia release. With Hugh Kramer he formed New York's Team Draft League and is one of the original writers for Hipsters of the Coast. Matt's been sober for seven years.
(All images are obvs, copyright WOTC 2015, etc. blah blah.)