How the hell were we going to beat team "played in pro tours before" in the finals after narrowly defeating Spice Thyme Continuum last week? Stabber Crew (Longo, Manning, and Colette/Dan OMS) haven't lost since the first week in Season Three. That's eight in a row. They demolished WuTan Clan, a team that put our playoff berth in jeopardy. What were we going to do?
I put it out of my head and tried to draft a fun deck.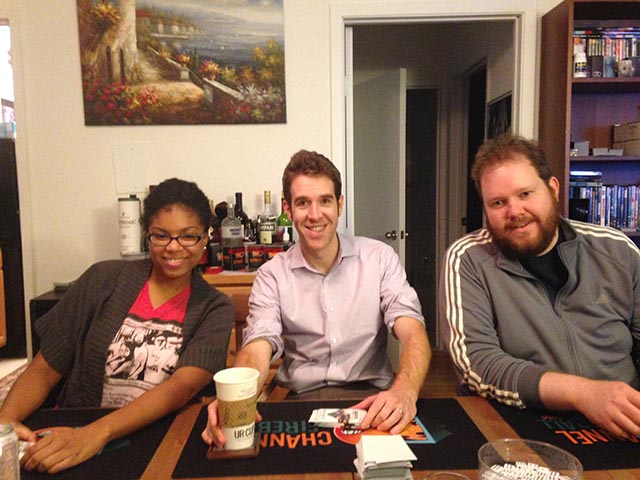 Monique, Manning, and Carrie sat on one side.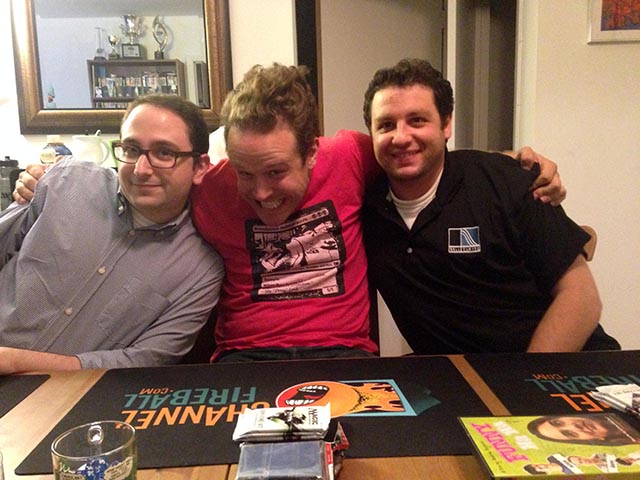 Longo, me, and Dan OMS on the other.
We drafted.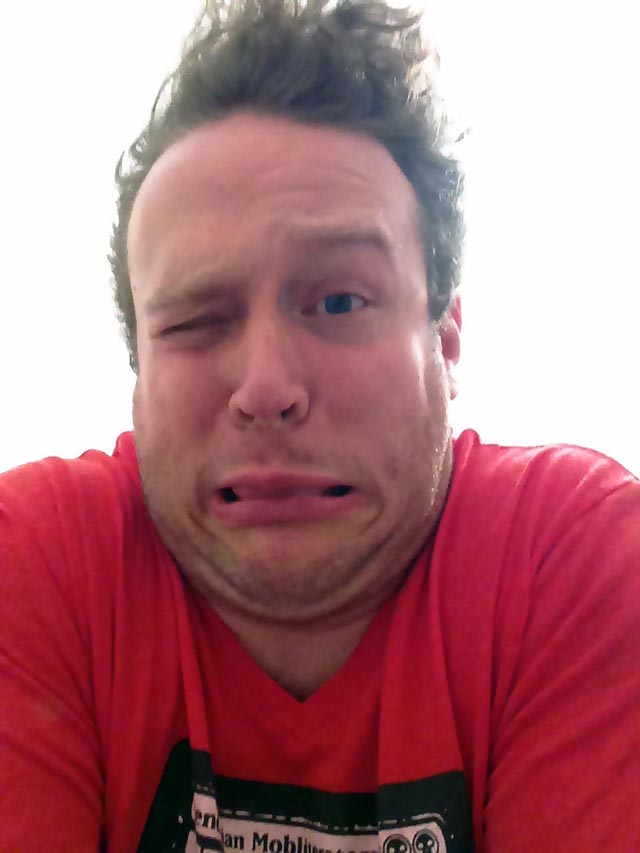 As I'd held in a #2 all draft I ran to the toilet after the last card was snatched up.
Then we built decks. All of the decks from both teams are below. Carrie's deck scared me. She had Go-Back-To-20-Life Archangel and a Constricting Sliver, so I figured he had some kind of chance. Monique's deck looked solid. Blue/White fliers with double Triplicate Spirits.
Just so it's not super confusing when I mention cards I play as I describe my matches here're photos of my deck.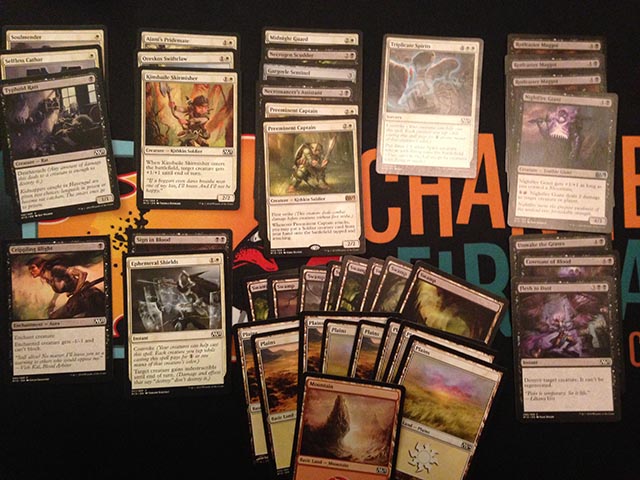 Pack one pick one was trip spirits. The rest of the deck kind of just … happened. I wasn't stoked and I wasn't horrified. I love Rotfeaster Maggot.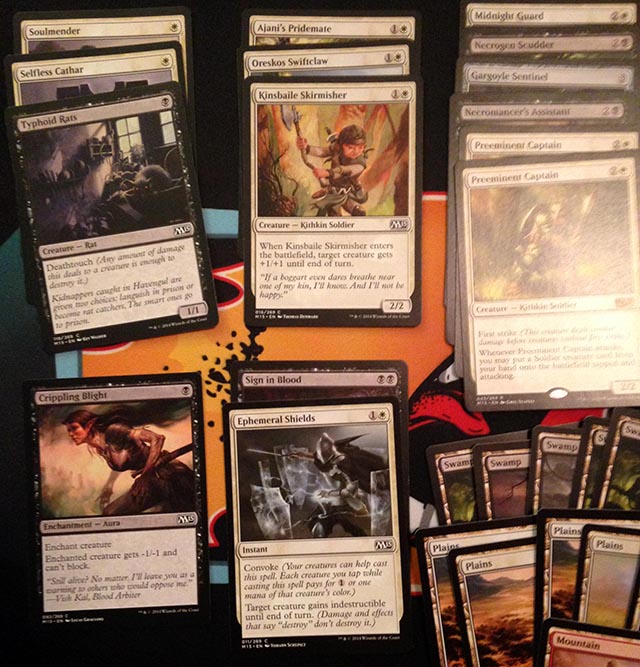 One game I got to Preeminent Captain a Preeminent Captain into play. I didn't have a third soldier to drop. That would've been awesome.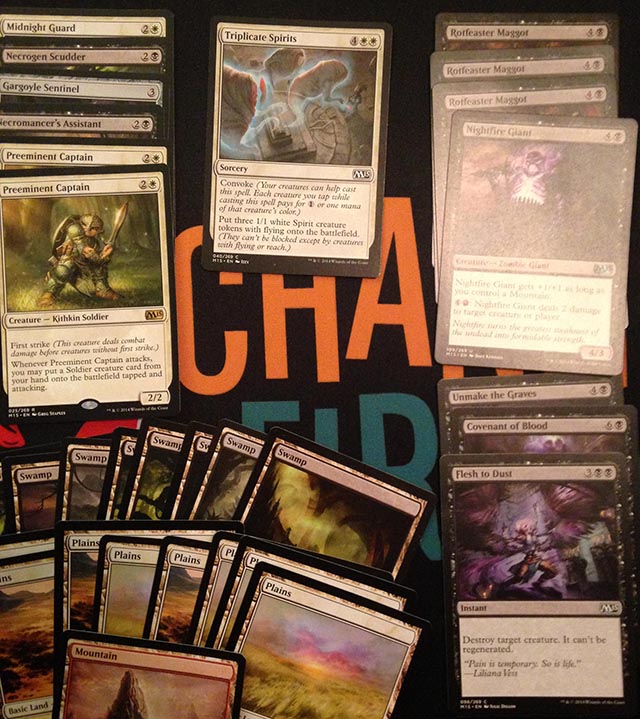 I only saw Nightfire Giant one time and never when I had a mountain in play. I was stoked on those three Rotfeaster Maggots. It is easily my favorite non-rare card in M15 (which, I guess, isn't saying much 'cuz the set sucks donkey balls).
Round one I had to play Papa Longo.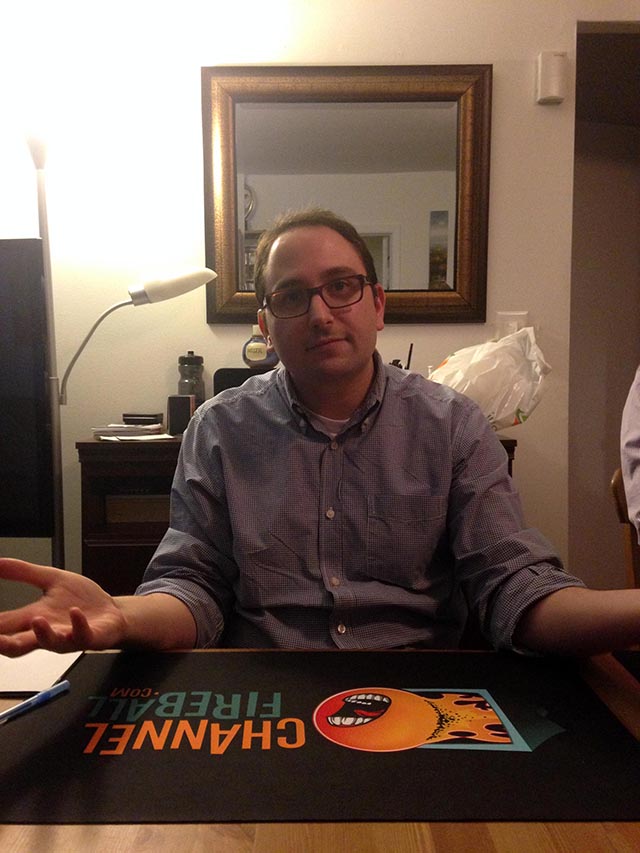 But first I asked the two teams to get together for photos.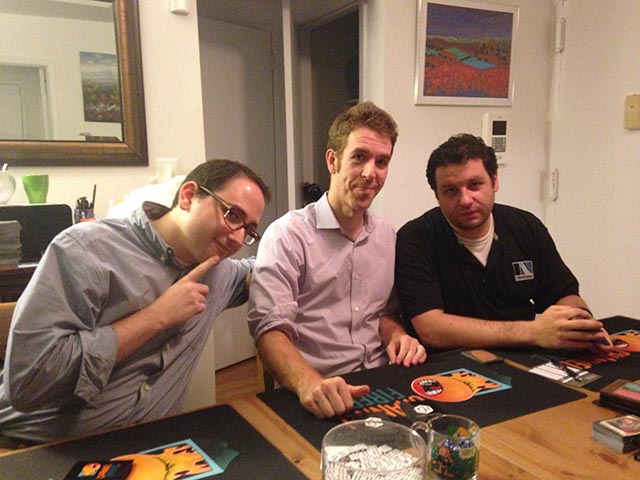 Stabber Crew.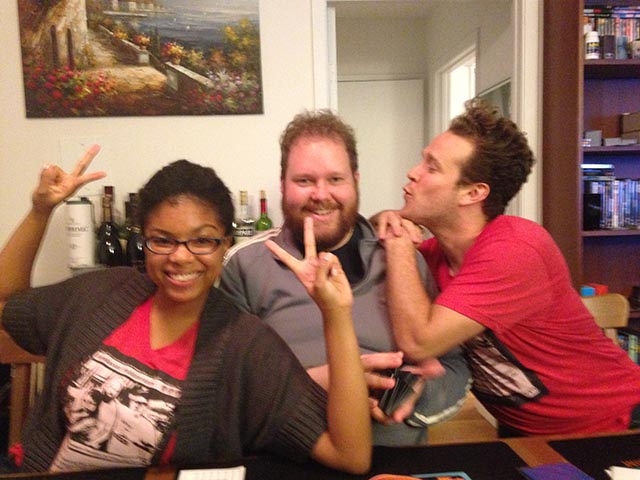 The Brendaxian Mobliterators.
Longo and I dueled. I can't remember if it was 2-1, but I won two mana flood games. I never expect to beat Longo. I always expect to learn something while playing him. He's much better at Magic than I am. Jamie P watched me miss two Ajani's Pridemate triggers. I grumbled about it and he laughed. One of the games I won with a sweet combination of Gargoyle Sentinel and Necrogen Scudder (not a real combo, just six damage in the air unblocked).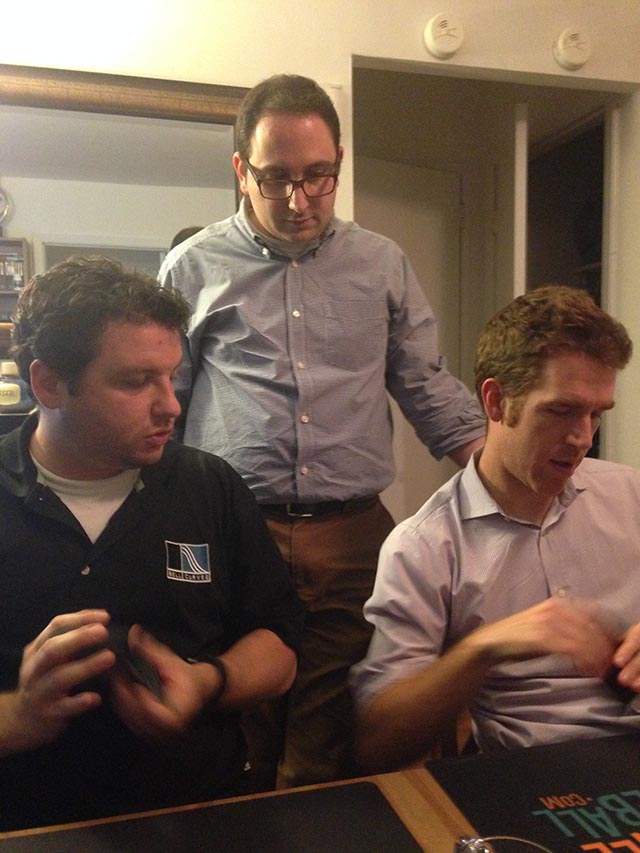 These three guys work well as a team. They talk clearly with purpose. They're interested in each other's games.
Monique lost and Carrie won. I was shocked that Carrie won. Her deck looked wack. Monique's deck looked really good but she had to play Dan and I had a feeling his deck was sweet. It was 2-1 Mobliterators after round one.
Round two I had to play Dan.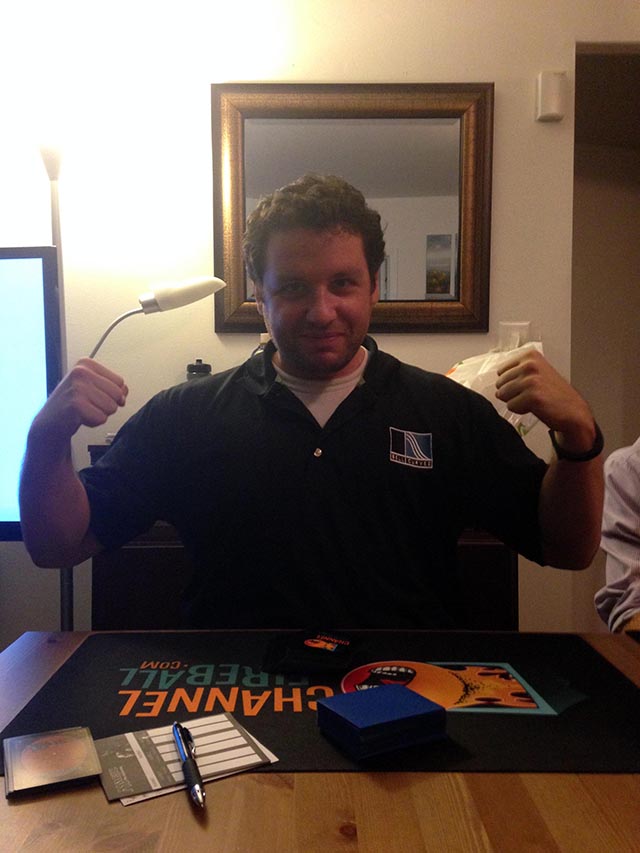 I've only ever played Dan in a cube draft (his cube) and beat him with White Weenies. His response to that match was, "So I'm dead? Oh man." I still laugh about it. His deck this time around had two Spiders and I had no chance. He beat me game one on a mulligan to five and game three incredibly handily. Game two he stalled and I Gargoyle Sentinel/Necrogen Scudder locked him.
Monique beat Manning. Carrie beat Longo. In the final game of Carrie vs. Longo, Carrie had Longo to like one or two life and couldn't close the door. Then she drew Heliod's Pilgrim, searched up Inferno Fist, and Longo was dead. I loved that top deck. Mobliterators were up 4-2. We needed just one win to take the championship!
Round three I played Manning.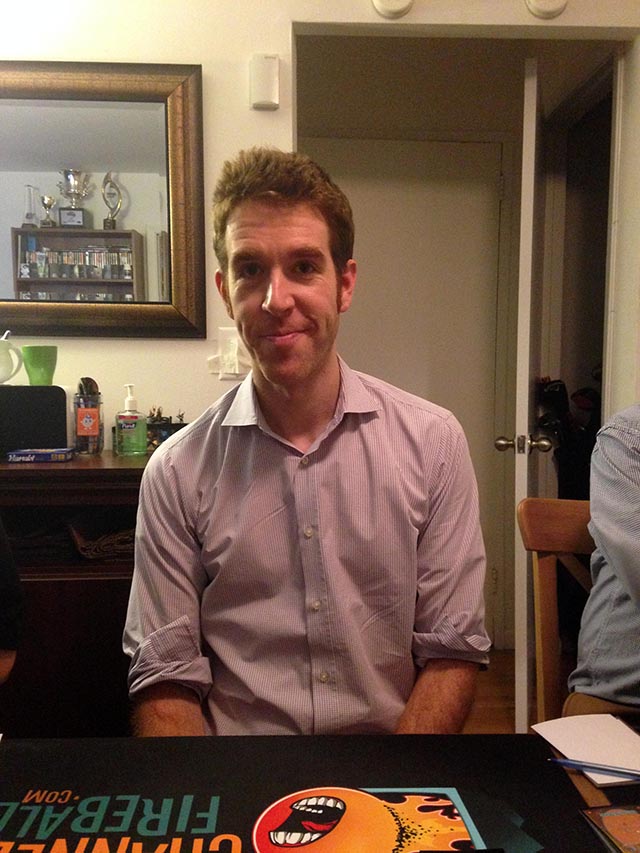 Manning had a lot of Coral Barriers and Jace's Ingenuities. Beyond that I didn't see much. I smashed him game one after he drew 100 cards and played few spells. Just before we finished our first game Carrie had defeated Dan in two quick games. She leaned over and said, "I won, we won the whole thing." And I was shocked. I did not expect to beat these guys. I'm not sure I expected to lose, but I didn't expect to win, that's for damn sure.
We desleeved I asked everyone to layout their decks so I could post them all here.
First, Carrie's 3-0 deck.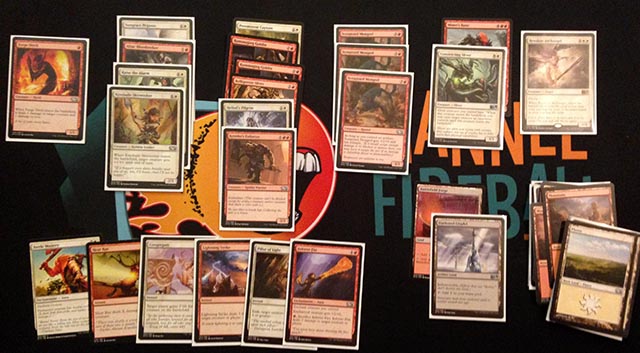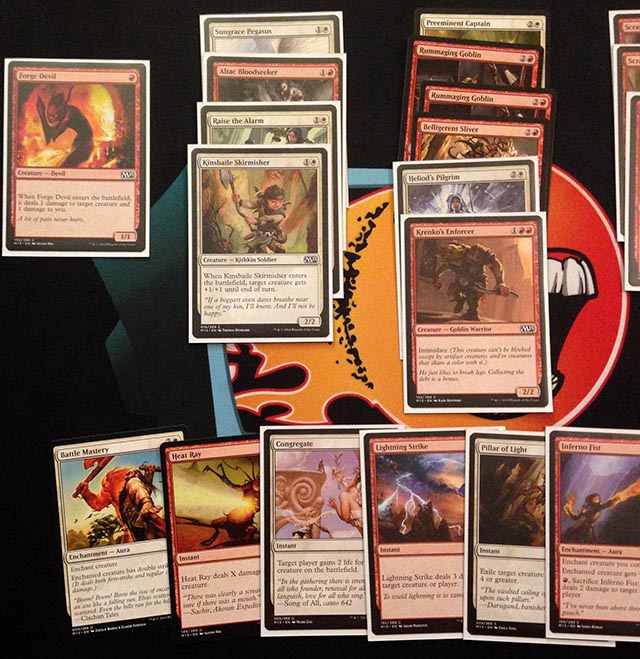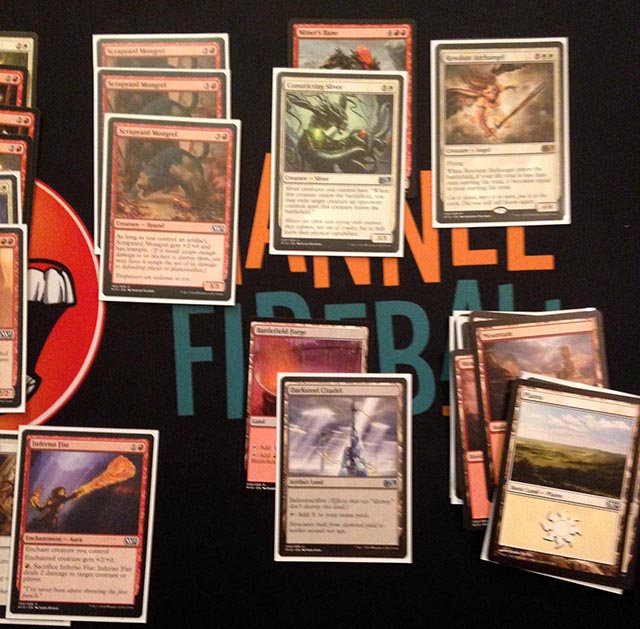 Monique's Blue White Fliers Deck.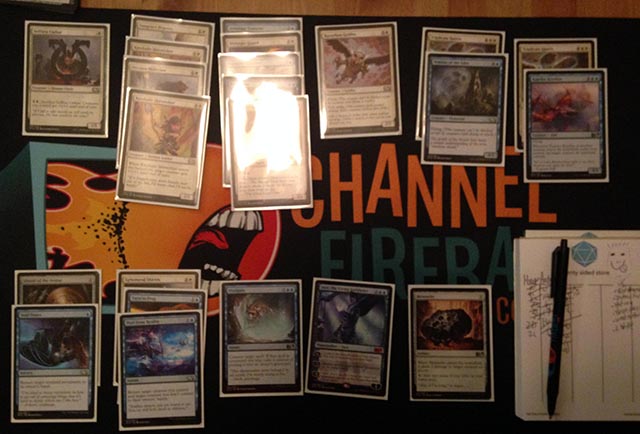 I opened Jace three and passed it through Dan and into Monique's hands. This pleased me.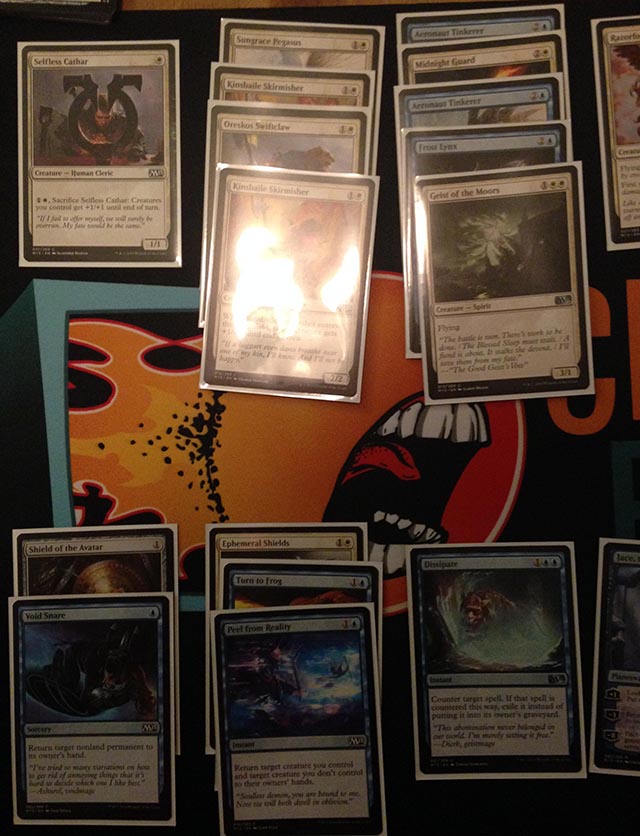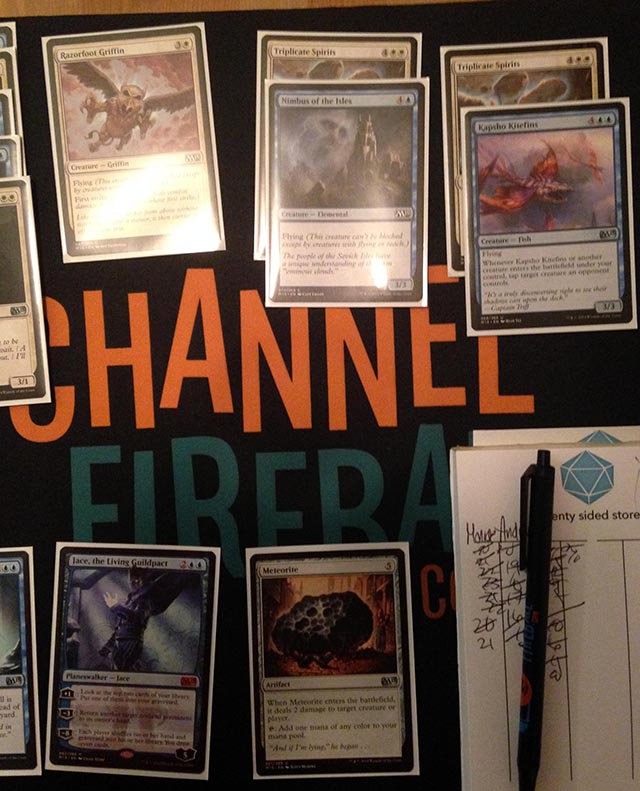 Longo's Green Red Deck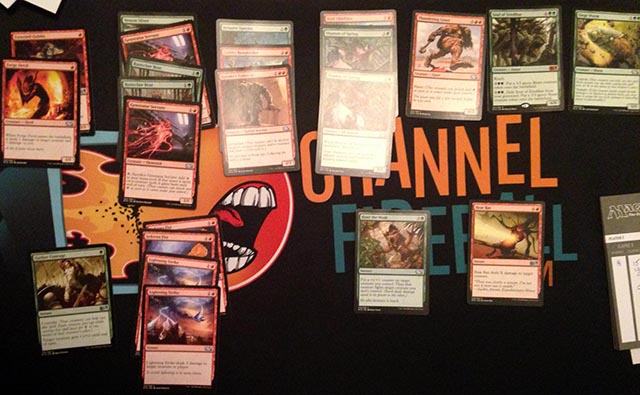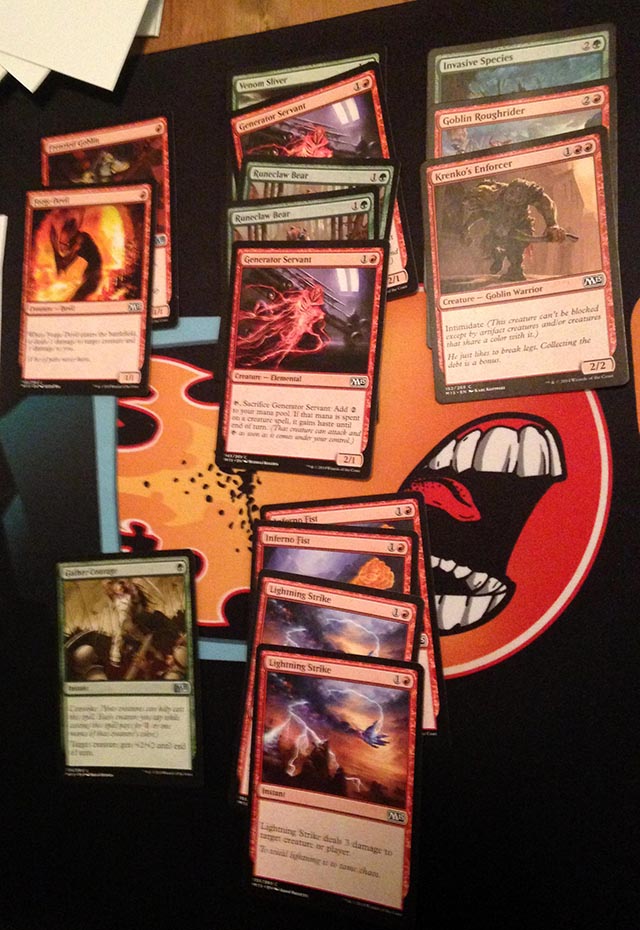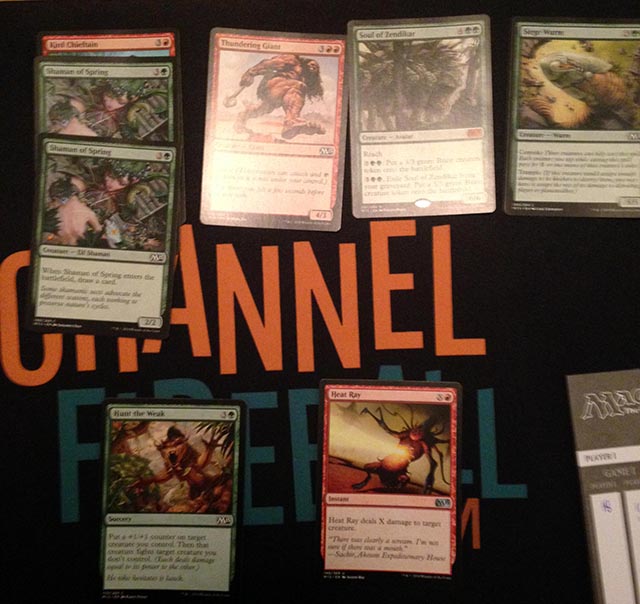 I'm so glad I saw none of these cards during our match.
Manning's Blue Black Deck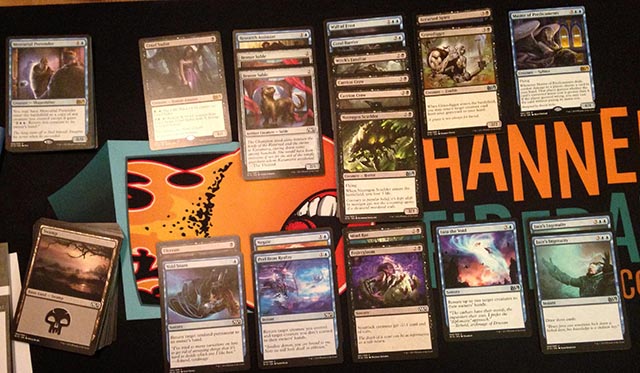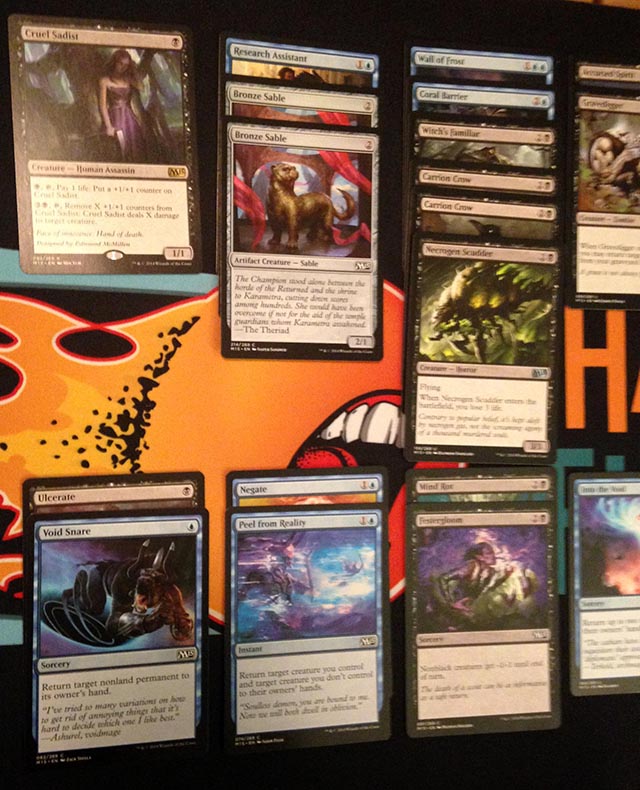 They were pooping on this deck but it doesn't look THAT bad.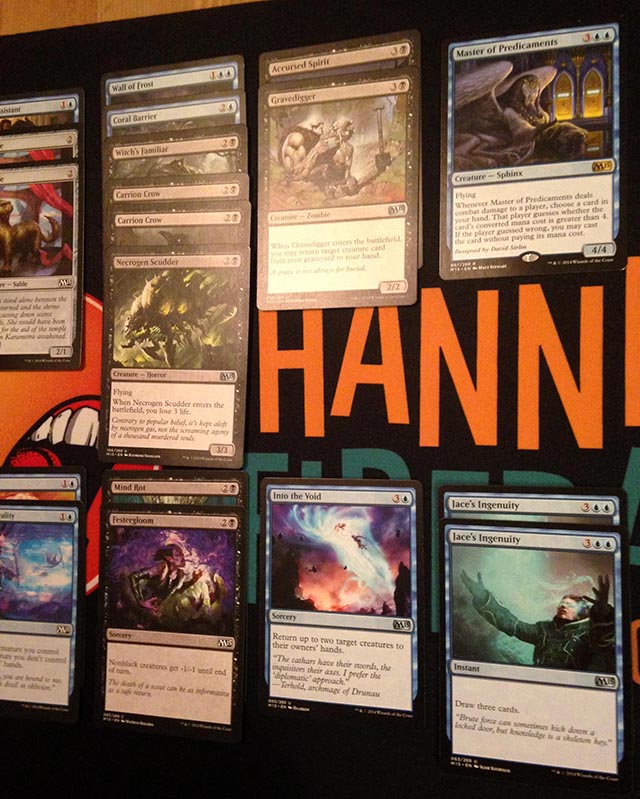 Dan OMS's GB Graveyard/Unbeatable Cards Deck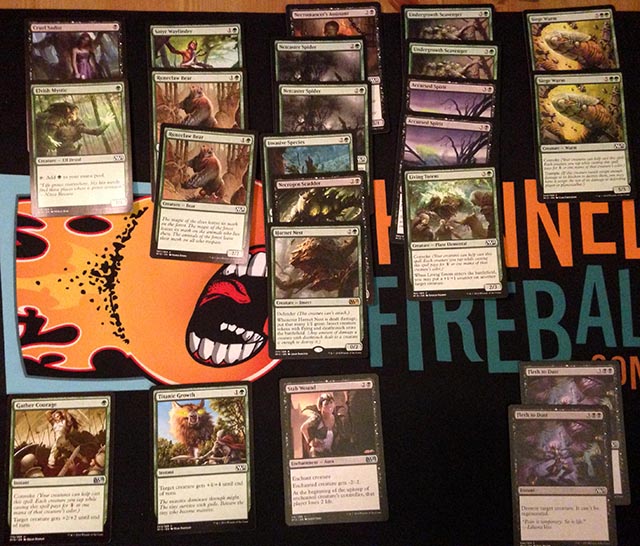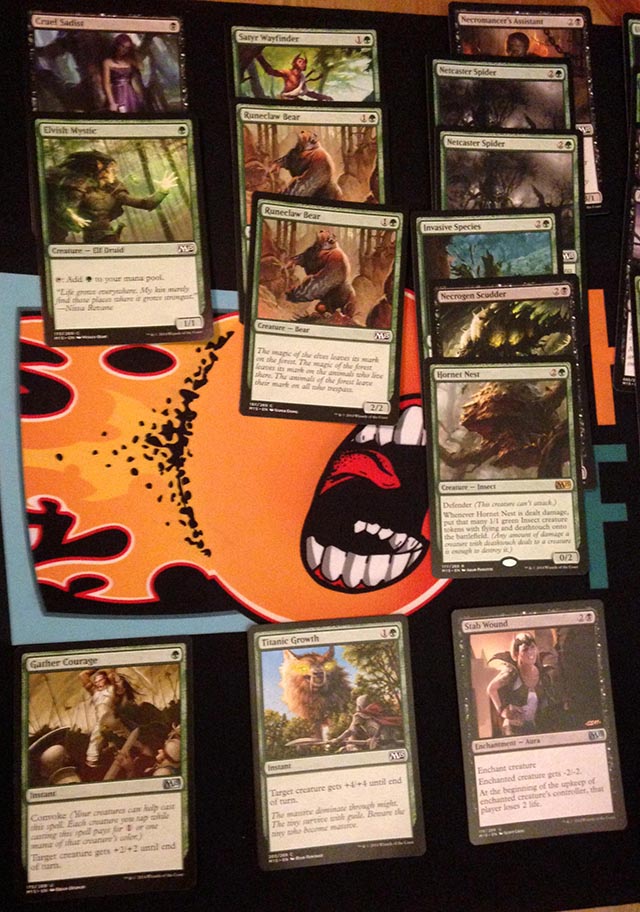 I fucking HATE Hornet's Nest. Ugh. Worst card EVER. Stab Wound beat me all by itself game three of our match.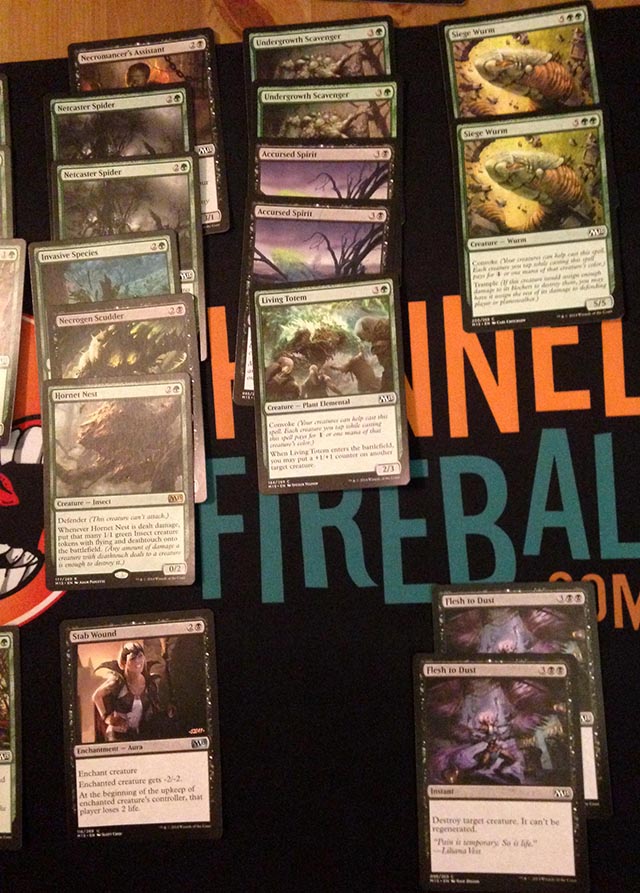 And there you have it, kids! Your TDL:M15 (Season 3) champions!
THE BRENDAXIAN MOBLITERATORS! We're going to have a celebratory dinner on Thursday.
Thanks to Carrie and Monique for being amazing, open, thoughtful, helpful, communicative, and fun people to share nine weeks of team drafting with. I grew a lot as a player over the season and am super grateful to you both.
Thanks for reading!
Matt
Matt Jones (born 1980, Rochester, New York) is an artist living and working in Brooklyn, NY. Matt works between a variety of inter-related genres that explore mythology, archaeology, ancient history, theoretical physics, comedy, and the paranormal—all developed and inspired by research and personal experience. Together his bodies of work form a way for Matt to evaluate, negotiate, and play with the world around him. You can check out his art at www.mattjonesrules.com. Matt's played Magic since early 1995, took a break for a decade or so, and came back to the game the weekend after the Scars of Mirrodin release. With Hugh Kramer he formed New York's Team Draft League and is one of the original writers for Hipsters of the Coast. Matt's been sober for seven years.