23 of the top 25 players in the world traveled to Valencia, Spain this weekend for Pro Tour: Born of the Gods, where they would be challenged to 16 rounds of Theros/Born of the Gods Drafting alongside the new Modern format with Bitterblossom and Wild Nacatl un-banned. Who would win the top prize? Which team's would perform the best? Would Channel Fireball's assimilation of Team StarCity Games pay off? Would Bitterblossom be the dominant card its price-tag implies? Would Zoo return to prominence with Wild Nacatl returned? One weekend would answer all of these questions.
Pro Tour: Born of the Gods
Previews of the Gods
The week leading up to the Pro Tour is an exciting one in the Magic community. Everyone is testing their latest tech and sharing as little as possible with their rivals. Most players get to the tournament city very early in the week, or even a week prior, in order to get together with their teammates for dedicated testing sessions. For the next few days they will eat, sleep, and breathe Magic in an attempt to take down the top prize of $40,000.
Last week we shared Brian David-Marshall's coverage team round-table discussion [Daily MTG] and this week we got Lauren Lee's Pro Tour Team round-up [Gathering Magic]. Both of these are highly recommended reading, even if you already watched all of the Pro Tour coverage. Now it's time to get some previews from the pro community heading to Valencia. First up was Travis Woo, sharing his experiences in the Spanish city and his preparation for the event [Woo Brews]. Next, Florian Koch compiled short bios on several high-profile players who would be sleeving up in Valencia [Channel Fireball]. Blake Rasmussen, who writes coverage for Wizards, shares his experiences in Rome before heading to Valencia to cover the Pro Tour [Gathering Magic]. Later in the week we had a few more preview articles. Andrew Cooperfauss wrote a primer on all the key information needed [Channel Fireball] and Titus Chalk shared an excerpt about the history of the Pro Tour from his new book [Channel Fireball].
With all this in hand, we were ready for Valencia to get underway.
Team Coverage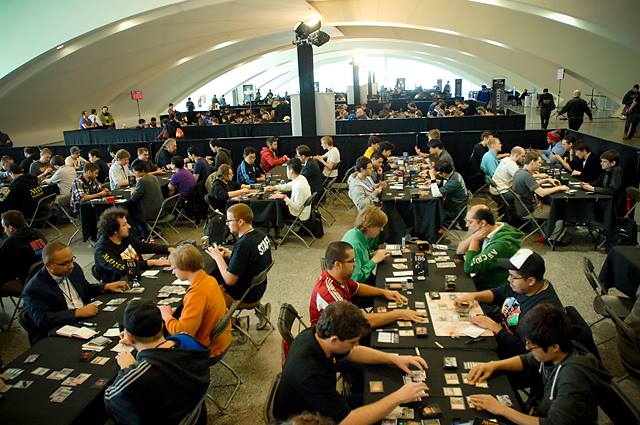 One of the biggest stories heading into the weekend was the dissolution of the StarCity Games pro team and the formation of the Channel Fireball: Pantheon team. While the pros did not view this is any major piece of news, the fans were shocked and stunned. For so long, SCG had been a dominant force. At Pro Tour Theros they performed exceedingly well, putting several players into the top tables. Now, the players were looking to get paid what they deserved and CFB was willing to meet their demands.
This weekend though was about more than just the two entrants from CFB. Wizards' coverage team, and plenty of other community coverage, really focused on the participants in the different teams and how they fared. Which teams played well in limited? Which played well in Modern? How many players did each team make day two with? Which teams did the players in the top 8 represent? Astoundingly, answers to all of these questions were made available.
First up, Lauren Lee put together three fantastic pieces of Pro Team coverage. Starting things off, she compiled a handy guide of teams and players participating. This proved to be an invaluable tool heading into the event. The coverage team made use of the team participation to help direct their presentations all weekend. At the end of day one, Lee put together some stats on each team's performance. Here are some notable items:
242 players were listed as free agents. This likely means they represent teams that Lee was not able to record.
MTGMadness, the mostly French team, won over 70% of their limited matches on day one.
Five teams won over 60% of their limited matches on day one.
Five teams won over 60% of their constructed matches on day one, but not the same as the limited teams.
The CFB Pantheon, formerly Team SCG, was mediocre, winning just 58% of their matches, 7th among the 15 tracked teams.
MTGMadness and TCGPlayer performed very well on day one.
Team TCGPlayer and team MTGMintCard won over 70% of their matches against free agents.
Day two also brought us another great compilation of team stats from Lauren Lee. The biggest standouts from this information were:
Team CFB Classic, Flipsidegaming.com, and Seattle+Michael put all their members into day two
Team CFB Pantheon had a huge day two, and was the only team to win 60% of their matches across both days
Those are some impressive numbers, and it should be clear that CFB: Classic, CFB: Pantheon, TCGPlayer, and MTGMadness were the top teams at this event. Or were they? Blake Rasmussen also put together some final statistics on team play, which come from a different perspective and present a slightly different picture. Blake took a look at the average number of match wins per player on each team, and then broke that down by draft and constructed. Here's the important data:
Flipsidegaming.com only brought six players but they averaged 9 match wins each. Just behind them were CFB Classic and CFB Pantheon who each averaged 8.67 match wins. TCGPlayer was 6th overall with 7.36 match wins and MTGMintCard was 8th with 7.11 match wins.
In the limited portions of the event, the best average performance was by CFB Classic, with 3.6 match wins per player. Six teams averaged better than 50% including Austria/Germany, Flipsidegaming.com, 13 Angry Men, Face 2 Face Games, and CFB Pantheon.
Flipsidegaming.com, CFB Classic, and CFB Pantheon all averaged more than 5 match wins in constructed, which not surprisingly drove their overall ranking since 62.5% of the tournament was constructed.
The real take-away is that team coverage is awesome. Let's hope that it grows more robust, and that soon enough we start seeing some results from Team Hipsters of the Coast.
Bitterblossom and Wild Nacatl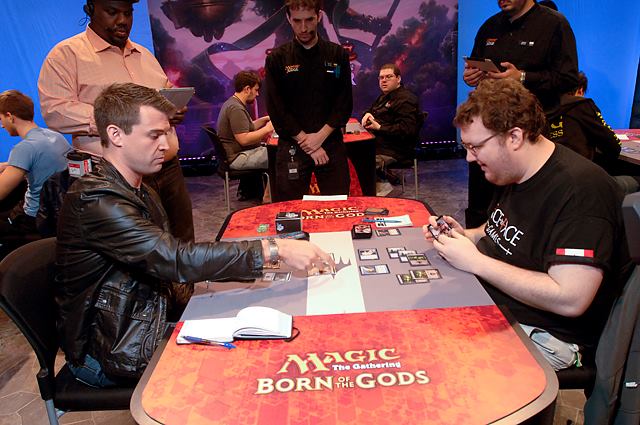 The other massive story coming into Valencia was the un-banning of Bitterblossom and Wild Nacatl along with the banning of Deathrite Shaman. Would Zoo be the unwieldy beast it was before it was neutered? Would Faeries dominate the way it had in Standard? Could Jund survive without it's one-mana planeswalker? We waited with baited breath for the best-of-the-best to answer these questions for us.
The metagame report provided by Nate Price helped answer some of these questions immediately.
Zoo decks made up a massive 16% of the field. To put that in perspective, in 5 rounds of Modern on day one you had an 80% chance of playing Zoo. Clearly the unbanning of Wild Nacatl would have an impact.
Faeries made up 1.51% of the field and tokens didn't even show up on the radar. Bitterblossom clearly is not going to break the format.
The decks with over 5% presence were Twin (11.36%), Melira Pod (8.33%), WUR Flash (7.32%), Jund (6.81%), Hexproof Auras (6.06%), and Affinity (5.55%). Six of the top 8 decks came from those or minor variants of those archetypes.
To help clarify things even better, Nate Price also put together stats on which decks performed well enough to show up in day two. Here are the notables there:
Just over 2/3rds of the Zoo decks (44 of 64) made it to day two.
Just over half of the Twin decks (23 of 45) made it to day two.
An astounding 13 of 14 Scapeshift decks made day two, but none made the top 8.
Only 3 of 6 Faeries decks made the first cut but they won over 70% of their day two matches.
Combo in general performed very well with Scapeshift and Living End both having a strong showing on day two.
Zoo barely won just over 50% of its day two matches, and had no decks in the top 8.
Tron decks performed very, very poorly.
In short: Wild Nacatl good; Bitterblossom meh; No one misses Deathrite Shaman.
McLaren Victorious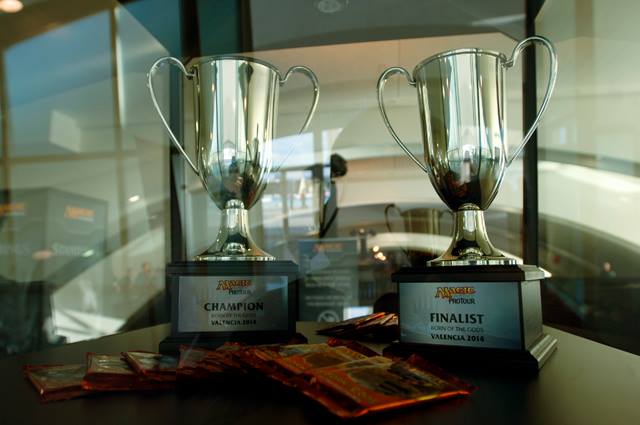 In the end, one of the most interesting facts about Pro Tour Born of the Gods may be that not a single one of the Top 25 players in the world made the top 8 of the tournament. (12) Owen Turtenwald was the only one to finish in the top 16, coming in 15th place. (5) Jeremy Dezani and (7) Tom Martell were the only ones in the top 32, finishing in 18th and 21st respectively. Only one more pro, (3) Reid Duke, finished in the top 64. Three of the top-ranked pros didn't even make day two, as (6) Samuel Black, (21) Raphael Levy, and (25) Christian Calcano all missed the cut. The rankings are sure to be shaken up this week.
You can check out the top 8 profiles in the official coverage. The average age of finishers was 24 years, 10 months, and 15 days ranging from 33 year-old Las Vegas financial analyst Tim Rivera, who previously won an SCG Open, down to 18 year-old Canadian student and multiple-GP top 8 finisher Jacob Wilson. The players also hailed from all over the world, including Canada, the USA, Hong Kong, Germany, and Finland. It was a nice parallel with the ongoing Winter Olympics half-a-world away.
When the dust settled, Shaun McLaren's WUR control deck reigned victorious. McLaren, who comes from Edmonton, impressively finished 6-0 in the limited portion of the event, and 7-2-1 in Modern. He is a well known MTGO player, having played at the MOCS. He also finished in the top 25 of Pro Tour Theros, and finished 2nd at Canadian Nationals. He's been rising up the ranks recently, but he will now be on everyone's radar.
Epilogue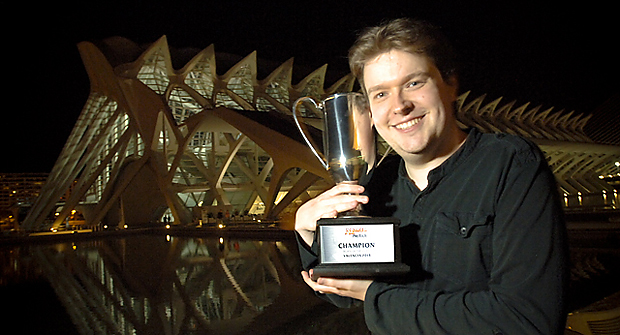 Congratulations to Shaun McLaren, the Pro Tour Born of the Gods champion. This was a great event and may even be looked back upon one day as a major turning point in event coverage. The team affiliations really dominated the North American coverage and it should be no surprise. As the game grows in fans, they're going to want to know more and more about their favorite players. If they are sponsored by companies and test exclusively with teams, then this is going to be important to the fans.
One day, perhaps, the DCI will sanction teams themselves, and Magic will become more and more like other professional competitions. Perhaps that day is not so far away.
The Quick Hits
Wallpaper of the Week
Honestly I'm really glad to not have to look at more gods on my desktop this week. Unfortunately it looks like we may get another cycle of artwork, starting with Archetype of Finality. Even worse, this one is another piece of art full of stars in the dark spaces. Look, the artwork is fine, but at this point I'm just sick of Wizards putting up piece after piece with stars in it. My desktop can only take so much. I need diversity. This grade is reflective of Wizards selection, not the artwork.
Grade: D
The Week Ahead
The action continues next week with two Grand Prix tournaments! The first is just a hop, skip, and a jump away from the Pro Tour as Team Limited comes to Grand Prix Barcelona. A few hours ahead of Barcelona, we'll get to see the new Standard environment featured in Grand Prix Melbourne. It will be an exciting follow-up weekend to the Pro Tour.
What We Learned is a weekly feature here at Hipsters of the Coast written by former amateur Magic Player Rich Stein, who came really close to making day two of a Grand Prix on several occasions. Each week we will take a look at the past seven days of major events, big news items, and community happenings so that you can keep up-to-date on all the latest and greatest Magic: the Gathering community news.