Jeez, I was looking at the featured image, and couldn't help but think that Howard Beale's pose reminds me of Duskmantle Seer, which just reminds me of the stack of those in the back of my night-table drawer where I keep my "box of shame." Can someone please give that card a breakout deck, already, so I can get rid of them?
Okay, now that that's out of the way, let's get on with the article. There were a couple possibilities as to what I was going to write about, this week. At the forefront was the SCG Open in my home state of New Jersey. This tournament felt like my second chance at glory after my near miss in the same state, almost exactly one year ago (and in a snow storm, to boot!), but alas, it was not to be. While we didn't get hit too badly, the Roanoke area did, and the Open was cancelled. Daggers. C'est la vie. That's about the extent of my French.
Speaking of France, there was another little event going on in that corner of the world. By little event, I'm referring to the first of the only two Legacy Grand Prix scheduled for 2014. It was especially bittersweet, for me, since this seemed like THE event to be playing Miracles, but I found myself priced out of making the trip. Still, for whatever reason, many of us experience the warm fuzzies if there's a deck we identify as "our" deck and we see it perform well, so there was that. But no, I decided to pass on both of these. I'm not going to cry over bad weather that we can't really do anything about (though I suppose you could pack a Canonist or two if you fear that a storm is coming… I'll be here all week, folks), and I'm sure that many a column inch has already been written about the Paris event. To those of you hoping for a Legacy article, this week's article is not about the format itself, but a negative experience I had while playing in a Legacy Daily Event on MODO.
As some of you may have been aware, there was a teensy little bug in MODO, following the 2/12 weekly software update, which caused Murderous Redcap to not deal damage to players upon entering the battlefield. Yeah, I guess it's pretty significant when the win-condition of one of the main decks to beat in the Modern format doesn't work. Oh, did I mention that this was about a week before the Modern Pro Tour? It's fine, guys, Wizards will have their crack team of programmers deploy a hotfix* rather than wait another week for the next update. Surely, they can handle this while continuing to provide uninterrupted service to their paying customers, some of whom have invested several hours of their precious time in a Daily Event.
Ok, now that that's out of the way, let's cut to the chase. At some point in round three of the Legacy Daily, last Thursday, something went wrong with ALL of the Dailies that were in progress. I was feeling pretty good about myself, coming off a third straight win with Miracles, and was getting myself ready to battle for 4-0. After a taking a quick break for refreshment, I came back to my PC to see that there was still a match in progress. And several minutes after the listed maximum time until the start of the next round, that match was still in progress. And it continued to be in progress for a looooong time. I saw lots of discussion in the chat about how all of the Dailies that were in progress crashed, and then I saw the ORCs directing throngs of grinders to the online reimbursement form. This is when I started to become a little bit concerned. "But I'm 3-0," I thought to myself. "Am I going to receive six lousy event tickets and a, 'Sorry, that's the best we can do,' response, or will I fairly be compensated with a payout ranging somewhere between the prize for going 3-1 and 4-0?" The short answer is that I received neither of those things. Alright, I did get the event tickets, but there was no sort of apology, but just some, "Thanks for understanding that we can do whatever we want and your only real recourse is to pretend to enjoy it or walk away from the $ worth of digital Legacy cards that you own,"** bullcrap. Here's how the actual email conversation played out, starting with my explanation that I entered in the reimbursement form:
My event has been frozen with one match still in progress in the third round for several hours, now. Is it possible for players with a 3-0 record to receive a reimbursement in the form of six booster packs? This is what we receive for finishing 3-1, and with a 3-0 record, we could finish no worse than 3-1, so this seems more reasonable than six event tickets. I have attached a screen shot of the frozen event.
And my attached screen shot (I had to crop and resize a bit due to our size limitations; I also boxed the relevant parts in red):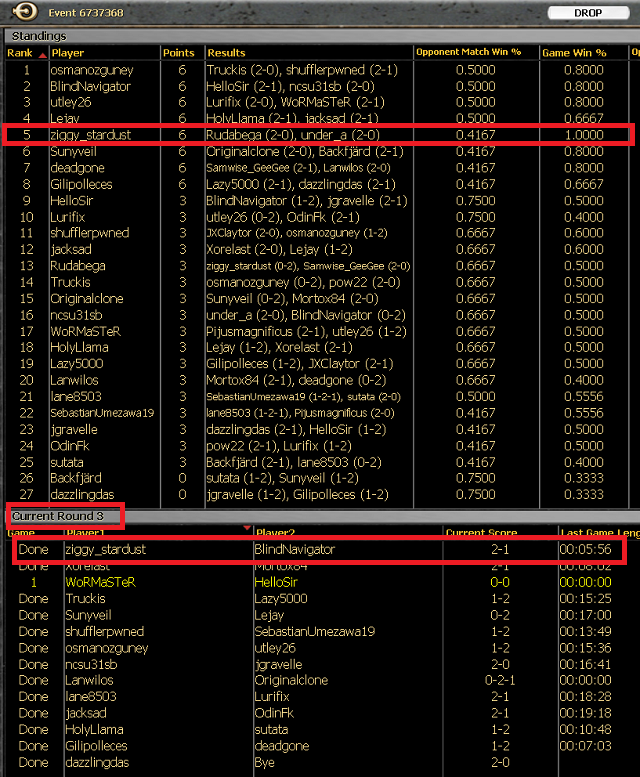 Here's their response:
Hello Tim,
We've approved your request and delivered you the entry option used. You should receive the delivery the next time you log in.
Total Objects Reimbursed: 6 Event Tickets
Please let us know if you have any further questions and thank you for playing in our Magic Online ™ Events!
We would appreciate your feedback on the service we are providing you. Please click here to fill out a short questionnaire.
To login to your account or update your question, please click here.
Sean M.
Online Response Crew
Wizards of the Coast
1-800-324-6496 (US and Canada)
425-204-8069 (From all other countries)
Monday-Friday 9am-6pm PST / 12pm-9pm EST
Saturday-Sunday 10am-4pm PST / 1pm-7pm EST
I didn't find this acceptable, so here's how I respond:
I have received my reimbursement for 6 event tickets, however, this is a VERY poor solution and awful customer service. As you can see, the standings in my attachment are through the end of round two. I have a 2-0 record. Below that are the results for round three. As you can see, I have won my match. That would put my record for the event at 3-0. There are now two possible outcomes. Either I win my last round and finish the event with a 4-0 record and am awarded 11 boosters (and 3 QP) or I lose my last round and finish the event with a 3-1 record and am awarded 6 boosters (and 1 QP). At a MINIMUM, I would have received 6 boosters. Giving me 6 boosters would not have been the ideal solution, but it would have been a step in the right direction. The most fair solution would be to award me the average of a 3-1 outcome and a 4-0 outcome; because you cannot actually give me 8.5 boosters, 2 tickets would have been fair in place of the half booster, or just rounding up and calling it 9 boosters since it was YOUR (not you, personally, but MTGO) error. Now, if you wanted to go with the best customer service solution, you would award EVERYONE with an undefeated record the prize for finishing 4-0. Now, I realize, that it may not be ideal to award QPs based on this event as that would damage the integrity of the MOCS, and I can appreciate that, but players who would have received QPs should also receive additional compensation, perhaps in the form of boosters/promo cards/tickets for whatever you determine to be a reasonable way to compensate customers who spent several hours of their time on a faulty product. When airlines engage in this kind of practice, where they cannot accommodate all of their customers (overbooked flights), you not only get a ticket for another flight as a substitute (just like I am getting 6 tickets to play in a later daily event as a substitute), but you also get a voucher for several hundred dollars. If I do not receive a favorable outcome, I will likely be writing a scathing piece on WotC's continued disregard for the valuable time of their customers on hipstersofthecoast.com in the next week or so. Thank you and regards.
Their response:
Hello Tim,
In this case the prize payouts are considered "as is" for that event. This means that whatever prize payouts and invites the system awarded will not be changed from what the system delivered. No changes will be made to these events from what the system automatically paid out as prizes or invites.
Here is a link to the Magic Online Event Reimbursement Policy: http://wizards.custhelp.com/app/answers/detail/a_id/26
The Reimbursement Policy states that "When the reimbursement is digital objects, the reimbursement will match the event entry option less any prizes won in the event."
This decision as it stands is final.
Thank you for your understanding in this matter.
We would appreciate your feedback on the service we are providing you. Please click here to fill out a short questionnaire.
To login to your account or update your question, please click here.
Sean M.
Online Response Crew
Wizards of the Coast
1-800-324-6496 (US and Canada)
425-204-8069 (From all other countries)
Monday-Friday 9am-6pm PST / 12pm-9pm EST
Saturday-Sunday 10am-4pm PST / 1pm-7pm EST
Naturally, I was not very happy with this. You might say that I was going through grief, as this seems to line up with the famous Kubler-Ross model. The five stages in this model are:
Denial—"Hmmm… round three seems to be taking unusually long in this Daily. Uh oh, looks like I'm seeing a lot of people talking about a 'crash' in the chat. I'll just stick around. If I wait long enough, maybe this will get sorted out and I can get right back to playing round four and be on my way to at least one, and possibly three QPs and a bunch of boosters. Everything is going to be fiiiiiiine."
Anger—"This is kind of messed up. I just wasted three hours of my day, and now I have to fill out this reimbursement form? What if they only give me my entry back and no prize support despite clearly hitting the requisite number of match wins to receive prizes?"
Bargaining—"Alright, I'm just going to be civil and clearly spell out all of my points to make my case. I think they will listen…" [receives reimbursement for only the entry fee and no prize support] "Maybe they didn't understand me. Let's try this again and let's be a bit more forceful in my demands."
Depression—"Ok, these guys are jerks. I guess I could boycott them and stop using their product.. oh wait, then where am I supposed to be able to play Legacy at my convenience against a variety of opponents? What am I supposed to do with all of these Legacy staples that I own digital copies of? Sell them to bots at their terrible buylist prices, then sell my tickets for 95% face value, and finally have Paypal skim their share off the top, as well? I guess I'm stuck, so I'll just mope about it in a dark room while listening to Hawthorn Heights."
Acceptance MOAR Anger—Fuck acceptance. Not only did they fail to provide an ideal solution, but they did not even show a shred of empathy or offer an apology. Nowhere in any response from them do I see the word, "sorry," or anything somewhat synonomous. I'm opening my window, and I'm going to shout, "I'm mad as hell, and I'm not going to take it anymore!" (ok, I will probably continue to take it. but I'm still opening my figurative window and shouting.) Also, I did threaten to write an article, and I've always believed in following through with your threats if you want people to take them seriously.
I may not have the reach or influence of, say, Brian Kibler, but when he opened his window and shouted, people listened, and they, in turn got angry and shouted, too. I'm not trying to take down WotC. This is a product that I'm emotionally and monetarily invested in. I care about it. I want to see it do well. I want it to be the best that it can be. Part of that is treating your customers with dignity. I graduated with a B.Sc. in Business, and the way that WotC handles these reimbursements flies in the face of everything I've learned about customer relationship management (CRM) from, both, my classes, as well as real life experience (I should mention that I also worked at Blockbuster throughout college, and as terrible as retail is, if you do your job the way you're supposed to, you learn a lot about what good CRM practices are).
To be clear, the shortcomings of MODO from a coding and network architecture perspective have been well documented, and our own Rich Stein did a great write-up on that. I'm not here to rehash those points. I'm not here to call for the heads of all of the programmers employed by WotC. I realize that MODO isn't perfect and that it is likely made up of layers of Frankencode on top of layers of Frankencode. If you held a gun to my head and asked me whether they could handle a hotfix without anything else going wrong, I wouldn't be able to confidently say that they could. And I realize that they're working to "modernize" MODO, but they're not there yet. But they're working on it—or so we're told, but I'll show a little faith in them and believe them—so that's good. Right now, though, there is no denying that there are serious shortcomings with the system. The change I am pushing for is to see WotC take greater ownership for when their products crap out. You wouldn't shop at a grocery store where there was a chance that routinely had their registers all go broken after you spent time filling your cart, and all you could do is come back the next day. You wouldn't use an ISP that randomly has outages at inconvenient times and the only thing they do about it is prorate your monthly bill for the fraction of time they were non-operational. You wouldn't pay for a suit that might completely unravel with no warning, and the only thing the designer offered was credit towards a new suit of equal value if it happened. If these examples all sound horribly outlandish, it's because they ARE, but that's how we let WotC treat us!
Thanks for reading. If you agree with this, please spread the word. The only way WotC are going to do anything about it is if we all get mad and open up our windows to shout. I'll be back next week with ACTUAL Legacy. I promise. I've been brewing online with BUG Control and it's hella fun!
*For those unfamiliar with the term, a hotfix is a software update, typically to address a bug, while the systems are still live, rather than during a period of planned downtime. Whether or not the hotfix was the actual cause for the of the Daily Events to crash is unconfirmed, but it seems like a reasonable theory. Also, the timing lines up.
*Technically, I don't actually even "own" these, so perhaps I should tread lightly with this article, lest the vengeful MTGO gods smite my collection… naaaaaah. Let's rage.