Like a lot of new players, I hated deathtouch. Some creature mechanics are intuitive and appeal to the absent-minded teenager that rarely pays attention to  things like "on the stack" and "rules." Stuff like trample and double strike were badass. Lifelink was cool and defender made sense. But I readily considered Deadly Recluse the most frustrating card in the world. A puny 2-drop common that could block and trade with anything? What the hell is that spider packing?
In some of my earlier M14 Limited events, I recall facing those little spiders with a mixture of hopelessness and self-pity. Every time I encountered one I burned through a whole host of premium removals spells to get it off the board. I didn't know if I should unceremoniously anoint my Rumbling Baloth as the sacrificial lamb and swing in, or twiddle my thumbs while my opponent slowly progressed his board state.
One round, I played an opponent that used Deadly Recluse in conjunction with Trollhide. I was almost driven to tears.
As time passed, my aversion slowly subsided. I found myself granting Deadly Recluse and all of its iterations a kind of uneasy respect.
A few days ago, I played an M14 Sealed match online. One of my games looked like this: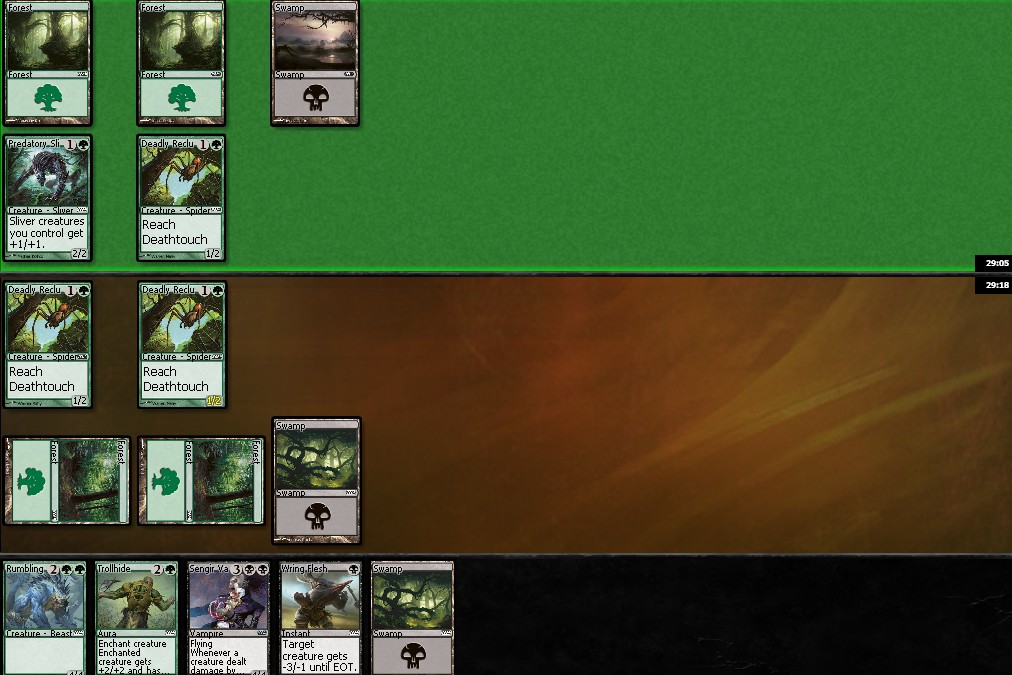 At the time, I just took the screenshot because I thought it was amusing. I slapped on a stupid caption ('lol') and sent it to a few friends. I promptly forgot about it until I started writing this article and thinking about chess.
See, when I was younger, I wanted to be a pro chess player. My dreams were eventually crushed by the realization that I was terrible, but I entertained the notion for a few years. One of the concepts a mentor introduced to me was the idea of relative value. If you trade your pawn for a rook, you've essentially attained a rook's worth of power from the humble pawn. You can extend this idea to aggressive pawn formations, a slowly creeping phalanx of cheap foot-soldiers. Breaking their advance requires, usually, an unfavorable trade.
Was this the problem of the Deadly Recluse? Did I consider a recluse to be worth a Giant Spider? Baloth? Or even Serra Angel? Did it make more sense to force a trade or continue to stall until you found an answer, usually in the form of a valuable removal spell?
In my head, I tried to break things down. I think one of the reasons why I hated deathtouch is because it forced both players into a passive state. Combat was stalled until the attacker found an answer. On the attack, the Deadly Recluse could be traded for other old two-drop. But on the defense, it was, short of direct removal, unstoppable.
Consider the image again. I was on the attack. I had several strong cards in my hand, but they were all functionally equal in worth to the enemy Deadly Recluse. Did I really want to trade Mr. Sengir for a little spider? I thought about attacking and using Wring Flesh on a blocker, but there was a chance my opponent would block with his Silver—an unfavorable use of the trick in my opinion. In this case, I thought it was better for me to wait. I had a Rumbling Baloth + Trollhide online in a few turns. The opposing player didn't know it, but he was the one pressured to attack. I was happy to sit behind my wall of safety spiders.
In my last Theros draft, I found myself in a similar situation and reacted badly. It was late game, I had my opponent down to sub-ten life. I had the opportunity to trade my Horizon Scholar + Baleful Eidolon with an attacking Benthic Giant + Nimbus Naiad. I declined the offer, knowing I could out-race.
That was a huge mistake. My deck was built around copies of Griptide and a Sea God's Revenge, both of which were nullified by hexproof. I would have effectively traded a marginally useful 4/4 flyer with a creature that I wasn't able to deal with. In addition, the Scholar's scry two had already snagged me some favorable draws. His relative value was at a low while the Benthic Giant's was skyrocketing, especially since I was holding both a Griptide and Sea God's in hand. In the end, we ended up stalemated in the air, I got bounced with Voyage's End, and my hopes for winning vanished. The Deadly Recluse problem, gone wrong.
In some ways, my Magic learning experience is already better than my chess one. That might be because I'm not twelve years old anymore, but I also approached the game with a sense of curiosity and learning. From what I've gathered, being good at MTG requires knowing how play and wrest a victory from some seriously convoluted, uneven, and plain bizarre situations. After all, we've all seen the power of just a little touch.