This is my favorite joke of all time:
Person 1: "Ask me what the secret to comedy is."
Person 2: "Uh… okay.  What is—"
Person 1: "TIMING!"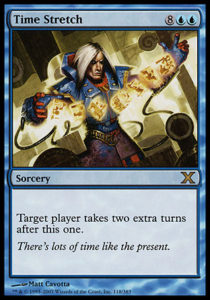 A couple weeks ago, I joined Hugh, Carrie, Kadar, Alex, and Nick for a team draft. I ended up in a pretty awkward R/G deck that desperately needed good low drops (Red has none at common; for the yea-sayers, Deathbellow Raider is awkward without regeneration mana, Minotaur lords, and ordeals/Dauntless Onslaught…to say nothing of its inability to block). The most fascinating moments of the evening, however, were not with my lackluster deck, but watching my teammate, Carrie, play.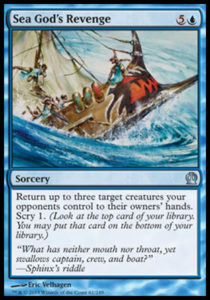 Carrie strikes me as a natural control player; she holds cards in her hand for a good, long time. When I started watching her match (still game one, after the other two matches were done), she was behind on board, facing a sea of Nick's UR monsters. Carrie refrained from using her Sea God's Revenge to waste Nick's time, forcing him to recast most of his board and lose his bestowed Spearpoint Oread. Carrie instead opted to drain life with Scholar of Athreos. At this point, Kadar and I switched opponents and I left Carrie's game alone. Still, I wondered why she wasn't buying time with her seemingly useless Sea God's Revenge when she clearly needed to dig for her Abhorrent Overlord (or some other bomb) and turn the game around. I think her patience paid off and she drained just enough life with the Scholar to buy time and then suck her opponent dry. Or perhaps she won in three. She'll remember better than I (who wasn't watching anymore).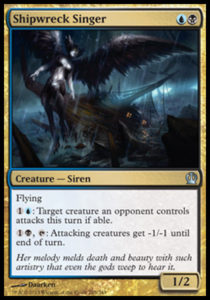 Later in the evening, I once again had the opportunity to watch Carrie. I'd gone 1-2 so it was up to her and Kadar to pull our team out from losing. It was game two against Alex (Carrie was down a game). She had the opportunity to Last Breath on Alex's turn two Shipwreck Singer and elected not to. I was visibly upset by this.
Carrie's deck, while mostly a controlling deck, had gotten off to its most aggressive start (I think it was something like Tormented Hero into Fleshmad Steed) and was poised to do a ton of damage before Alex's (also controlling) deck could muster a response. Sure, Last Breathing the Harpy would effectively undo Carrie's first attack, but it would deny Alex a powerful defensive card over the long run and allow Carrie's creatures to attack if Alex kept up mana. Plus, if Alex had nothing to do with his mana on the first few turns, then Alex would lose his only mana sink while Carrie could continue curving out.
To her credit, it's not as though Carrie chose to do nothing rather cast the removal spell; she opted to develop her board rather than get aggressive with Last Breath. Sure, Alex was allowed to keep his Siren for several turns, but in order for it to prevent Carrie's team from swinging in, Alex would have to hold up mana in lieu of developing his board. Sure enough, Carrie managed to maneuver a situation where Alex had to tap out and trade his Siren for a creature, allowing Carrie to use her Last Breath on something else. In the end, the game went very long and Carrie lost. I think that had she gone for the more aggressive line, Alex, who had stabilized at somewhere around four life, would have died instead (I think six more damage would have been dealt, including the life gained from Last Breath).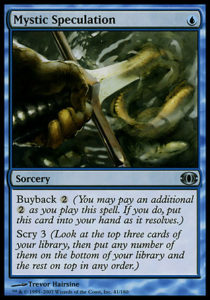 I'm fairly certain that I was right about the Last Breath but wrong about Sea God's Revenge. In the first game, Carrie needed to not lose and squeeze every bit of value out of her resources in order to turn the game around. In the second game, Carrie had gotten off to an aggressive start and needed to press her early advantage rather than prepare for a protracted battle. The thing is, there's no hard and fast correct answer here—I'm speculating about how games could have gone had things been different, and given the sheer number of variables in a game of Magic, there's no reason to believe that my predictions are correct. Watching Carrie play reminded me that we each have natural speeds of play (Carrie being a more controlling player than I, whereas I prefer tempo or tempo/control).
The real lesson I'd like to share (and internalize) is that of proper timing. Every game of Magic proceeds at different speeds: sometimes you need to press your advantage and use your resources to gain tempo, even if you're losing card advantage in the long run (your goal being to win before card advantage becomes relevant). Sometimes, you need to squeeze every bit of value out of your cards in order to pull ahead over the long game. Most critically, you need to be able to recognize your role in real time. There will come a moment when your role switches from defensive to aggressor, or vice versa, and recognizing it is essential. I can think of no better current card that exemplifies these lessons than Voyage's End.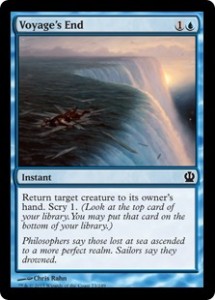 I know, we Hipsters can't shut up about this card. There isn't universal agreement, but I still believe that it's both blue's best common and one of the best commons in the set (though green is the deepest color at common). My reasoning is simple: Voyage's End is the most mana-efficient removal spell in Theros. The problem is it is so often misused. Voyage's End isn't Doom Blade—for it to act as a tier one removal spell, timing is everything.
Here a couple situations I'd like you to think about:
Situation #1: You're on the play. It's your opponent's second turn and you have only lands in play. Your opponent plays Voyaging Satyr. You have no turn three play in hand. Do you cast Voyage's End at the end of your opponent's turn?
Situation #2: You're on the play. It's turn five, your opponent is at ten life, and you have a Vaporkin and a Nimbus Naiad in play. Your opponent plays Nessian Asp. Do you Voyage's End at end of turn?
Situation #3: It's late in the game. You have a 5/4 Vaporkin (thanks to Ordeal of Purphoros). You've just drawn Voyage's End. Your opponent is at nine life and casts Keepsake Gorgon. She has three cards in hand and two untapped lands. Do you cast Voyage's End?
Situation #4: You're on the play. It's turn four. You've got a Battlewise Hoplite and Vaporkin on the battlefield. In hand, you have Voyage's End, Lagonna-Band Elder, and lands. Your opponent has a Traveling Philosopher with Ordeal of Thassa and one +1/+1 counter on it. Do you cast Voyage's End?
I remind my readers that circumstances can change everything. Perhaps you have burn or strongly suspect that your opponent has lifegain to swing these numbers. Perhaps you know much of your opponent's deck because he was sitting to your left. Perhaps you know that your opponent has a particular card because she showed it to you in your first game. There are countless factors in a game of Magic and I can't promise to solve for them all. That said, in these specific (but not unusual circumstances), I have some advice.
Situation #1: Don't cast Voyage's End. You're wasting one of your most valuable spells to set your opponent back one turn. Sure, you get to scry 1 for action and keep your opponent from casting a turn three Staunch-Hearted Warrior, but without creatures, you're not pressing any advantage with a tempo spell. In fact, why did you even keep this hand if it doesn't do anything until turn four? Mulligan more aggressively!
Situation #2: I purposefully didn't tell you what's in your hand, and that's key to this example. If you bounce Nessian Asp, you can attack for four, your opponent will recast the Asp, and you can attack in for two more damage, putting your opponent to four and leaving you without any good attacks. If you have two Lightning Strikes or an Aqueous Form, then you can use Voyage's End and rely on those spells to get in the remaining damage. However, if you don't, then you're turning Voyage's End into a Lava Axe that won't get the job done. You should probably wait and develop your board. If the Asp remains the only deterrent to your skies plan, then you'll likely be able to overwhelm the Asp with more assailants in the future and a timely Voyage's End will let you net far more than six damage.
Situation #3: For the love of Batman, don't cast Voyage's End! Sure, you can bounce Keepsake Gorgon and put your opponent to four with insufficient mana to both recast the gorgon and make her monstrous, but what if your opponent has Pharika's Cure to put her to six and gain another turn? Then she can go to one, turn your Vaporkin to stone with her gorgon, and stabilize. If your opponent ever has a monstrous card, particularly one with a powerful ability that begs to be activated, like Keepsake Gorgon, Ember Swallower, or even Sealock Monster, it's an absolute blowout if you respond the Monstrosity trigger with a Voyage's End. You get to be in a staring match, except they need to hold up seven or more mana while you only need to hold up two.
Situation #4: I'd wait on Voyage's End and would rather develop my board by casting the centaur. We can still cast Voyage's End on Traveling Philosopher next turn, before the ordeal pops. We're already racing well enough as is and taking a bit more damage to put more power on the table should be worth it. Gods Willing will be a blowout if we attempt to multiblock the mighty philosopher, and while it can also counter Voyage's End, in so doing it will also knock off the Ordeal of Thassa.
Notice the pattern? I believe that it's usually correct to wait on casting Voyage's End until at least one of the following is true:
Voyage's End will remove a blocker and allow lethal damage this turn (or set it up for the next turn).
Voyage's End is responding to a monstrosity trigger.
Voyage's End is knocking off an Ordeal.
I think that it's usually/always incorrect to cast Voyage's End if one of the following is the case:
You have nothing else to do with your mana.
You have nothing else in hand and want to dig for gas (unless your having or not having one specific card is the difference between winning and losing).
Voyage's End will remove a blocker but not be setting up a lethal attack for this or the following turn.
Voyage's End is being cast on a creature with monstrosity that is not monstrous or becoming monstrous (and you're not setting up lethal damage). This is particularly heinous if you're targeting a creature like Sealock Monster or Keepsake Gorgon.
The power of Voyage's End, like the efficacy of a good joke, is all in the timing. I promise you, that if you have enough patience and can build up a board presence, you'll be able to turn Voyage's End from a minor speedbump into a major blowout. Sometimes you need to be proactive with it, sometimes you need to be reactive with it. There's no trick to knowing when and how to use it other than playing a lot of Magic (which is pretty damned fun), so I strongly recommend y'all do just that. Hopefully, I'll have been a bit helpful in your journey to the world's edge. As always, thanks for reading.
Standard Pauper Tournament
Top Eight Decklists!
The Standard Pauper tournament is chugging on, after a brief hiccup in the quarterfinals. We're in the seminfinals now, we've got standings and decklists! Control is very popular and every deck has a solid long game plan.  However, there remains diversity in the metagame, which each deck going into the semifinals playing different controls and having distinct game plans. I'm still rooting for Hugh, but he is playing my decklist. That said, let's give it up for our top eight!
Andrzej "Onion" K's Monoblack-ish control vs. aceracerff's Grixis Cyclops
aceracerff's Grixis Cyclops wins 2-1
Charlie S' Monoblack Control vs. Justin Beckert's UB Mill
Charlie S' Monoblack Control wins 2-1
Conor Moran's UB Control vs. Hugh Kramer's Junk Enchantments
Hugh Kramer's Junk Enchantments wins 2-1
Peter Dalton's WB Enchantments vs. Jason Gray's UB Control
Jason Gray's UB Control wins 2-0
Andrzej Onion K's Monoblack-ish Control
Charlie S' Monoblack Control
Conor Moran's UB Control
Peter Dalton's WB Enchantments
Jason Gray's UB Control
Hugh Kramer's Junk Enchantments
Justin Beckert's UB Mill
aceracerff's Grixis Cyclops
—Zachary Barash
twitch.tv/ZennithGP — Join the livestream!
Magic Online username: Zennith
Zachary Barash has been playing Magic on and off since 1994. He loves Limited and drafts every available format (including several that aren't entirely meant to be drafted). He's a proud Cube owner and performer, improvising entire musicals every week with his team, Petting Zoo. Zach has an obsession with Indian food that borders on being unhealthy.