As you can guess by the title of the article, this is not my usual Standard tournament report. Though I did spend some time in the basement of Pandemonium Books this week, I didn't do battle with a sleeved up brew I found on the internet, but with some shiny green packs of Theros splayed out in front of me. I ended up splitting the finals of a draft with my UW durdle deck. The basic game plan was to play out some idiots to muck up the ground (Omenspeaker, Yoked Ox, and Mnemonic Wall) while I sailed over my opponents' defenses with Nimbus Naiad, Prescient Chimera, and Horizon Scholar. I felt good about my main-decked Annul, was thoroughly impressed by Voyage's End, and even got a few opponents with Stymied Hopes. After only a few games of Theros limited, I was hooked, and got a team together for the SCG Team Sealed Open in Worcester.
The Event—188 teams signed up to sling spells at the DCU Center in Worcester, Massachusetts. The AHL hockey rink/monster truck track/convention center actually provided a good space for the event; it was the first Magic tournament I've gone to in awhile that actually had ample table room where players weren't forced to to overlap playmats or elbow the person next to them to record life totals. My biggest complaint is that you couldn't bring in outside food or drink, and that someone was actually paid just to stand around and stop people from doing this. As someone with a limited diet, I don't appreciate my only options being an overpriced pretzel or a pile of iceberg lettuce they try to pass off as a salad.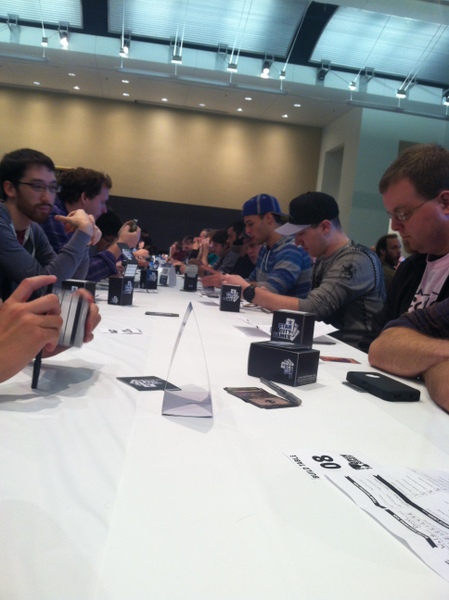 The Team—My teammates for the event were Stewart Ulm and Thien Nguyen. Stewart is perhaps most well known in the Magic community for creating the Orcish Librarian App on the iPhone but is also internet famous for eating a Jace, the Mindsculptor after losing a bet regarding the Mirran-Phyrexian War. Thien isn't internet famous or anything, but has a near perfect record while playing Two-Headed Giant and a slew of good finishes at local events. Oh, and also, he's a better player than either Stewart or I, so we decided to have him as the B-Seat so we could simultaneously bother him about the plays we should make.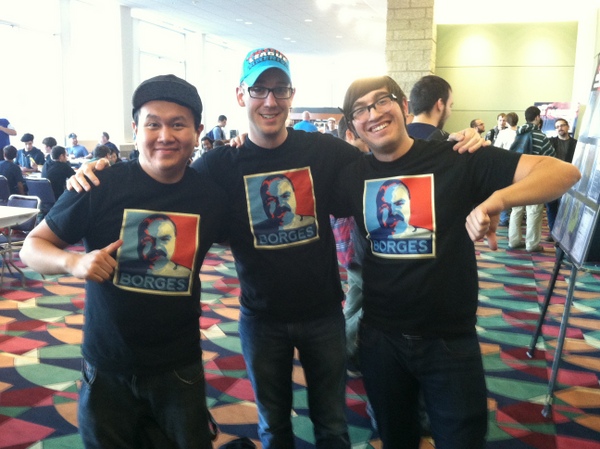 The Shirts—We all wore T-shirts with our friend Eddie's face on it. One time Eddie had a pretty ridiculous mustache and someone took a picture of it. Over the next several weeks, Facebook was flooded with Eddie's face superimposed on movie posters, Magic cards, and other memes. The T-shirts are meant to pay homage to this time and Eddie's ridiculous mustache.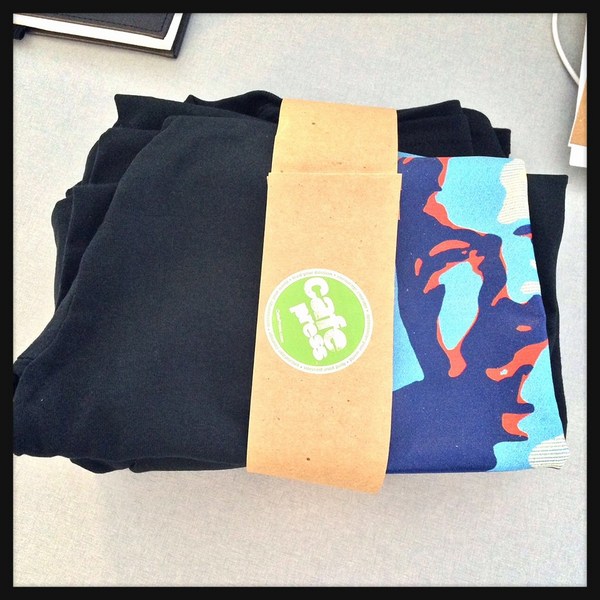 The Stipulation—A couple of weeks ago, before finding out about the SCG Team Sealed event, my band was asked to play a house party at a friends place in Providence. We were supposed to play at 8:30 which meant that if I ended up doing well in the Team Sealed event, I was in for a kind of awkward decision over whether to pick Magic or music. I agreed with my teammates and bandmates that I would play cards only as long as we were in contention for top 8. If we made top 8, fuck it, I'd skip the show. Otherwise, as soon as we received our second loss, I would take off and make the hour drive to Providence.
The Plan—Thien had the whole thing worked out in his head before we even got our pool. Since he was sitting in the middle, and we'd be intermittently asking him for play advice, he would play the aggro-deck, preferably mono-red. I would play the blue deck, either tempo or control, since I am the only guy in the group currently contemplating getting the original Counterpell artwork tattooed on my body. Stewart would play whatever was left; green based monstrous, black/x midrange, or white/x heroic.
The Decks—The first thing we noticed after receiving our pool was that red/white aggro was going to be ridiculous. We had two Chained to the Rocks, Anax and Cymede, Spear of Heliod, a host of aggressive beaters, and a ton of ways to trigger heroic. This 16 land monstrosity had a curve that virtually stopped at three, and seemed unstoppable in any game where the opponent didn't begin interacting immediately. After this, we identified that black was deep enough to go full on mono-black or maybe include just a light splash. Furthermore Gray Merchant of Asphodel—nicknamed "Gary"—and Disciple of Phenax really reward those who jam as many black mana symbols as possible in their decks. The first two sealed decks were relatively easy builds, it was the last deck, my deck, that proved to be the most difficult. While the blue was deep, it was also a bit misleading as well since the cards in the pool weren't necessarily good in the same deck. Vaporkin and Griptide are best in an aggressive tempo deck while Wavecrash Triton and Triton Tactics are perhaps better suited for a more controlling deck. While I imagined these cards in the same deck could work in the same way my first draft did—the defensive guys on the ground prevent your opponent from getting in, while you can take offensive through the air— it didn't quite work out this way. While building, we messed around with a UW deck with Divine Verdict (we did have four), tried to build RUG in order to play our two Polis Crushers, but due to better mana consistency we settled on UG. While green appeared to be the weakest color, it did offer three Horizon Chimera (if paired with blue) and Feral Invocation which Thien thought was really good in this format. However, in our haste to build the UG deck, I realized I forgot to play Agent of Horizons, and I ended up siding in this guy for one of the Wavecrash Tritons in almost every match.
The Lists—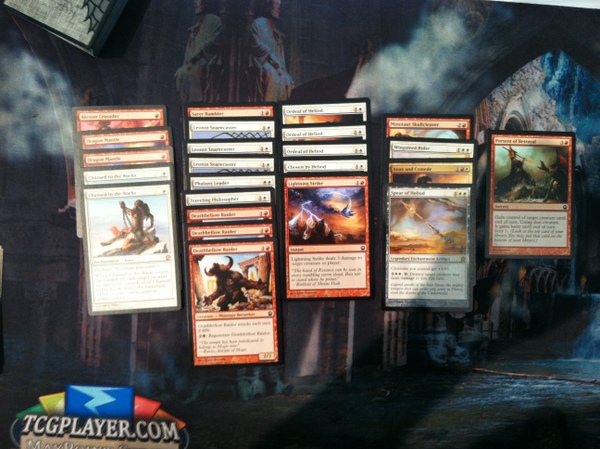 Thien's RW Aggro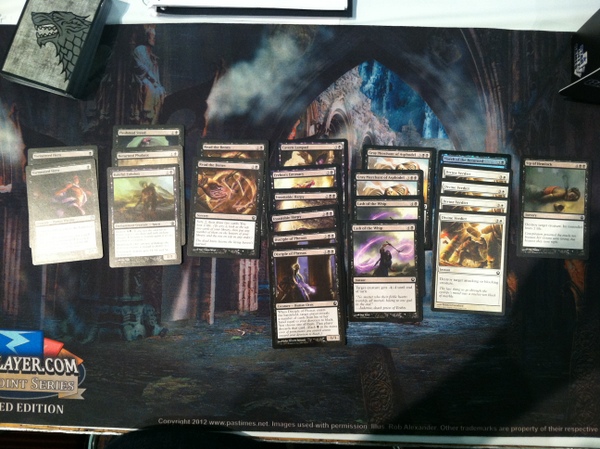 Stewart's Almost Mono-Black Control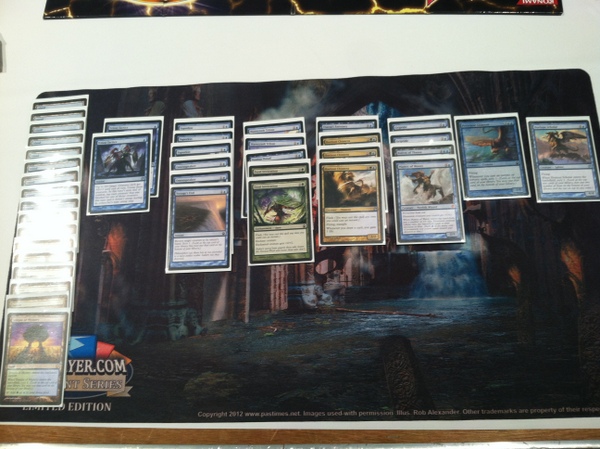 Shawn's UG Tempo
Round 1—"Backstreet Meats" (2-0)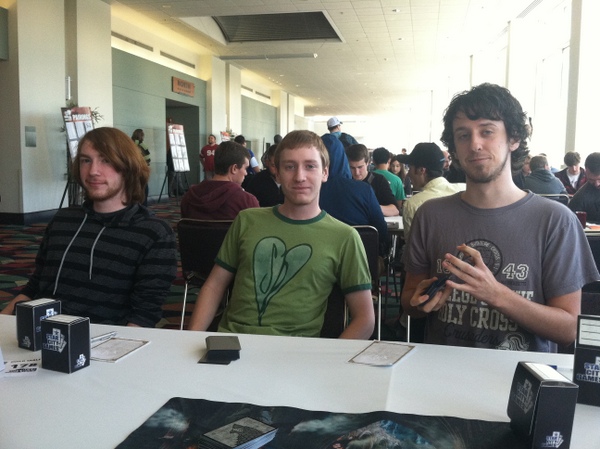 Throughout the day I asked all of our opponents if they had a team name but almost none of them did. Our first round opponents did not have a name prepared, but when I asked them, they very quickly thought of something on the spot—Backstreet Meats. I'm not sure if this is an anal sex reference or just a snappy name for a really sketchy deli.
My opponents name was Ryan and he had a GB deck with Agent of Fates, Nemesis of Mortals, and a couple other cards I could have listed had I taken better notes. In our first game, Ryan had to mulligan twice, and by the time we finally started playing, Thien was already shuffling up for game two. I heard murmurs from the other side of the table about an early Thassa hitting the table for the A-opponent but tried to focus on my games which ended up being relatively uneventful. Thien won his match, I won mine, and Stewart got to walk away from the clustered board state in his game. For the record, my round one win was the only match I won throughout the course of the day.
Round 2—Ross Merriam and Crew (2-1)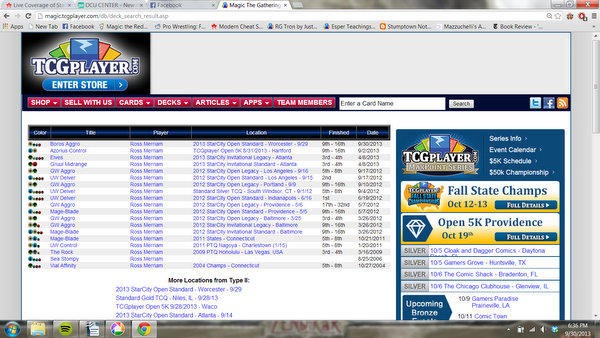 My opponent this round ended up finishing in 9th place in the Standard portion of the open on Sunday. It turns out Ross has played on the pro tour and has pretty extensive resume of top 8's on the SCG circuit, so I didn't feel quite as bad when he beat me. Game one, I won off the back of a double mulligan on his end. Game two, Ross played a turn three Fabled Hero which he enchanted with a Hopeful Eidolon on his next turn. I didn't have Griptide or Voyage's End and couldn't race the sixteen point life swing every turn. Game three was actually a really tight game that came down to me being unable to race his creature enchanted with Hopeful Eidolon once again. He only gained 13 life in that game.
Hopeful Eidolon is a card I had initially underrated quite a bit since it's pretty lackluster when cast as just as a creature. Comparing the Eidolon to Nimbus Naiad, Naiad is fine as a Wind Drake and great as a pseudo Drake Umbra whereas Eidolon is a Trained Caracal that can do a Gifts of Orzhova impression. However, lifelink is a big game in Theros, as there isn't a lot of creature removal and many games come down to racing.
Round 3—Steven and Crew (1-2)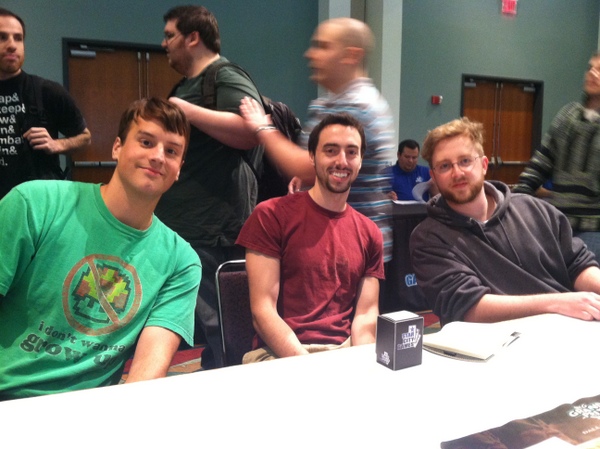 You know how sometimes people complain about Sealed being a luck intensive format? They say stuff like, "How was I supposed to beat X or Y bomb?" or "My pool was garbage", stuff that doesn't acknowledge the many skill intensive aspects of the format. Well, this round, I became that guy.
I felt pretty good about my opener in game one against Steven. I played a Vaporkin, Wavecrash Triton, and Bident of Thassa before he had any plays at all. On turn five, Steven played Stormbreath Dragon and swung, putting me to 16. I played another Wavecrash and kept up Triton's Tactics to deal with any shenanigans on his turn. Steven then played a second Stormbreath Dragon. Before he could attack, I played Tactics to trigger heroic on my Wavecrash Tritons, tapping down his dragons before they could do any more damage to me. Steven then played his own Triton's Tactics, untapped his creatures, and hit me for eight, putting me to eight life. Since neither of his guys were going to untap on his next upkeep, I felt fine about playing Horizon Scholar, drawing some cards off Bident, and passing the turn. On his turn, Steven used Rage of Purphoros to kill the Scholar and then used another Triton's Tactics to untap his Stormbreath Dragons and hit me for exactly lethal.
I pulled out a win in game two when Steven got stuck on land.
Game three, Steven played an early Purphoros, God of the Forge, cast some guys, and then played Stormbreath Dragon. I didn't have a chance.
Round 4—"Miley Cyrus Twerk Team" (2-1)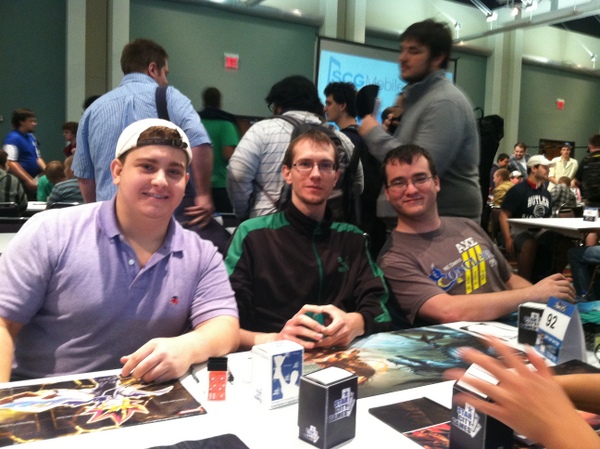 These were the only guys I met with a team name. Apparently they play a lot of trivia and you get bonus points for having a funny name.
I played Dave, who had basically the same deck as me. He beat me with Agent of Horizons in game one, making me feel way worse about forgetting to maindeck that card. Game two, Dave had the best double mulligan hand of all time and was able to dispatch me with an army of three Vaporkin while my Wavecrash Tritons and Omenreaders looked on quizzically from the shores below.
The final game came down to Stewart playing back to back Grey Merchant of Asphodel against his opponent. Go Gary go.
Round 5—Saul and Crew (2-0)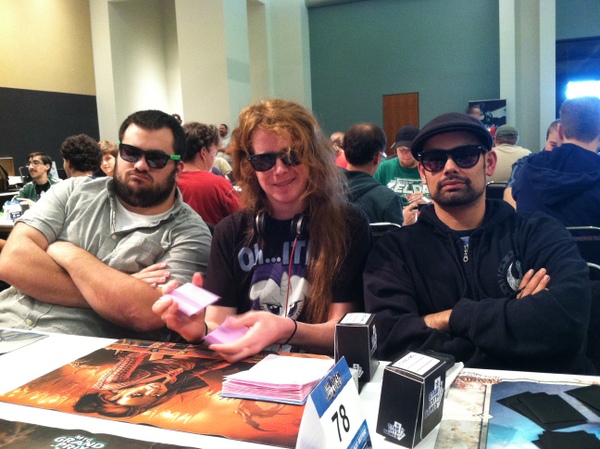 I didn't actually lose the match against Saul, so I technically didn't lose every match besides the first one. Game one, Saul played Bow of Nylea into Nylea's Disciple into Nylea, God of the Hunt. Bow was able to shoot down all of my fliers and Nylea was able to to trample over all of my creatures. This game wasn't completely lopsided though, I did manage to play out a Bident of Thassa and drew enough temporary removal to slow him down for most of the game. At the end of the game I played a Master of the Waves and created eight elementals but he was able to trample over my nine toughness to kill me from ten life.
Game two, I insisted on playing even though I didn't need to and was able to close out a game. A moral victory.
Round 6—Royce Walter and Syracuse Crew (1-2)
Royce had a pretty bomby BW deck that seemingly had all the removal in the format. Game one, Royce played Abhorrent Overlord and I lost. Game two, I was able to curve out before he played too much of anything. Then game three happened and my teams fate was in my hands after Stewart won his match and Thien lost his. Royce killed my Horizon Chimera with Pharika's Curse, murdered my Prescient Chimera with Lash of the Whip, and poisoned my Horizon Sphinx with a Sip of Hemlock. From there he brought me from 18 to 0 with a lone Sentry from the Underworld. This vigilant griffin-skeleton continually hit me for three while annoyingly staying untapped to block, and kill, everything in my deck.
And just like that, we were dead.
The Conclusion—Despite winning so few games with a deck we initially thought was the strongest of the three, I still felt good about the tournament. We still had a very solid run despite my record, and I think I now have a better grasp on the format. If I were able to go back to the building process, I would only change my deck. Since both my teammates had very strong lists, I should have thrown caution, and manabases, to the wind and played RUG. Being able to splash red would allow me to play double Polis Crusher and the two Rage of Purphoros that were a bit too expensive to play in Thien's deck. Rage of Purphoros could have been really awesome in my deck, especially because I was so desperate for real removal. That deck would look something like this:
Shawn's Hindsight RUG Build
I would cut the Wavecrash Triton/Triton Tactics package because they are a bit too durdly for this deck. I would also cut one Feral Invocation, because it's a bit expensive for a combat trick if you're not triggering heroic, and one Horizon Chimera because it's not nearly as good as it looks.
Anyway, I hope you've enjoyed my perilous foray into Team Sealed, I'll be back on the Standard grind next week. I haven't decided what to play as of yet, though I am deciding between an updated Nivix Blitz deck, UW/X Control, or a miserable attempt to break Pyxis of Pandemonium. If you have any opinions about this, please share them in the comments.
At age 15, while standing in a record store with his high school bandmates, Shawn Massak made the uncool decision to spend the last of his money on a 7th edition starter deck (the one with foil Thorn Elemental). Since that fateful day 10 years ago, Shawn has decorated rooms of his apartment with MTG posters, cosplayed as Jace, the Mindsculptor at PAX, and competes with LSV for the record of most islands played (lifetime). When he's not playing Magic, Shawn works as a job coach for people with disabilities, plays guitar in an indie-pop band, and keeps a blog about pro-wrestling.