In a few days, we'll be able to play with Theros for the first time. I strongly recommend contacting your local game store and preregistering—better to be overprepared than turned away at the door. If you're heading to Twenty Sided, I look forward to seeing all my fellow Saturday afternoon friends!
I've been extremely excited for Theros ever since it was revealed at PAX East (I was first on line, sat in the front row, and made faces with Dave Guskin). Now that the set is fully spoiled, I find myself distracted. It's not that I'm not amazed by the cards—the flavor and art are fantastic, the Limited format looks fun, and there's the novelty of playing with new cards that one is accustomed to every three months. Sure, I have reasons to be distracted—my computer is in the shop for the third time in three months (Dell is not on my good side), the High Holidays are ending, and I've got some huge performances, a best friend's wedding, the Standard Pauper tournament, and other "real life stuff" vying for my time—but instead I find myself reflecting on the past. Theros feels like things are coming full circle, and I'd like to share why.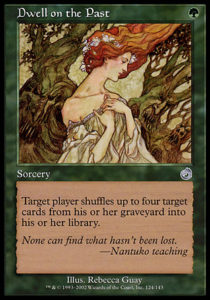 Flashback to August, 1994. Young Zach is on Fire Island with his parents and younger sister. He's a precocious boy with long, dirty blonde hair that gets in his eyes. He's afraid of getting sunscreen in his eyes, so he grows his hair long enough not to need sunblock on his forehead. He's about to turn eight years old.
Young Zach goes to Ocean Beach Youth Group every day. He really enjoys rowboats, swimming, and playing sports. He doesn't make friends easily, not at camp or at school. He's lonely.
Then, on the first day of camp in August, a boy named Zeke shows up. Zeke's name starts with a Z, just like Young Zach's, and that's enough in common for them to start a-talking. Zeke brings Young Zach home after camp and opens up a shoebox under his bed. Inside is a jumbled mass of brown-backed cards. Zeke shows Young Zach The Fallen and The Wretched, scaring the boy but intriguing him.
Zeke teaches Young Zach how play with these mystical cards, skipping over rules that he doesn't know, like banding and trample. For Zach's eighth birthday, his parents give him a booster pack of Revised, and with that, his collection is born. When Zeke and Young Zach part ways at Summer's end, Young Zach plays Magic with himself, looking forward to playing Magic in August with his friend.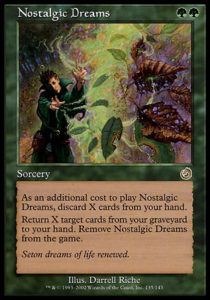 September, 1996. Still-Young Zach entered the fourth grade, wondering why his newly-opened Force of Will has so much text on it. School was, as it ever was, dull, frustrating, and lonely. Over the summer, he was given D'Aulaires' Book of Greek Myths. He devoured that book, loving the fantastical stories and larger-than-life characters akin to those he loved in comic books, video games, and Magic: the Gathering. One of the major themes in fourth grade was Greek mythology and D'Aulaires' was among the primary texts (making the book a not-only thoughtful gift, but a well-forethought one).
Fourth grade was the best school year Young Zach ever had. He created his own myths (borrowing loosely from Hercules: the Legendary Journies and inserting himself into more than of a few episodes as Kevin Sorbo), crafting stories and art to satisfy his burgeoning imagination (and less importantly, his teachers' assignments). He branched out beyond his assignments, studying mythologies Persian and Norse, American Indian and Roman (though Greek would forever remain his greatest love). It was the happiest he'd ever been in school.
The following year, he made his best friends in elementary school, bonding over Pokémon and yes, Magic: the Gathering. When he graduated, changed schools, and started seventh grade at Hunter College High School, he made his first friends there over Magic, forming bonds that last to this day. As an adult, it was his improv friends that brought Magic back to his life. In short, where there was Magic, there was friendship.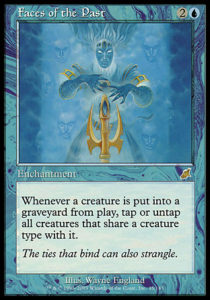 Theros reminds me of the happiest days of my childhood. Magic brought me friendship when I was lonely. Greek mythology gave me passion when I was dispossessed. To bring the two of them together? It's more than just a new Limited environment or a Standard (Pauper) rotation, it's a combination of two realms that fundamentally make me who I am. I've been waiting almost my entire life for this.
Thank you for letting me share that. Now, on to Standard Pauper!
Standard Pauper Tournament!

Round four  is complete, meaning that the tournament is halfway finished!  We've still got over eighty players left, so there's plenty more action to come as the Theros rotation looms mightily.
Ben H wins a booster pack of Legions!
Nick G wins a booster from gwyned!
Grao wins a foil Victorius Destruction and a foil Frazzle for knocking out Hunter!
The four remaining Hipsters have gone undefeated for another round.  Can we continue protecting our bounties like a Covetous Dragon?
Round 5 Pairings/Standings
[table width="580″ align="center"]
Player One, Points, vs, Player Two, Points, Results,
Jason Gray, (12 pts), vs, Mrdarby, (12 pts), (2-0)
Hugh Kramer, (12 pts), vs, Ben H, (12 pts), (0-2)
Charlie S, (12 pts), vs, Justin Beckert, (12 pts), (2-0)
The_Sir, (12 pts), vs, Benito, (12 pts), (2-0)
Paul Salerno, (9 pts), vs, Conor Moran, (12 pts), (0-2)
Zachary Barash (HotC), (9 pts), vs, Zach W, (9 pts), (0-2)
Colin, (9 pts), vs, Neil Anderson, (9 pts), (2-0)
Adam Bloom, (9 pts), vs, Edmilson, (9 pts), (2-0)
Kevin Roman, (9 pts), vs, Zombii [drop], (9 pts), (2-1)
P. Dalton, (9 pts), vs, ratsby, (9 pts), (2-1)
Carrie O'Hara [drop], (9 pts), vs, Kaziks, (9 pts), (0-2)
Marc DeLay, (9 pts), vs, aceracerff, (9 pts), (0-2)
Shea Strausman, (9 pts), vs, mangol [drop], (9 pts), (2-0)
Andrzej "Onion" K, (9 pts), vs, Steven, (9 pts), (2-1)
Rich Stein (HotC), (9 pts), vs, Jesse S, (9 pts), (1-2)
JL, (9 pts), vs, MattLaZer, (9 pts), (1-2)
Monique Garraud [drop] (HotC), (9 pts), vs, Ahniwa Ferrari, (9 pts), (0-1)
MattP81, (9 pts), vs, Tom, (9 pts), (1-2)
Lacio, (9 pts), vs, Austin, (9 pts), (0-2)
Sam Werbalowsky, (9 pts), vs, David Wills, (7 pts), (2-1)
HurricaneWaves, (7 pts), vs, Kyle S, (7 pts), (1-2)
Andrew, (7 pts), vs, J.S. Bangs, (6 pts), (2-1)
Dana, (6 pts), vs, gwyned, (6 pts), (0-2)
Ideocl4st1, (6 pts), vs, joekewwl, (6 pts), (0-2)
sixfirhy [drop], (6 pts), vs, James Bathurst, (6 pts), (0-2)
Nico, (6 pts), vs, Marcin [drop], (6 pts), (2-0)
snapponder [drop], (6 pts), vs, togepi258, (6 pts), (0-2)
DV8tor83 [drop], (6 pts), vs, Brad, (6 pts), (0-2)
PurplePotato, (6 pts), vs, Matt Bobola [drop], (6 pts), (2-0)
Daniel Gardner, (6 pts), vs, Will, (6 pts), (0-2)
Nick G, (6 pts), vs, flapjack [drop], (6 pts), (2-1)
ElPolloLoco, (6 pts), vs, Dave Barman, (6 pts), (2-1)
Vincent Sippola, (6 pts), vs, Kevin Downs [drop], (6 pts), (2-0)
Grao, (6 pts), vs, rbernardinello, (6 pts), (0-2)
Nivius, (6 pts), vs, Danny DiPietro, (6 pts), (1-2)
Tim Akpinar (HotC), (6 pts), vs, James J, (6 pts), (2-1)
Hans, (6 pts), vs, Kenny, (4 pts), (2-0)
iAmQuantum [drop], (4 pts), vs, bacon_music_love, (3 pts), (0-2)
Jamie B, (3 pts), vs, Jesse Lee [drop], (3 pts), (2-0)
Carl, (3 pts), vs, Grociu [drop], (3 pts), (2-0)
Luke Burnett, (3 pts), vs, King Xia, (3 pts), (0-2)
Wolfmedic, (3 pts), vs, John Mason, (3 pts), (2-0)
Chris de Lacy, (3 pts), vs, ShiratoKai, (3 pts), (0-2)
[/table]
That's all for today. I'll be back on Friday, when Hunter and I review every last Theros common in anticipation of Theros prerelease!
—Zachary Barash
Join the livestream! twitch.tv/ZennithGP
Magic Online username: Zennith
Zachary Barash has been playing Magic on and off since 1994. He loves Limited and drafts every available format (including several that aren't entirely meant to be drafted). He's a proud Cube owner and performer, improvising entire musicals every week with his team, Petting Zoo. Zach has an obsession with Indian food that borders on being unhealthy.