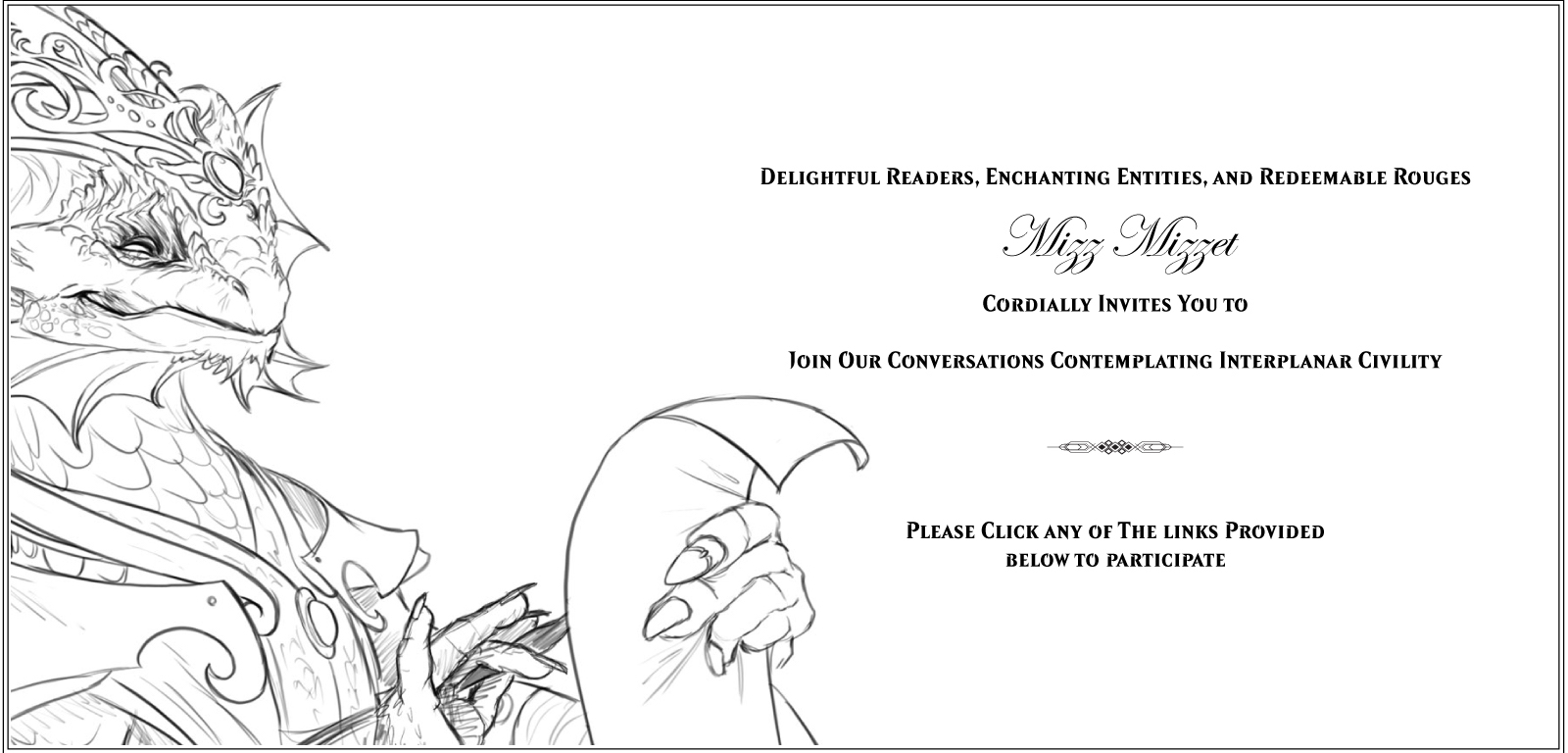 To Ask Mizz Mizzet a question about etiquette, Manners, advice
 or menu planning anonymously please use this link
To Converse with Mizz Mizzet on Social Media you may reach her on Twitter
It is also possible to reach Mizz Mizzet directly through electronic correspondence at
Join us in sharing tips and tales of civil coexistence in this dragon eat dragon multiverse!
---
As this is our twenty seventh column, we at Mizz Mizzet's School for Complicated Lifeforms would like to remind you that we answer 3 letters from our interrogative entities across the multiverse each week. If you missed our initial column, you may peruse it at your leisure at this location.
---
Thank you to Adrienne Reynolds, for her interplanar transcription services.
Mizz Mizzet Portrait by Andres Garcia
---
New Mizz Mizzet columns are posted every Wednesday right here as well as in Hipsters of the Coast's weekly email newsletter. Any questions answered publicly will be made anonymous, and noms de plume will be created to represent any parties mentioned.
Born a perfect dragon in an imperfect multiverse, Mizz Mizzet (she/her) is the pioneer broodmother of today's multiplanar civility movement.  She is now working to persuade Planeswalkers to participate in it.
Her tireless efforts to expand the understanding and exercise of etiquette beyond the stereotypical terror of too many pieces of silverware, and whether to use poisons or explosives at celebratory conquest dinners, have not escaped official notice.
She specializes as a consultant in seating arrangements for inter and intra planar political events as long as contracts include the option to eat the rude.
Out of respect for her relative's delicate sensibilities regarding draconic rank, she does not reside on the plane of Ravnica.