The Phyrexian celebrations continue on MTG Arena as the Welcome to Phyrexia Festival marches on. Things started last week with "Compleatly Outmatched" and Historic Artisan. Starting February 13 through February 28, five additional events will allow playesr to bring 60-card Singleton decks on a journey through each of the five of the Spheres of New Phyrexia.
Each event has a new emblem that represents what each layer does., and each of these events costs either 500 gems or 2,500 coins to compete in, rewarding five ichor card styles for each event. The last card style unlocked from each event is for one of the five Domini of each corresponding color.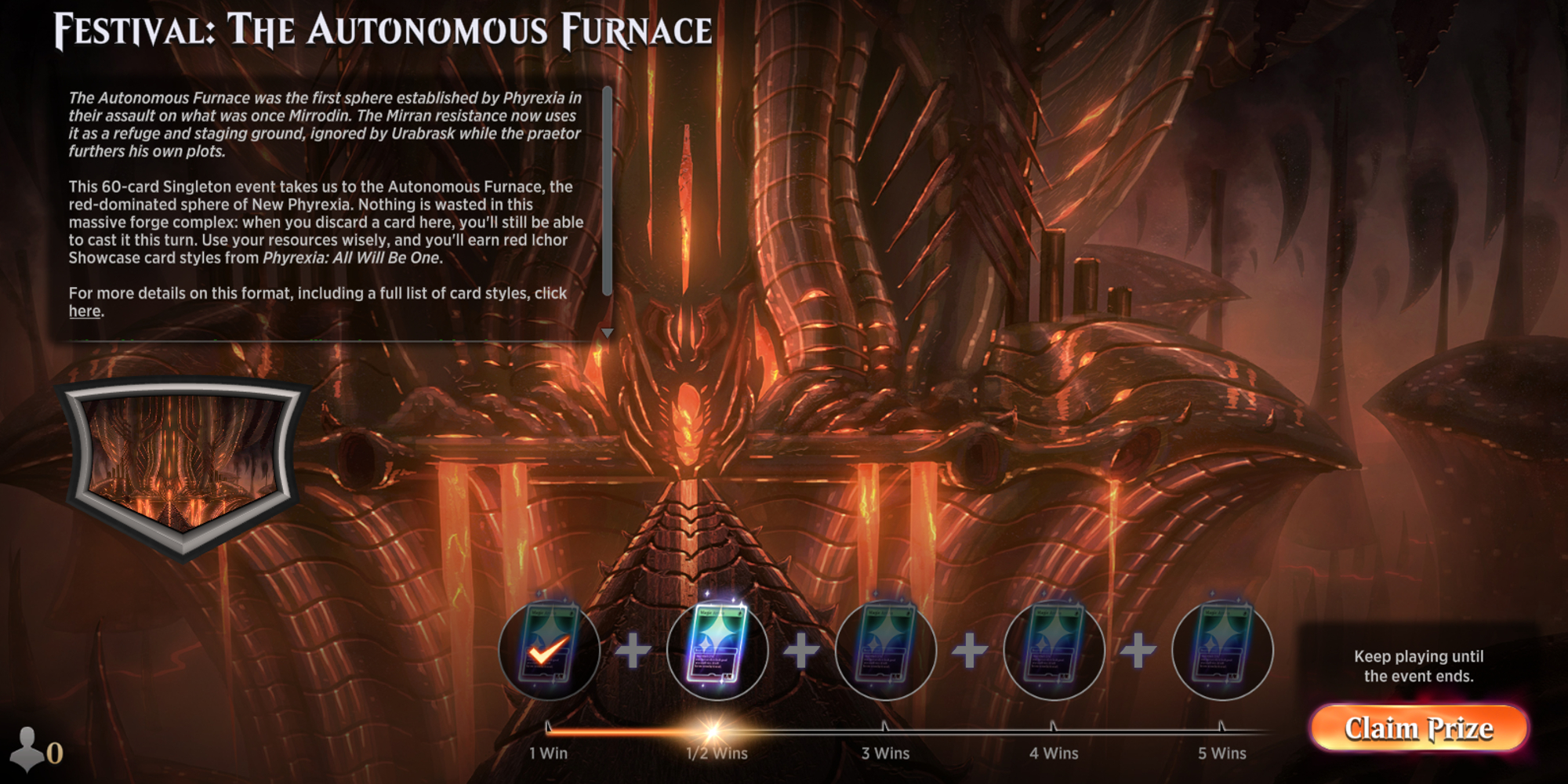 From February 13 to 16, players will bring 60-card Singleton decks to Red-dominated The Autonomous Furnace, where massively interconnected forge that stretches across the entirety of the sphere. While here, players have access to The Autonomous Furnace Emblem, which lets you exile cards when you discard them; if you do exile a card, you can cast it again in the same turn.
The next Sphere players will go to is The Hunter Maze, the Green Sphere, from February 16 to 19. This Sphere is both a massive forest and a huge colosseum, pitting the massive monsters of this region against each other in eternal combat. This event comes with The Hunter Maze Emblem, which lets you draw a card when a creature with power 4 or greater enters the battlefield. Jam your 60-card Singleton deck with all sorts of massive creatures to keep your hand full and creatures in play.
Next up is The Surgical Bay, the Blue Sphere composed mostly of glistening oil and seas of Quicksilver. This event will run from February 19 to 22, this 60-card Singleton event comes with The Surgical Bay Emblem, which simply lets you proliferate an additional if you were to proliferate. A 60-card Singleton deck build around toxic can quickly load up your opponents with poison counters.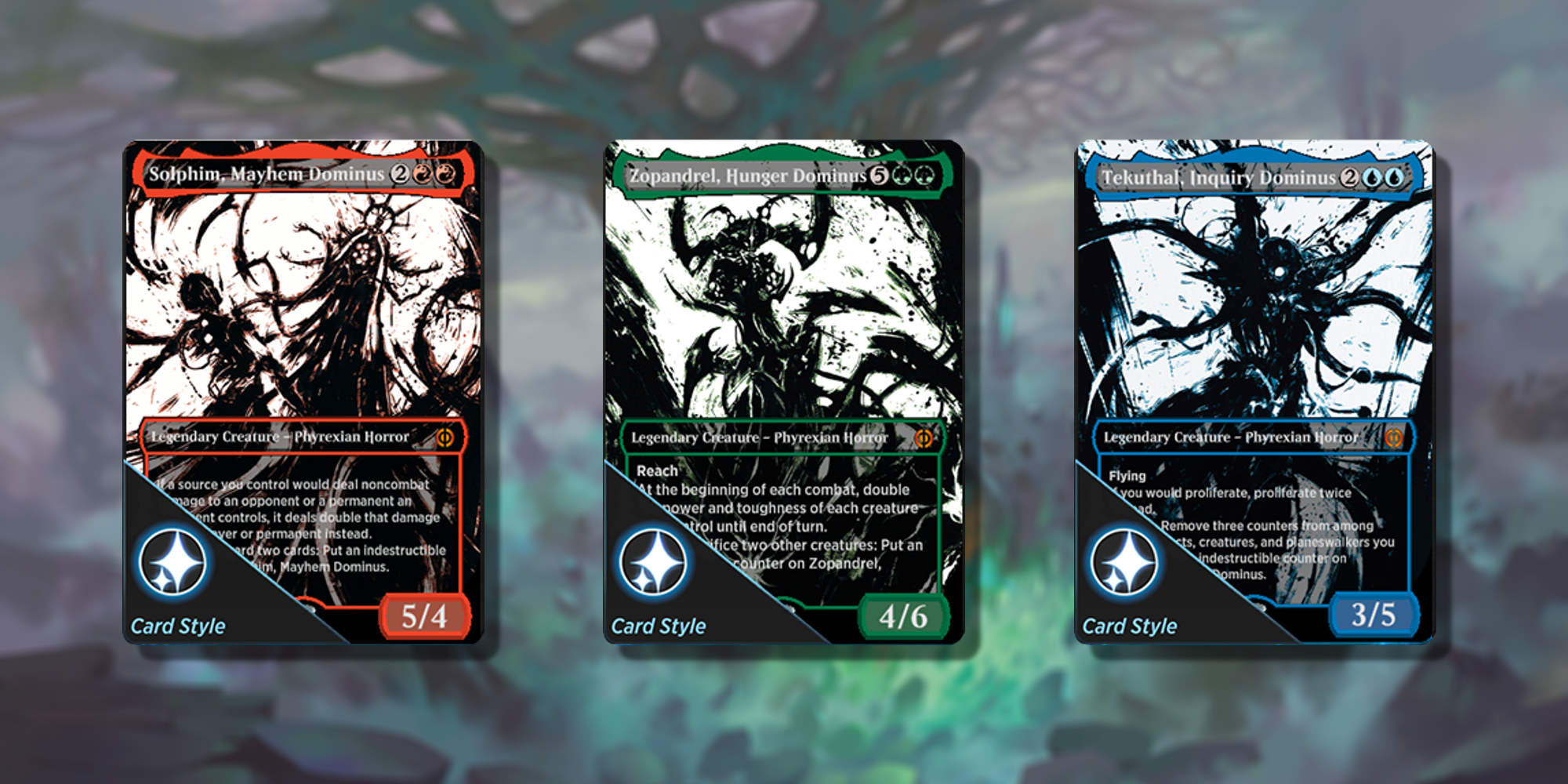 The ichor card styles for Solphim, Mayhem Dominus, Zopandrel, Hunger Dominus, and Tekuthal, Inquiry Dominus.
After that is The Dross Pits, the Black Sphere covered in toxic necrogen gasses where seven Thanes continuously war for dominance. This event runs from February 22 to 25, and comes with The Dross Pits Emblem. This emblem states that if a creature dying would cause a triggered ability of a permanent you control to trigger, it does so an additional time.
The last event to celebrate Phyrexia's release is The Fair Basilica, a White Sphere stylized after the new Elesh Norn, Mother of Machines. Make sure to bring a 60-card Singleton deck filled cards that have powerful enter the battlefield effects since The Fair Basilica Emblem doubles up your enter the battlefield effects. This effect is essentially Elesh Norn, Mother of Machine's ability but doesn't shut down your opponent's effects.
Play-In Weekend Coming Soon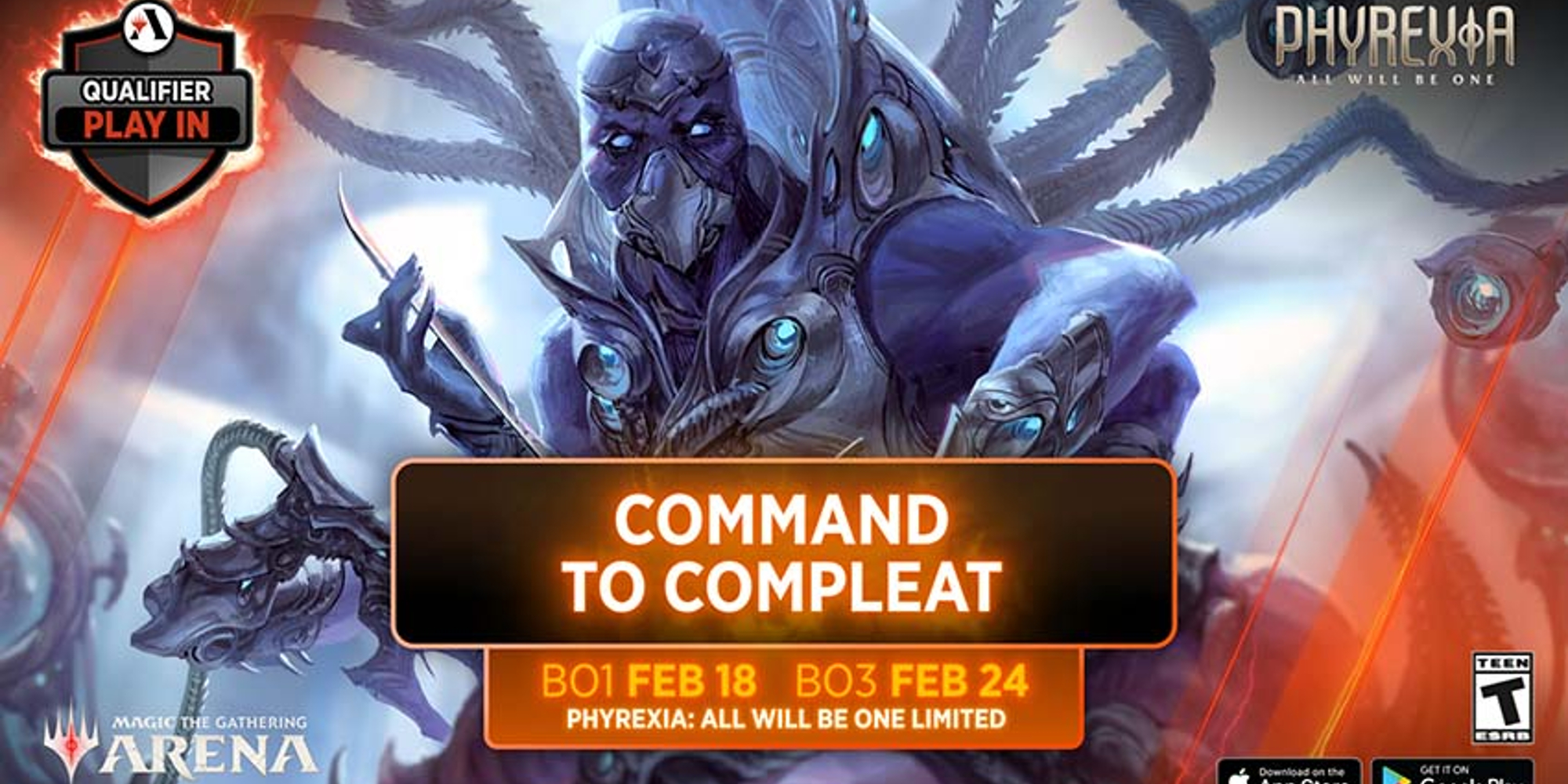 Premiere Play is back with a Best-of-One Qualifier Play-In this February 18 starting at 6 a.m. PT. This event is a Phantom Sealed event and winning will grant players an invite to the main Qualifier Weekend on Feb. 25-26.
If you're not a fan of Best-of-One events or cant make it to the first event, there is also a Best-of-Three Qualifier Play-In available on February 24 starting at 6 a.m. PT and will run until February 25, ending at 3 a.m. PT. This Best-of-Three event is also a Phantom Sealed event that runs right up to the start of the main Qualifier Weekend.
Looking for more information about the February Ranked season? Check out all the information here for your season rewards here.
Ryan (he/him) has been writing about Magic: The Gathering and video games for years, and loves absolutely terrible games. Send him your bad game takes over at Twitter where he occasionally rants about everything from cats to Lord of the Rings.