In a surprise announcement this morning, Wizards of the Coast suspended Wilderness Reclamation and Teferi, Time Raveler from Magic: the Gathering's Historic format. Both cards were also banned in Standard in the same announcement
Don't miss today's other bannings in Standard, Pioneer, and Brawl.
The suspensions came three weeks after Wizards chose to ban Nexus of Fate in Historic (and suspended Burning-Tree Emissary) while leaving both Wilderness Reclamation and Teferi, Time Raveler in the format.
Typically, Wizards would wait more than three weeks after a Banned and Restricted update to make further adjustments. And it's not like Historic is a stale format; in fact, "[t]he Historic metagame is moving quickly right now," Wizards said. "[T]he addition of new cards through Jumpstart is having a large impact, as will Amonkhet Remastered when it arrives soon. There are many of these new decks we are watching closely, but our strong preference in times like this is to give the meta time to develop naturally. We want to see which of these new decks turn out to show enduring strength versus merely making an initial splash."
However, "there are two places where we feel we have enough information that we should take action: Wilderness Reclamation and Teferi, Time Raveler."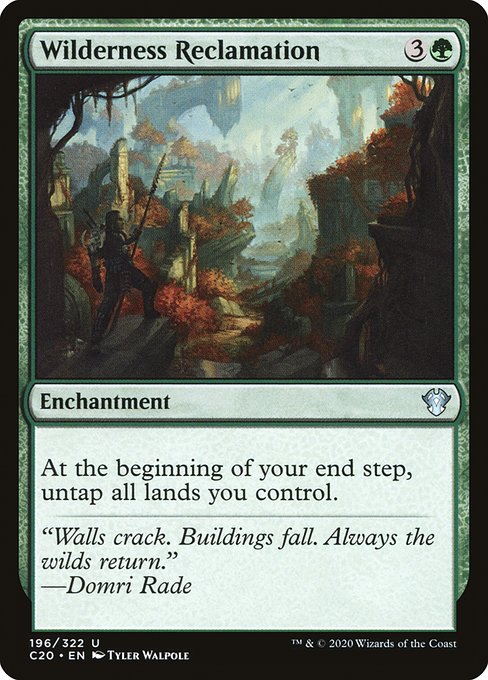 Wilderness Reclamation
When Wizards decided to ban Nexus of Fate three weeks ago, rather than Wilderness Reclamation, they said that they weren't seeing any problematic decks using Wilderness Reclamation without also using Nexus of Fate—so they decided to give Reclamation a chance to operate without Nexus.
"Since then, we've seen a Temur Reclamation list grow steadily in Historic that leverages both Expansion // Explosion and Field of the Dead," Wizards said. "We are seeing this deck put up significant numbers, representing over 10% of Best-of-Three games while maintaining concerning win rates. This is a card and deck configuration that we have spent a good bit of time discussing, analyzing, and watching, so we feel that it is one where we have enough information to act. In order to encourage increased metagame health and variety, Wilderness Reclamation is suspended in Historic."
Historic Temur Reclamation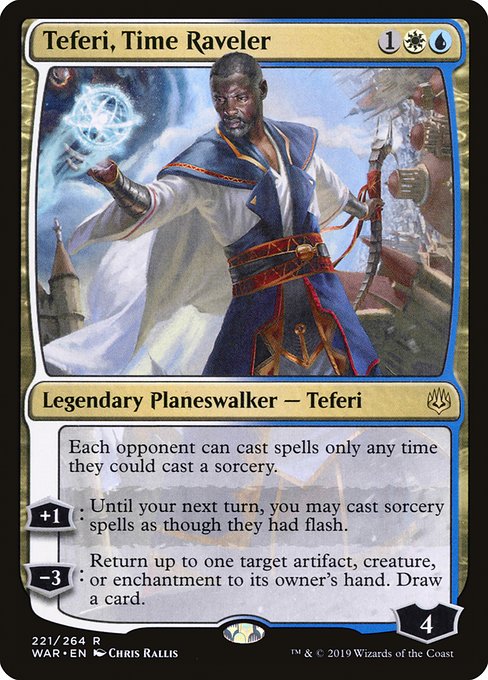 Teferi, Time Raveler
As for Teferi, Timer Raveler, Wizards got "much the same feedback in Historic that we get in Standard."
In their decision to ban the card in Standard, Wizards said: "We've often heard the feedback that the repetitive play patterns and reduced capability for interaction that Teferi, Time Raveler can create feel oppressive and limiting. While we'd considered banning Teferi, Time Raveler in past updates, one reason we didn't was evidence that it was helping hold Wilderness Reclamation decks in check."
Additionally, in Historic specifically, "we also find that the power of the reduced capability for interaction that Teferi, Time Raveler brings scales with the power of the interaction he's preventing and the board he's consequently protecting." He is also seen very frequently in Historic queues, "appearing in over 20% of Historic Best-of-Three games and significant percentages in other modes as well," in archetypes like the very popular Bant Ramp deck.
So, similar to the decision they made in Standard, Wizards is comfortable removing Teferi, Timer Raveler from Historic alongside Wilderness Reclamation.
Historic Bant Ramp
A Surprise Announcement
For the last few months, Wizards has taken the approach of announcing Banned and Restricted updates a week ahead of time. But Wizards decided not to give any advanced notice for today's bans.
"Because of the increased focus on digital play environments during this time period, we're choosing to forgo that advanced notice and roll out these changes as soon as possible," Wizards said, rather than creating one-week lame duck formats. "This isn't necessarily indicative of how we'll announce and implement in the future, and we're continuing to look at how we balance giving players advance notice versus staying agile with respect to changing metagames."
While the return to unannounced Banned and Restricted updates was certainly unexpected, especially on the Monday after a major tournament, the surprise was magnified by the large number of cards banned and formats affected. Four cards were banned in Standard, four in Pioneer, one in Brawl, and two were suspended in Historic.