Paulo Vitor Damo da Rosa won World Championship XXVI Sunday evening with UW Control, defeating Marcio Carvalho on Jeskai Fires in the Grand Finals in four matches.
Damo da Rosa was already one of the most decorated players in Magic: the Gathering history and now adds World Champion to his long list of accolades. He notched his 17th top finish* at World Championship XXVI, which include two other wins at Pro Tour San Juan in May 2010 and at Pro Tour Hour of Devastation in July 2017, tying Jon Finkel for most top finishes of all time. Damo da Rosa also has 24 Grand Prix Top 8s (with two wins), won 2016–17 Player of the Year, and was elected to the Magic: the Gathering Hall of Fame in 2012. Now, as the 26th World Champion, he strengthens his case as the best Magic player of all time.
Carvalho, on the other hand, was the runner up at the 2016 World Championship, losing to Brian Braun-Duin in a lengthy finals. He now has 10 top finishes* and lost the 2016-17 Player of the Year race to Damo da Rosa when the latter won Pro Tour Hour of Devastation at the very end of the season to claim first place.
* Wizards of the Coast defines top finishes as: Pro Tour Top 8s, Team Pro Tour Top 4s, Mythic Championship Top 8s/Top 4s, Mythic Invitational Top 4s, World Championship Top 4s (2012-current), and Magic Online Championship Top 4s. They haven't announced how Players Tour and Players Tour Finals finishes will be categorized, but Brian David-Marshall confirmed both will be counted, so we included Players Tour Series 1 in the count for this article.
With the unique structure of World Championship XXVI, both Carvalho and Damo da Rosa played seven matches over three days to reach the Grand Finals. The other two players in Sunday's Top 4, Gabriel Nassif and Seth Manfield, played a total of 12 and nine matches, respectively. Carvalho advanced through both Days 1 and 2 undefeated to make it to the Top 4, while Damo da Rosa suffered one loss—to Carvalho on Day 1—on his way to the Top 4.
The players met again in the upper bracket finals in the Top 4, where Damo da Rosa came out victorious two games to one to advance to the Grand Finals, knocking Carvalho into the lower bracket finals. Manfield fought his way through the back half of the lower bracket to reach the lower finals and battle Carvalho for the second spot in the Grand Finals. Carvalho emerged victorious two matches to one to set up a a rubber match with Damo da Rosa in the Grand Finals.
The Grand Finals of World Championship XXVI
Due to its unique structure, the winner of World Championship XXVI would be determined by a best-of-four matches in the Grand Final. Damo da Rosa, having advanced from the upper bracket, only needed to win two matches to become the World Champion, while Carvalho would need to win three.
With that decided advantage, Damo da Rosa began the Grand Finals with a 2-0 victory in the first match, taking control of Game 1 with Planeswalkers and Dream Trawler then answering every threat in Game 2 while Carvalho flooded out. All of a sudden, Damo da Rosa was one match win away from the World Championship trophy.
But Carvalho rebounded in the second match, returning the favor with a 2-0 match win. He was able to land an early Teferi, Time Ravelers in both games, making all of Damo da Rosa's interaction very awkward to use, allowing Carvalho to resolve a Fires of Invention and consistently play hasty creatures to win.
Despite getting on the board, Carvalho was still one match behind Damo da Rosa since he had advanced from the lower bracket. The third match opened with Damo da Rosa effectively answering each of Carvalho's threats one by one and then playing an Archon of Sun's Grace to pull away with the game before Carvalho could find a Fires of Invention. With his back against the wall, Carvalho won the next two games to "even up" the Grand Finals with Teferi, Time Raveler and Tithe Taker preventing from Damo da Rosa from interacting with his flurry of five-drops.
After three intense days of Magic, it all came down to a final best-of-three match to crown a World Champion. Game 1 of the fourth match opened with Damo da Rosa landing a Turn 4 Archon of Sun's Grace while Carvalho landed a Turn 5 Fires of Invention…with no creatures to cast for free. Damo da Rosa untapped and took care of the Fires with Elspeth Conquers Death and built an army of pegasi tokens to close out the game.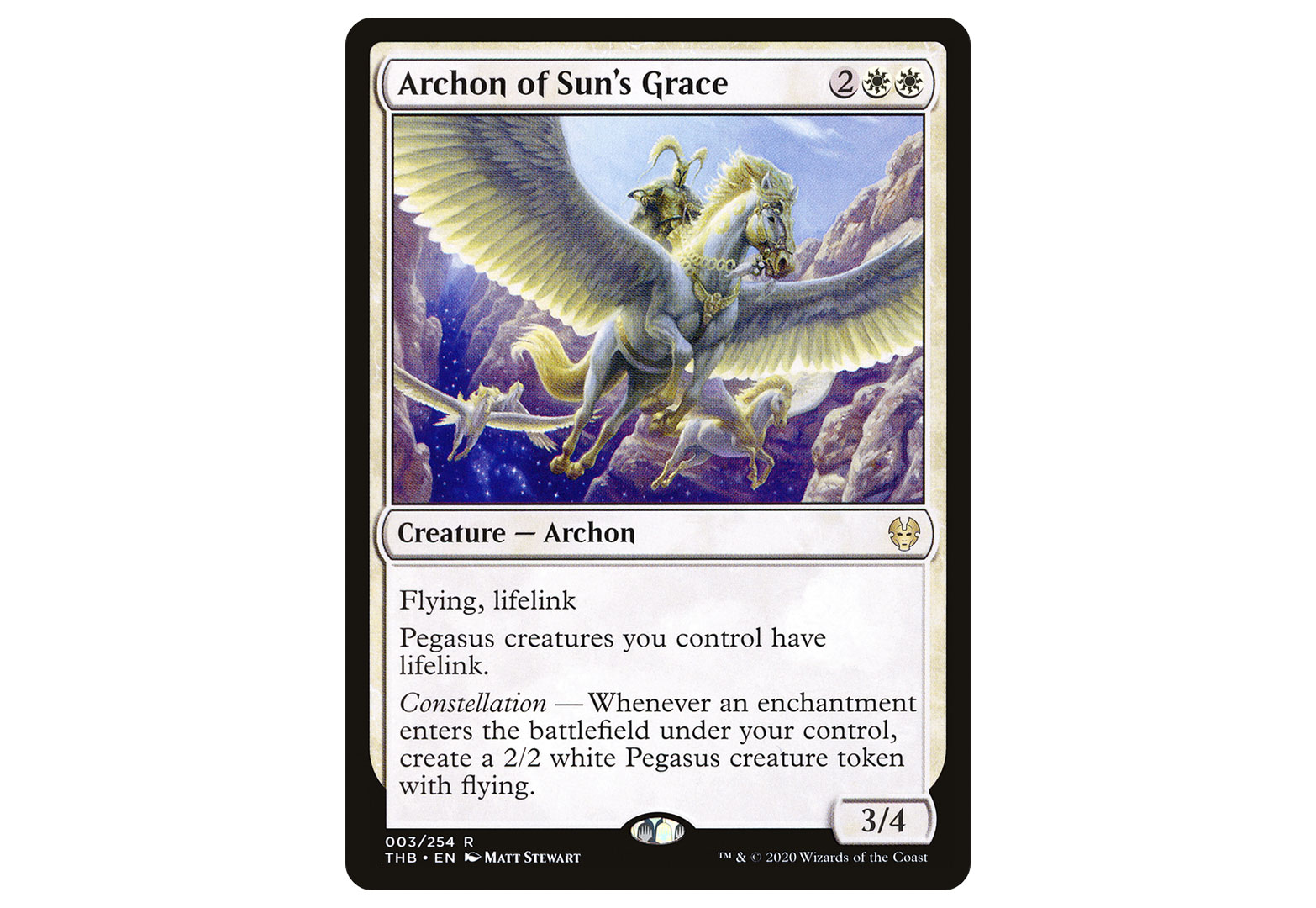 Damo da Rosa again found himself one game away from becoming the World Champion and kept a very strong seven-card hand, while Carvalho kept a very risky two-land hand with only Blue-producing lands and no castable cards—three of which were Red. Carvalho missed his third land drop on Turn 3, then drew a UW land on Turn 4 followed by running five-drops as Damo da Rosa calmly took over the game with Narset, Parter of Veils, Teferi, Time Raveler, and Archon of Sun's Grace. After discarding to hand size, Carvalho conceded and Paulo Vitor Damo da Rosa won the game, match, Grand Finals, and World Championship XXVI.
"Honestly, you have no idea how many times I've dreamed about this moment ever since I started playing competitively. It was like, 'World Champion, World Champion!'" he said after the match. "And then I got everything else except for World Champion and I'm finally the World Champion! And it's incredible."
Asked how he felt when Carvalho missed his third land drop in the deciding game, Damo da Rosa laughed and said, "That was pretty good."
"Some people like to work for their wins and want a fair fight," he continued, "but when you're playing the last came for the World Championship title all I want is him to discard."
"Marcio is a very good player," Damo da Rosa said later of his finals opponent. "For a very long time people would ask me who was the most underrated player on the planet and I would often say Marcio. And now he's not underrated anymore, everyone knows how good he is…I'm sure he's going to win something at some point, he's extremely good."
Decklists
Standard UW Control by Paulo Vitor Damo da Rosa (1st)
Standard Jeskai Fires by Marcio Carvalho (2nd)