While Underworld Breach has taken Pioneer by storm, putting up impressive results at PT Phoenix, the card hasn't substantially influenced Modern—yet. There's a new deck coming together that promises wild degeneracy and plays like the child of Dredge and Krark-Clan Ironworks. So before all hell breaks loose in Modern, I'd like to introduce you to Urza Breach.
Urza Breach by Will Thompson
I'm very in love with this deck that @billsive has been developing and posting about on Twitter. If you like intricate combo decks like Paradoxical Urza and KCI, you must give this list a try. It's challenging to pilot, so I'll go through some of its patterns here to give you a head start learning it.
Breakdown
Urza Breach contains multiple combos, but the primary one involves Grinding Station, Scrap Trawler, Sword of the Meek, and Memnite. Start with Station and Trawler in play, Sword in graveyard, and Memnite in hand. Cast Memnite and trigger Sword. Those two entering the battlefield will give you two Station untap triggers. Grind Memnite, then Sword, milling your opponent for six and returning Memnite to hand using Trawler's trigger. This puts you back at the beginning of the loop that repeats to mill out your opponent.

A four card combo? Seems suspect. Enter Underworld Breach. Breach allows you to take a page from Dredge's playbook and use your graveyard as your hand. That angle makes it criminally easy to assemble the Memnite loop. With Breach and Station into play, you can cast zero-cost artifacts from your graveyard and grind them targeting yourself so you don't run out of fuel before you mill your other pieces. One more mana escapes Emry (if you don't already have her in play), which lets you repeatedly escape an active Mox Amber to generate mana so you can escape Trawler.
If you're short on fuel, but have access to an Amber and two Emrys, you can repeatedly cast her using the legend rule and mill four each time to gas up. There's a small chance that your library will be unfortunately-ordered and you will run out of cards before you can pull this off, but the fail rate is low.

Think about that. Even if you start with Station is the yard, casting Breach with two extra mana starts your engine. Just Breach. One card combo? Much less suspect.
I'm exaggerating. You need mana and graveyard fodder to get off the ground, but hope I'm making clear how powerful Underworld Breach is. Yawgmoth would be proud.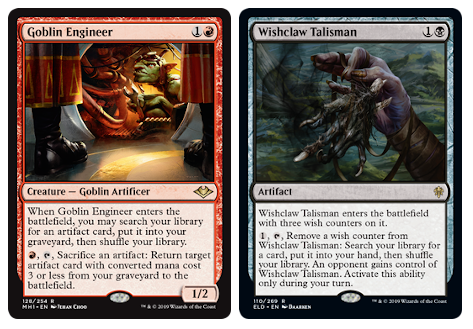 So, now that we know how to open the gates, how do we find the keys? Goblin Engineer lets you entomb Station and weld it into play at a discount. Emry lets you cast artifact pieces from your graveyard if you don't have Breach or the mana to go off all in one turn. You technically don't need Breach to win, but if it's the shortest path to victory, you can tutor for it with Wishclaw Talisman. If you need a really convoluted line to Breach, you can tutor for your tutor by entombing Talisman with Engineer. Grind or sacrifice the Talisman to Engineer to keep it out of your opponent's control.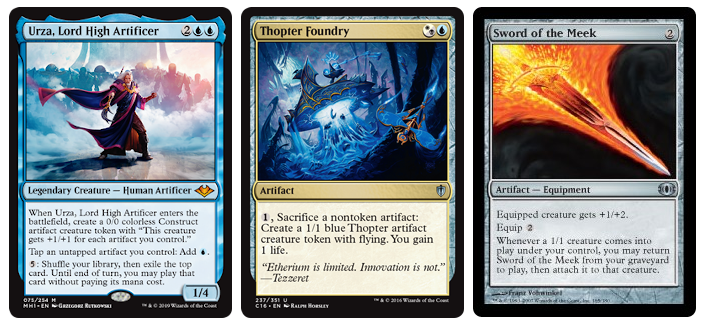 We haven't even talked about Urza yet. This list includes the already-popular Thopter Foundry plus Sword of the Meek combo with Urza. Infinite thopters and life isn't bad if those are the tools you happen to have on hand. This also gives you another win condition if the mill kill is off the table.
Urza might occasionally let you roll your own Ironworks with Sai, Trawler, Sword, and a zero-cost artifact. For this pattern, cast the zero, trigger Sai, recur the Sword when the thopter enters the battlefield. Next tap all three for mana with Urza and sac the non-tokens to Sai, triggering Trawler to pick up the zero and start over. Make infinite mana and thopters, draw your deck, then switch to the primary combo to close.

Infinite combos aside, Urza's synergy with Grinding Station is absurd. Tapping Station for blue to keep casting artifacts for untap triggers does a lot to help you get off the ground. Sacrificing artifacts to Foundry can give you additional Station triggers for mana or mill as needed. Sai and Emry synergize with Urza and each other. Urza is mostly a value card in this deck, but he's so powerful that he takes down games by burying your opponent in resource advantage or the occasional swing with a big construct.
Strategy
I've only started to learn this deck, but as I have been working with it, I've found it important to maximize information as you try to set up. Mill early; tutor late. Because you have overlapping combos and set-up strategies, you want to expose as much as you can so you narrow down what you're missing and seek the right pieces. Nothing feels worse than entombing one Sword and then drawing the second.
The strengths of Urza Breach are its speed and consistency. Its weakness is its sensitivity to hate. This is a game one deck. Your opponents are unlikely to have much relevant interaction in their main decks, but the post-board games become a lot tougher. Stony Silence, Rest in Peace, Grafdigger's Cage, Damping Sphere, Disenchant, and all similar effects are significantly disruptive.
It's important to predict what you'll have to deal with when you sideboard and identify the lines that can evade hate. The Thopter-Sword combo natively evades Damping Sphere, Eidolon of the Great Revel, Eidolon of Rhetoric, and Grafdigger's Cage. Bounce spells are enough to get you out of permanent-based hate due to how easy it is to go off in one turn. The exceptions to that are Rest in Peace and Leyline of the Void, which rob you of escape fuel.
Though your fair plan is weaker than your combos, don't forget it. When your opponent keeps a hate-heavy hand, they may not have the pressure to get under a construct token, a handful of thopters, Tezzeret's 5/5s, or Brazen Borrower.
This deck is very skill-intensive. Even if it is extremely strong, your results will depend on choosing the right lines and knowing the meta so you can counter-board effectively in game two. I wouldn't take this deck into a tournament cold, but I think if you give it some love, it'll really love you back.
Other Breach Brews
There's more to explore with Underworld Breach in Modern. I've liked the Thompson list the most, but here a few of others I've seen that might spark some inspiration.
Jeskai Urza Breach by @cherryaxeman_op
This list by Cherryxman is more of a midrange list, with Teferi and Engineered Explosives for more interaction. It forgoes the Trawler combo in favor of self-mill and Thassa's Oracle. This list doesn't use its graveyard to set itself up as well as the Thompson list; but it's another angle to play with, gives you better game against counter magic, and I'm a big fan of sideboard Blood Moon right now.
Dredge Breach by @kurozu000
This list by kurozu000 is a very all-in combo list that leverages Breach to repeatedly escape Burning Inquiry, dredging Stinkweed Imps and refueling with Runaway Steam-Kin mana until it can win with Thassa's Oracle. I don't endorse this as a tuned list, and I couldn't track down a sideboard; but it's some off-the-wall inspiration if you're looking for a totally different take on Underworld Breach. You can watch a turn two goldfish kill here.
Ascendancy Dredge Breach by Urchin Colley
Finally, this is a sketch of a list I was playing with a couple of weeks ago. It's an extreme glass cannon, Neoform-style deck. The goal is to repeatedly escape a Ritual, triggering Jeskai Ascendancy to dredge and discard until you've milled your entire library. Finally, filter for two blue and cast Thassa's Oracle. With a deck full of fast mana, the sideboard plan is to become an eight-Rabblemaster stompy-style deck on the assumption that the opponent will board out their removal.
Overall, I really like Will Thompson's Urza Breach list. It has serious potential, and even if it doesn't end up totally broken, it's a gorgeous machine that'll bring joy to anyone who loves a puzzle.
And if you want to keep brewing, Modern is full of escape routes.