Eight players met in London on Sunday August 4th. Each won their respective qualifiers to play in the Red Bull untapped tournament finals on Arena. Lino Burgold ultimately took the tournament down with Bant Scapeshift. He won 2-0 against Thomas Holzinger, who was armed this weekend with Bant Ramp. Both players qualified for this tournament through the online Arena qualifiers.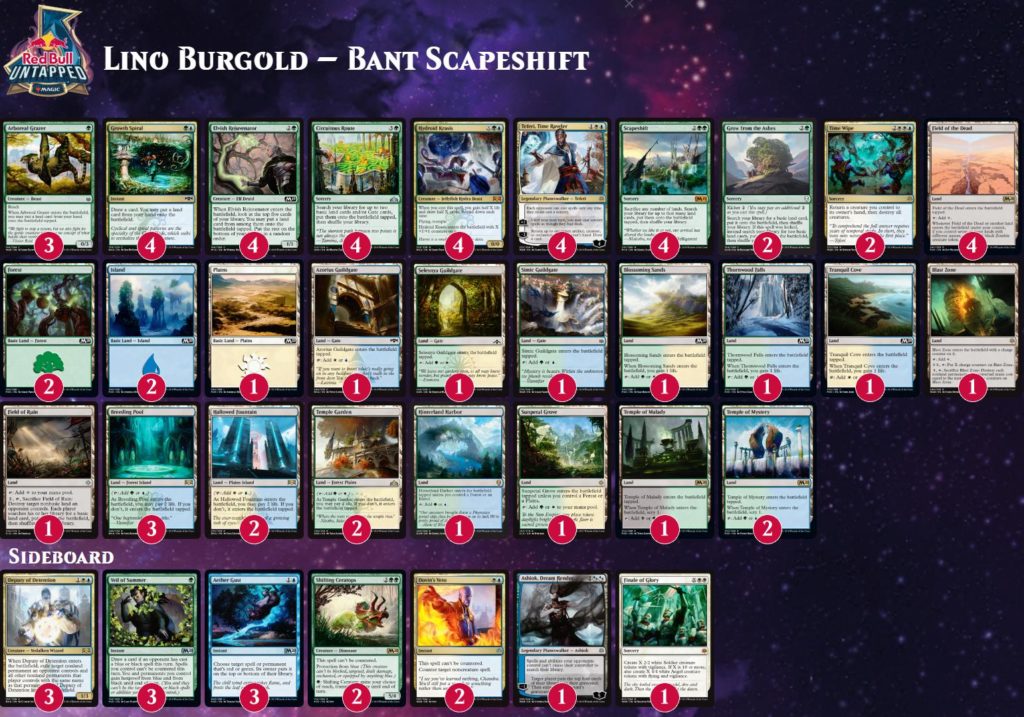 Lino's road to the finals involved taking down Ricardo Beja on W/B Vampires in the quarterfinals. In the semis, he defeated Magic Pro League member Javier Dominquez, who was also playing Bant Scapeshift. Both matches went three games.
Thomas got to the finals by besting Anton de Smet (Jund Dinos) in a three-game quarterfinal. Another three-gamer fell 2-1 in Thomas's favor against José Neves (Esper Hero).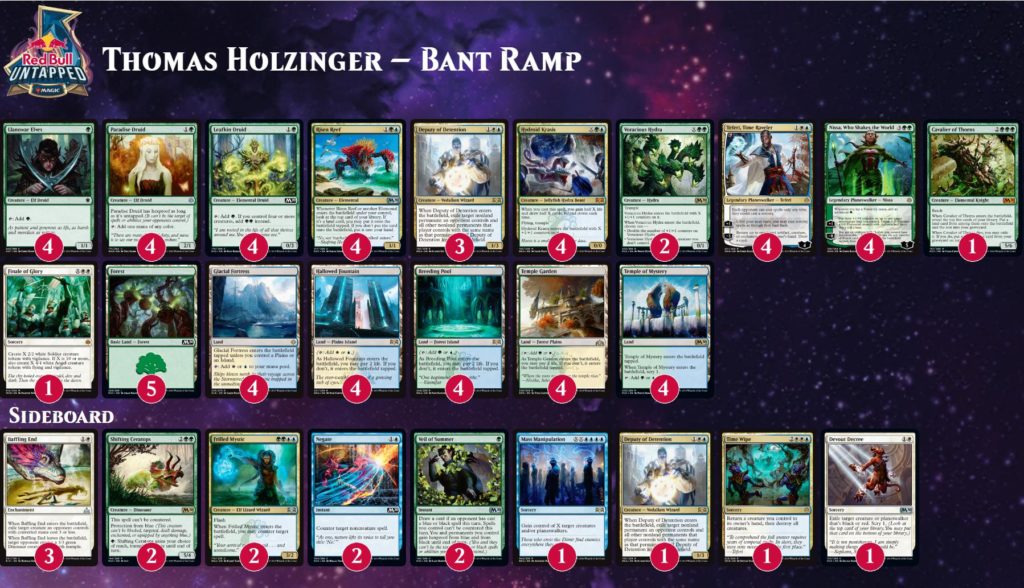 The finals matchup appeared to favor Lino's Scapeshift deck in game 1 and Thomas was considered the underdog. Despite this, he started the game strong by landing a turn-three Cavalier of Thorns. But Lino bounced the creature with Teferi, Time Raveler and played Field of the Dead as the land for turn. Lino played a second Field of the Dead and was beginning to create a zombie army, but was temporarily halted by Deputy of Detention taking out the tokens. Lino played a Hydroid Krasis for six, but Thomas answered with another Deputy of Detention followed by Nissa, Who Shakes the World. Lino decided to go for the win by casting Scapeshift, which resolved into 28 zombie tokens. Thomas was forced to play Krasis for 10 in hopes of finding another Deputy of Detention. He did not succeed.
Game 2 started out with both players taking mulligans to six cards. Thomas started the game aggressively, pressuring Lino early with two 2/2 Hydroid Krasises. Lino resisted the temptation respond with Deputy of Detention, instead playing his own 4/4 Hydroid Krasis. Thomas targeted Lino's Krasis with a Deputy of his own, pushing Lino to clean up the board with Time Wipe. This removed much of Thomas's mana, leaving him stuck on three lands. Lino then found Field of the Dead and sacrificed five lands to Scapeshift. While Thomas found another Deputy of Detention to take care of the zombies, Lino had Scapeshift number two to seal the victory.