[Editor's Note: This article has been updated to include an official statement from Magali Villeneuve.]
[Editor's Note: As details continue to emerge we will continue to update this story. Hipsters of the Coast has independently confirmed that all three artists are safely back home and that Wizards of the Coast's legal team is investigating the situation and has currently not made any official statement.]
What follows is the story of three human beings trying to make their way across the world to work on a product that millions of people love very dearly. This is their lives and their livelihood. Please respect that and respect that they need time to recover from the ordeal below.
On the other side of the story is Wizards of the Coast who have so far made no public statement on this story and are obviously under no obligation to do so. I will reiterate what I know personally as a journalist who has covered Wizards of the Coast for a half-decade now:
WotC is full of good people who just want to make fun games for millions of us to enjoy. They are all doing the best they can from the designers to the legal team. What happened is not their fault. Do not take their silence for guilt. Do not take the lack of public statement as an admittance of fault.
The only think Wizards of the Coast continues to be guilty of, perhaps to their detriment, perhaps not, is focusing on what's primarily important to them, which in this case I've been told, by several people within WotC, is the safety and well-being of Anna, Magali, and Titus. To that end they are not making a public statement yet because it is not their primary focus.
Here is Magali's official statement on the events. Our original article follows which includes the statement Titus Lunter made on Twitter. Hipsters of the Coast supports both Magali and Titus in their requests to not point fingers at anyone involved, including Wizards of the Coast, until all of the facts are known.
Please note that I've left nothing out of Magali's statement provided to us including taking partial blame for the community response.
WOTC people are working hard to help us out. The priority for them (and that makes me happy and comforted) is not to give a public explanation : it is to do whatever they can so our careers won't have to suffer from US borders' extreme ways of dealing with people from the outside. They are worried for us, many of them are good friends and they understand all the consequences of what happened at Sea Tac. We need help and they're giving it. From my own professional experience, not all clients would do that, believe me. Us not being able to come to Renton is a problem for them. They need our work and expertise. They're not carefree about it. But again, yes, that's true, giving a public speech is not their main worry right now, and I'm grateful for that. I'm writing that to you because the hate may also have come partly from your article. I wish the community would have other use of its own strength than creating drama like "the huge company doing nothing for the poor little illustrators". This is not what's happening. I'm usually pretty silent but if today I'm PMing a few communities like yours that's because friends of mine are being hurt while they are striving to help and support me. I cannot stand that. I hope you will understand what I am trying to express here. Have a very good day, Magali
On Saturday, August 25th, Wizards of the Coast-contracted illustrator Magali Villeneuve boarded a flight from Paris to Seattle-Tacoma to meet at Wizards HQ in nearby Renton where she would work together with Titus Lunter and Anna Steinbauer on a concept push for Dungeons and Dragons.
Except the three never made it to Wizards of the Coast HQ and instead spent a harrowing day with the United States Department of Immigration and Customs Enforcement, better known to citizens at home and abroad as ICE.
The news broke when Magali's husband, back in France, tweeted out the news of the detainment from Magali's account. The three artists traveled independently to Seattle, met up when they were each on their own taken out of line at customs, and after officials determined they could not enter the country legally they were detained overnight in European time zone and according to Titus Lunter, Magali's husband Alex was the only person they could reach at the time (approx. 3AM in France).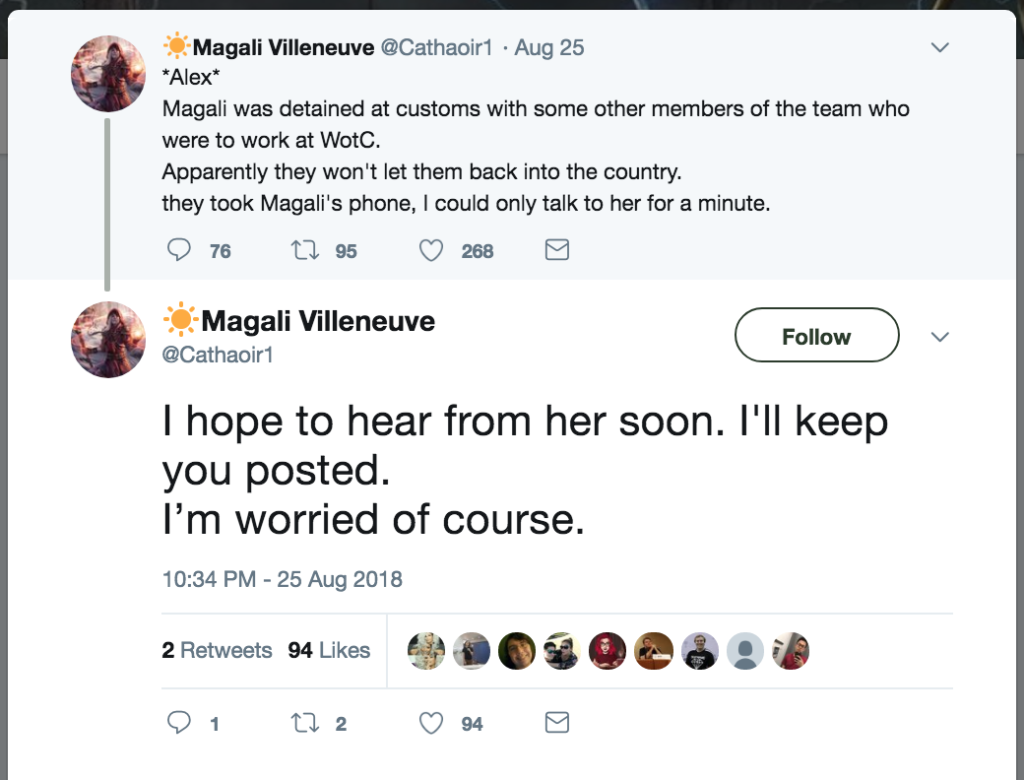 Titus Lunter confirmed via his personal Twitter account that the issues stemmed from an ESTA Visa Waiver issue and that as a result all three artists have had their waivers revoked permanently (a lifetime ban) meaning that in order to travel to the United States in the future they will need either a travel or work visa (depending on the nature of the trip).
The rest of the details of the story come thanks to Titus Lunter's personal account of the three artists being interviewed at SeaTac airport before being handed over to ICE officials: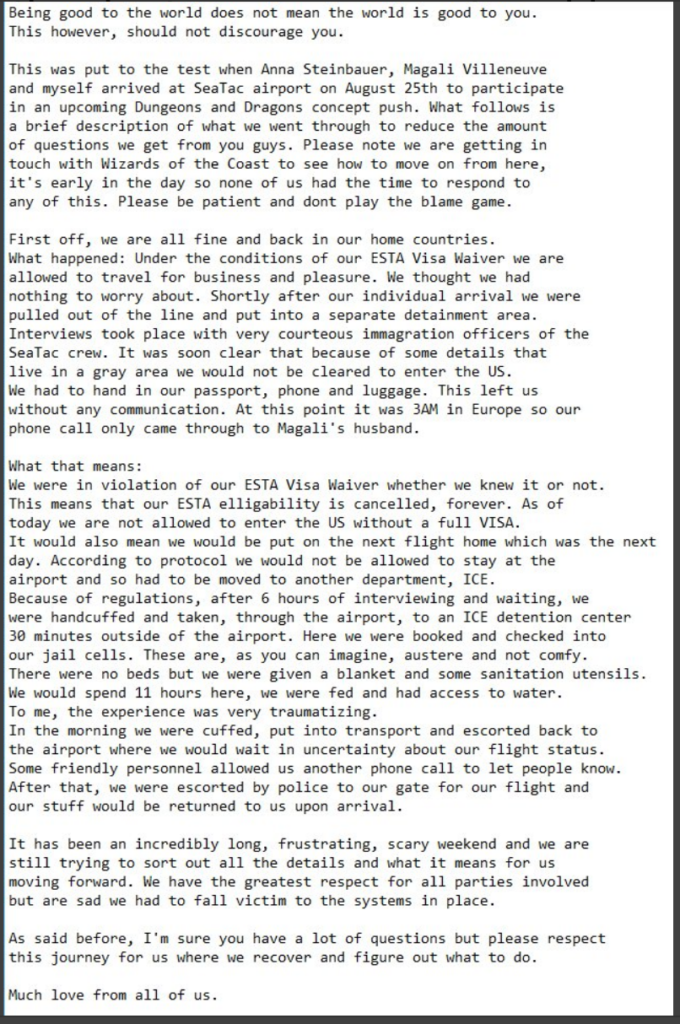 American citizens have been well aware of the increased scrutiny at the border for immigration issues under the Trump administration, but this situation did not originate with ICE nor did any of the artists come from a country that is on a no-fly list or part of the administration's flight ban.
From the US Customs website, "ESTA is an automated system that determines the eligibility of visitors to travel to the United States." From the ESTA website, one of the requirements is, "Business: your visit to the U.S. is to consult with business associates or negotiate contracts with potential clients."
If the work being conducted by the three artists would involve more than prescribed by the ESTA waiver, meaning that it went beyond consulting with business associates or negotiating contracts, then it's possible that US Customs might determine that the waiver did not cover the trip and that a Visa would be required instead. However that is purely speculation and we will need to wait for either Wizards' legal team or the artists themselves to clear this up once they're able to do so.
The involvement of ICE seems to be related to the fact that SeaTac airport is not equipped to hold detainees awaiting deportation. Because the ESTA waivers for all three artists were revoked, none could enter the country legally, but they could not be put on flights back to Europe immediately. ICE was tasked with the responsibility of detainment overnight.
Hipsters of the Coast has independently confirmed that all three artists are safe and sound and both have left any further comments to Wizards of the Coast's legal team. One Wizards Art Director confirmed to us that they are waiting to discuss things with the legal team before any official statement is made, and that the safety of the artists is the paramount concern for everyone.
Magali Villeneuve has been illustrating for Magic since 2013, creating near 100 individual works for the game  She has illustrated two masterpieces in Sculpting Steel and Painter's Servant, as well as several planeswalkers including Chandra, Torch of Defiance, Jaya Ballard, and the new Vivien of the Arkbow for the Core Set 2019 Planeswalker deck. She has also done other work, including several concept pushes, for Wizards of the Coast across their brands. She resides in her home country of France with her husband, and does attend multiple European GPs a year.
Titus Lunter has been illustrating for Magic since 2014 with Khans of Tarkir. He has done 87 Magic illustrations to date, including sevevral cycles of basic lands, multiple Expeditions, and three Masterpiece Invocations in Pact of Negation, Sunder, and Wrath of God. If you have played in the last few years, you have used his lands. He is a regular on Wizards concept teams in Renton and at GPs both in the US and Europe. He lives in the Netherlands with his wife and fellow Magic artist Suzanne Helmigh.
Anna Steinbauer has illustrated over 40 cards for Magic beginning with Magic Origins in 2015. Her most recent illustration is for Vivien Reid for Core Set 2019, and this painting is just one of a half dozen planeswalkers she has rendered in three short years. She was most recently in the United States for Grand Prix Washington, DC and had been a part of Wizards concept teams in Renton, WA previously this year.