This week I have a very special deck for all of you: Pyromancer Bombardment submitted by Zane Newsom. A couple of weeks ago I was emailed by Zane with a Goblin Bombardment deck featuring Young Pyromancer, Lingering Souls, and other spells to ensure you can get plenty of value with Pyromancer. This deck is basically an evolved version of Zombardment of years past.
Zombardment usually featured Mutavault and Gravecrawler to supply continuous food for Goblin Bombardment and crush the fair matchups. The deck could grind incremental value by using the graveyard, which made it vulnerable to sideboard cards like Rest in Peace, Leyline of the Void, and Surgical Extraction. One of the things that I love most about this new approach to Bombardment is the fact that your Pyromancers don't rely on the graveyard as much. Thus don't lose your engine post-board.
Here is the decklist that Zane submitted:
Pyromancer Bombardment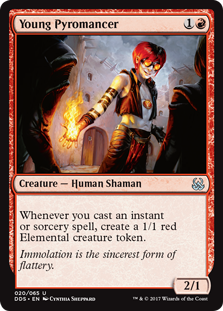 Overall I really liked where Zane was going with this.
My first impression? If you want to play a token strategy, why not Monastery Mentor? Mentor is an amazing token producer that snowballs far faster and more dangerously than Pyromancer. Plus, it's still relevant when you don't have Goblin Bombardment. Even when answered, the Monk tokens have prowess to outclass the Elementals.
My next thought was Gitaxian Probe. Zane agreed and said that it tends to float in and out of the list. I certainly had to have the playset to pair with Cabal Therapy. Those two cards allow you to tap out for Pyromancer or Mentor but still make a token immediately.
My other big change to the deck is cutting down on the Lilianas, only keeping Liliana, the Last Hope in the board. Her ultimate is very relevant with Goblin Bombardment, and her +1 is amazing against decks like Death and Taxes—it kills most every creature they have.
We agreed to try Price of Progress in the sideboard as a nice finisher. It never seemed relevant, so I dropped it like it was hot.
One thing that I noticed when running the deck is that I often wanted access to a couple Plateau as a fetchable white and red source to complement a Bayou or Badlands. The deck is very heavy in red, and you rarely need multiple black mana in one turn. The three Scrublands did make a lot of sense when the deck previously had four Lilianas, though.
After running the deck to a 1-4 finish on stream this past Sunday, I have come to believe this list is roughly where the deck should be to compete. While I am not sure I would bring this to an event as large as a Grand Prix, you can grind out some X-0 runs at your LGS or place high at an event like the SCG Classic. The poor showing on stream was certainly due to pilot error and some tough variance, not due to the deck being irrelevant. I know I had a lot of fun and never felt like the deck was very poorly positioned. One aspect that I loved as stated earlier is that I didn't feel dead to a Rest in Peace that I ran into against Soldier Stompy.
Very well done Zane and thank you for giving me this opportunity to work on this deck with you!
Here's the final version I brewed:
Pyromancer Bombrdmenmt
Happy brewing to each and every one of you. If you have an idea for a brew that you'd like to see, send your requests and challenges my way on Twitter or email.
Aaron Gazzaniga works part time at a game store and in his off time has been an avid magic player/brewer since 2003. Having begun in Odyssey Standard Block and always favoring control and prison style decks, we come to this moment in time where Aaron finally gets to talk about and share his ideas. If you want to contact Aaron tweet @aarongazzaniga