Anyone who has been following my stream will not be surprised by this little number that I ran through a league this past Thursday. While Jace Stompy didn't have an amazing run we did have a lot of fun. I won some odd games and ran into some variance drawing a lot of land or none at all. The deck is definitely sweet, though.
The Original Version
Here is the deck list that I ran this past Thursday:
Jace Stompy
You will notice a lack of Back to Basics as well as no Chalice of the Void. I knew this was wrong, but gave it a chance anyway just to get a feel for the deck. Honestly it didn't perform as poorly as I thought it might, and often times our wins included multiple Jace on board while our opponent couldn't do enough to keep up with the card advantage. Even with Ensnaring Bridge the card advantage never seemed to hurt us, with Force of Will and Chrome Mox doing their best to keep our hand empty.
The Revised Version
Now that I have an actual feel for the deck, I've updated the list. Here's what I would feel most comfortable running through a league in the future.
Jace Stompy
You will notice that traditional Stompy cards have made their way into the deck. Back to Basics and Chalice of the Void should pick up a lot of the slack that we struggled with in the initial run. We got blown out by multiple Pyroblasts and greedy mana with a high curve from the likes of Aggro Loam and Czech Pile. Back to Basics and Chalice combined should do a lot to fix this issue. It is also worth noting that against Lands we nearly lost to aggressive Grove/Punishing Fire. Back to Basics deals with that, and keeps the loyalty of our planeswalkers as well as our life total safer.
Creatures
Jace, Vryn's Prodigy really doesn't count here, but as a creature he is capable of blocking and activating to blank an attack when he flips. His planeswalker side does a great job at keeping creatures on the smaller side from punching under an ensnaring bridge.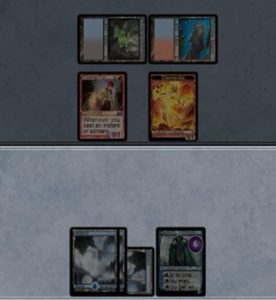 Countermagic
Force of Will helps us fight turn-one combo and can hit everything we need to counter. The card disadvantage also plays well with Ensnaring Bridge to ensure we don't have too many cards in hand.
Counterspell is our second piece of countermagic in its truest and original form. Misdirection is not technically countermagic, but it can work in a battle on the stack. Unless MTGO has a bug in which case this happens: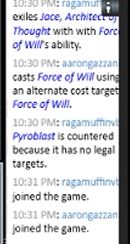 Planeswalkers
Jace Beleren is our OG Jace. He's just here to draw more cards. We can use him three times to simply target ourselves over a few turns or allow our opponent to draw some cards and send his loyalty upward. Drawing your opponent into cards can be an issue, but generally drawing into multiple planeswalkers turns out to be pretty strong in comparison.
Jace, Architect of Thought is next on our Jace list. I got multiple concessions out of this version. The +1 loyalty ability often left multiple small creatures on board that just couldn't actually do anything to us. Any one-power creatures sneaking under our bridges would immediately become harmless thanks to the triggered ability. His -2 was great at providing us with card advantagem, allowing us either the best card or multiple cards at once. Never did get to use his -8 ability, though it was never really necessary.
Jace, the Mind Sculptor as usual did not disappoint. He is a very powerful personality for Jace and easily buries an opponent in card advantage. His +2 allows us to filter without drawing extra cards, his 0 ability allows us to stay ahead when we are ahead and his -1 is great defense against medium sized creatures. Naturally his ultimate threatening to end the game caused multiple concessions.
Jace, Memory Adept was the weakest link in the initial decklist. This Jace doesn't protect himself, costs five mana, and is only relevant against Storm as a quick way to dump most of their win conditions from their library and force an awkward Ad Nauseum.
Jace, Unraveler of Secrets provides a decent filtering engine with his +1. His ability to bounce a nonland permanent should help against opposing planeswalkers, which were an issue at times. We may or may not have had an opposing Liliana of the Veil with more than six loyalty at some point.
Sideboard
The sideboard continues to be the white splash, though I have added three Surgical Extraction as some necessary graveyard hate that we wanted when we were against Lands.
Humility combined with Jace, Architect of Thought won at least one match. If your opponent wins through combat, this combination of cards is better (and cheaper) than Moat.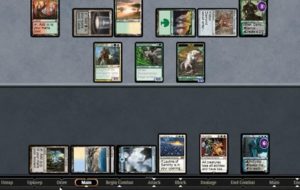 Leyline of Sanctity was fine and I would continue to run it. It protects from discard, Liliana, and Tendrils of Agony. At worst when we are switching over to a white splash, it also acts as Chrome Mox fodder.
Initial Thoughts
While I assumed I would immediately want to dump this deck, I actually want to work on it more. The white splash was barely a hindrance and mostly never failed to work when I wanted it. The updates should solve many of the problems that I faced in the first run, and I look forward to streaming it again at least one more time. Hope you all enjoyed this run down Jace's shattered personality—they hope you'll stop by to see them when they return!
Happy brewing to each and every one of you. If anyone has an idea for a brew that they would like to see, I will gladly take requests and challenges on twitter or in email at [email protected]. Check out my streams on twitch.tv/aarongazzaniga Sunday at 7pm EST and Thursday 8pm EST.
Aaron Gazzaniga works part time at a game store and in his off time has been an avid magic player/brewer since 2003. Having begun in Odyssey Standard Block and always favoring control and prison style decks, we come to this moment in time where Aaron finally gets to talk about and share his ideas. If you want to contact Aaron tweet @aarongazzaniga