The traveling Magic circuit rolls into Denver this weekend for a Standard Grand Prix. I'll be there shuffling sixty cards. In addition to the main event, the Magic schedule will be full of side events, trading opportunities, and one of the last-ever Super Sunday Series tournaments. You could hole up at the airport convention hotel all weekend and never need to venture forth into the greater city of Denver. But let's say you have broader ambitions. Here's a list of good non-Magic things to do this weekend in the Mile High City.
Friday Night Nuggets
Come watch the stars of the National Basketball Association put one in the air. This Friday night, the Houston Rockets come into town to battle the Denver Nuggets. Denver's team isn't high up on anyone's NBA power rankings, but they are young and have a chance to contend for a playoff spot. Jamal Murray is making his case to be NBA Rookie of the Year. Houston has some guy named James Harden. Plus, you can get a ticket for less than a [casthaven]Gideon, Ally of Zendikar[/casthaven].
On top of the hardwood action, going to the game gives you a chance to hunt for Magic celebrities. If there's one thing Magic players love more than Magic, it's basketball. I'd bet you could stumble into all sorts of planeswalking celebrities: from Scott Marshall to Scott-Vargas or PSulli to MSutcli. The question isn't "who's going to the game?" but "who's coming to the GP?" Check Magic Twitter in a few days.
A DAM Fine Exhibit
The Denver Art Museum has a small and eclecticc permanent collection. They supplement this with some great visiting exhibitions. Right now, that happens to be Star Wars and the Power of Costume. Very cool and highly recommended. There's also an exhibition of Rennaissance paintings from Venice's Gallerie dell'Academia, which is probably what Matt Jones would tell you to see.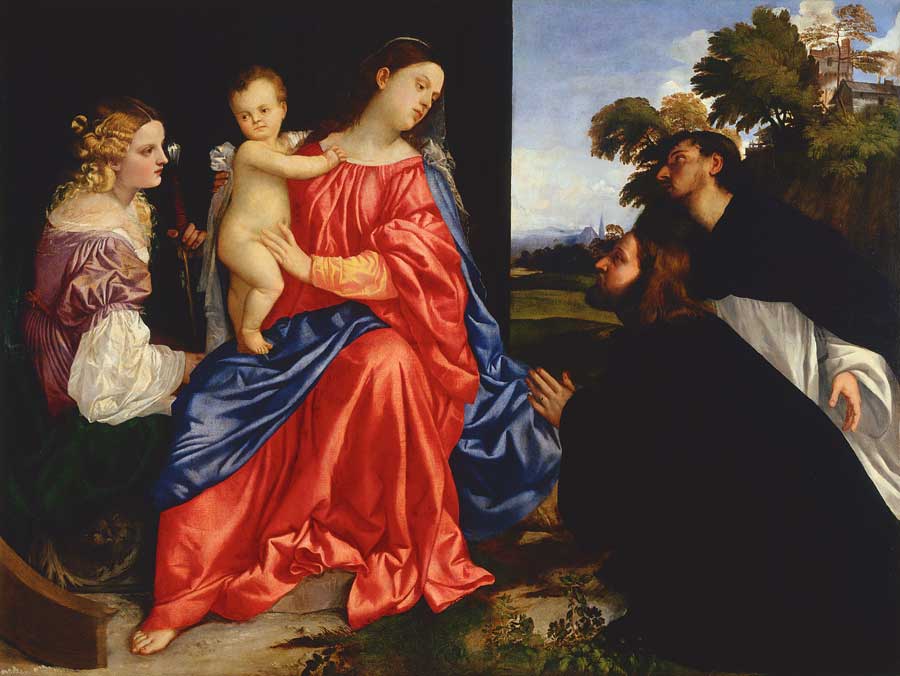 Beauty is a current flowing around the world. When you happen to cross its path, stop and look. You can also check out a set of 19th-century landscape photographs of the American Southwest, or Japanese fashion design of the 80s and 90s. The museum is open 10-8 on Friday and 10-5 both Saturday and Sunday.
Chipotle and Curry
Another favorite among Magic players is the giant burrito. Denver is the home of Chipotle, giving you plenty of opportunities to haumph away. The closest location to the Grand Prix site is about two miles away off Tower Road. There's also a Qdoba across the street from the tournament site, along with a Subway, if you value quick access.
What's better than Chipotle? Biju's Little Curry Shop. If you happen to be in downtown Denver anyway, say to see the Nuggets or the art museum, I highly recommend you stop by for a curry bowl. Quick, tasty, and haumphtastic.
Snooze, Don't Lose
Rounding out our list of things Magic players love, Snooze is a fantastic chain of breakfast restaurants. They don't take reservations, so you better get there early or expect to wait an hour for a table. If you have a sleep-in special on Saturday morning, though, you have plenty of time to swing by Snooze around 8:00. In addition to an amazing array of awesome a.m. eats, you stand a good chance of spotting some Magic celebrities as well.
Denver has many other great breakfast choices. My favorite is Root Down, which also happens to be a short walk from my home, but also has a sattelite location in Terminal C of the airport that is worth checking out if you have time to kill there. Lucille's Creole Cafe is another great choice with multiple locations. If you'd rather get a pastry and a bahn mi to go, make the trip over to New Saigon Bakery and Deli. Best Vietnamese food in Denver.
More Comics
Denver has some great comics shops. If you want to stay within the Magic community, head up to I Want More Comics in Northglenn, just north of Denver. They have a great selection of comics and memorabilia. You might also find some singles for your Standard or Commander deck while you're there.
If "comics" makes you think more along the lines of George Carlin, Denver also has you covered. Comedy Works is a great flagship comedy club, and there are various small venues to check out if you look. If you enjoy local government information sources, this is a helpful page.
I hope this list helps you make the most of your trip to Grand Prix Denver. I hope to be mostly playing Magic all weekend, but given I'm not the biggest Standard expert, I may have some free time. Say hello if you see me, and enjoy our cool city!
Carrie O'Hara is Editor-in-Chief of Hipsters of the Coast.