The brew for today comes from a friend's desire to get me into Vintage. Since I am not really interested in Vintage as a format I thought it would be a fun challenge to make myself a Vintage list that inspired me to give the format a try.
Looking into the deck lists and archetypes I noticed that there were little to no Lands-style or Life from the Loam-based strategies and this is where I decided that I could find an interest in Vintage. Throughout the inception of this column I have taken many archetypes and added my own personal touches to them. I have designed new and interesting decks and tried to revive old Standard favorites to adapt them into Legacy. While it has been a lot of fun to brew and push the envelope not every deck that I have played with has been a success. This brew has been one of those struggles that I fear may never become a viable deck option due to the large amount of graveyard hate in Vintage (thanks dredge) but thought it would be fun nonetheless. Without further ado, I present to you Vintage Naya Combo Loam:
Vintage Combo Loam
Originally when I began brewing a Combo Loam variant for Vintage I naturally began with Jund, the color scheme that is most often associated with a Combo Lands style of deck. The deck has a decent amount of tutors to find exactly what you need, albeit, with some downside in options like Gamble where the random discard can lead to losing that combo piece. The other downside that I found in many of the tutors was that, with Demonic Tutor aside, they are all very hard to resolve in a format where four Mental Misstep is the rule rather than the exception for many decks.
Moving to Naya didn't seem like a Misstep (oh yes I did, very punny I know) even though it means adding four copies of Enlightened Tutor, another one-mana spell to get countered for free. After much brewing and testing I decided that Naya would be the appropriate choice and overall have found it to be stronger than Jund.
Combo Goal
The idea for the combo is to get Fastbond in play, hopefully with a Horn of Greed. This allows us to play as many lands as we would like and draw through the deck to find additional pieces. Crucible of Worlds is most efficient at ensuring we can continue making land drops rebuying fetch lands, Strip Mine, Wasteland, any lands we may have dredged past if we are using Life from the Loam, and can allow for an "Infinite" life combo with Zuran Orb and Fastbond in play. Eventually we want to get multiple Valakut, the Molten Pinnacle into play and begin cycling Mountains to trigger them. I have successfully pulled off as early as a turn one combo, but more often than not the deck goes until turn three or four through disruption.
Lands
You'll notice the relatively standard inclusions with Taiga, Plateau and Wooded Foothills. The way that I am trying to combo is through Valakut, the Molten Pinnacle.  As expected we need a lot of Mountains to win with Valakut so we also have one Stomping Ground which does exactly what we need it to do: be a Mountain as well as a green source of mana. The fact that it is a shock land isn't ideal but we need an additional untapped source of mana where a check land like Cinder Glade won't do that for us without any basics.
I have included the Thespian's Stage and Dark Depths combo as a way to sneak out a win quickly with very minimal resources and have added additional copies of each to the sideboard for a post board scenario where we may not have access to our graveyard. Thespian's Stage can also act as Mountain five with a Valakut in play, then become a Valakut once you have the five necessary Mountains in play.
Buried Ruin is here in order to rebuy any artifacts that can improve the engine or lost Zuran Orbs if we need the life to continue chaining land drops with a Fastbond in play.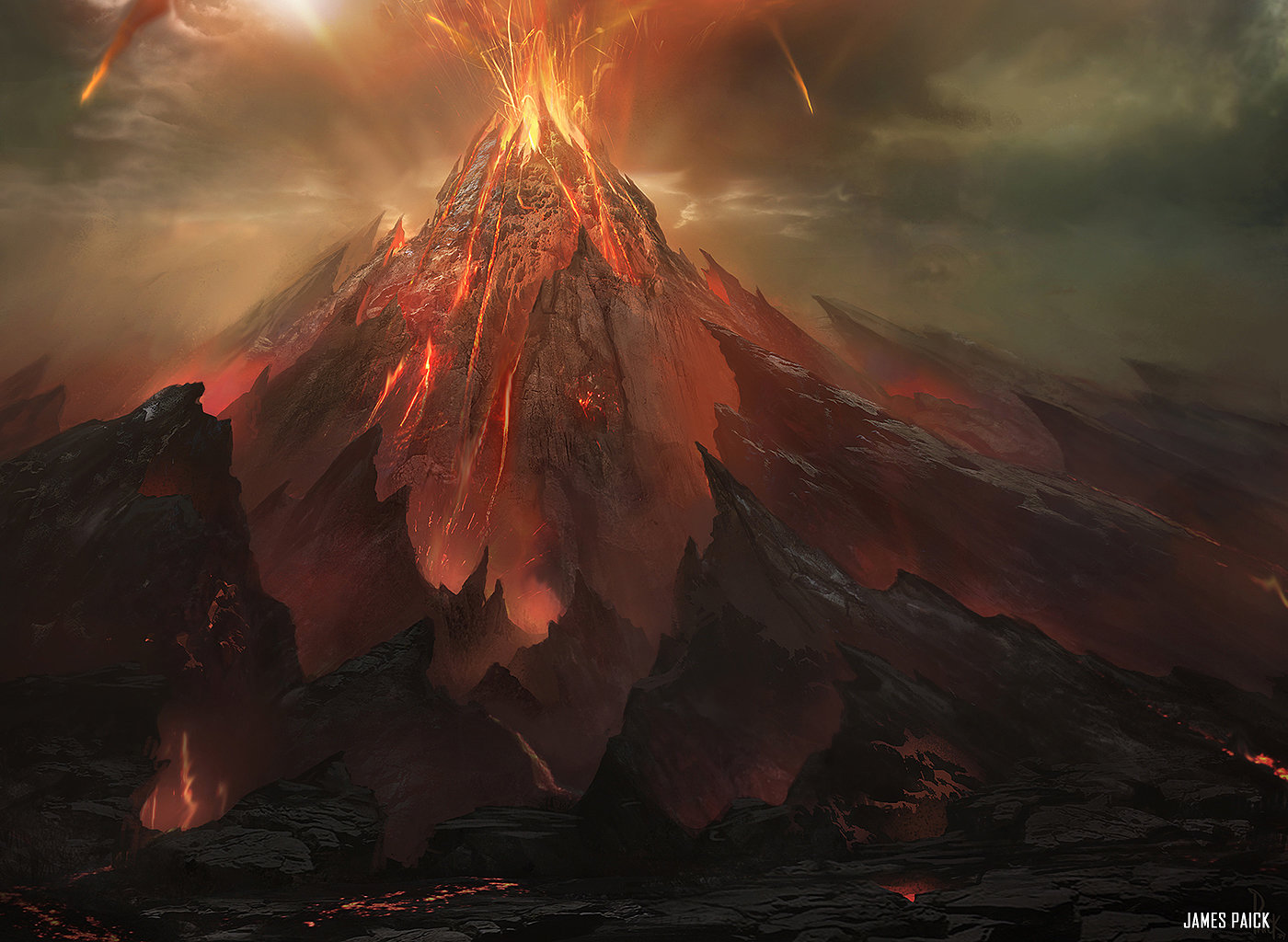 Ramp/Tutors
For mana ramp we have mana rocks like Mox Emerald, Black Lotus, and Mox Diamond. When showing people this list many people judged Mox Diamond for the fact that when you have access to power, you use it. In my experience the only mana that matters is green and the other Moxen just don't provide that and since pitching a land to Diamond doesn't really matter to us Mox Diamond is still a very powerful mana source.
Because playing multiple lands a turn is extremely important, we have four Exploration, one Fastbond, and two Manabond. I did attempt to test the deck without Manabond but found that it helped me get ahead in the early game.  It allowed me to get three lands into the play by using Loam aggressively and that Manabond really needed to be kept in the list.
Sideboard
Containment Priest/Grafdigger's Cage are here mostly for Oath of Druids-based decks. Running these also provides us with additional splash damage against Dredge and the Perfect Storm.
Countryside Crusher is for matchups that involve Blood Moon or large beefy creatures. Crusher gets very big very quickly and can compete with most of the beef of Vintage while also being fully castable through a Blood Moon. Even against a lack of these cards the Crusher digs us deep into our deck and can actually help assemble our combo.
Dark Depths/Thespian's Stage is to fight against graveyard hate. If we get into a match up where restricting our land drops becomes an issue, the Stage/Depths combo is a great way to negate any of the hate that may be used against us. It also provides a great quick way to win.
Leyline of the Void provides a lot of overlap with Cage and Priest because we are fairly soft to combo. Leyline could potentially be overkill and become something like Shatterstorm, or another hate card for Mishra's Workshop-style decks which I did find can be problematic when they begin with early tax pieces like Sphere of Resistance and Thorn of Amethyst.
The Tabernacle at Pendrell Vale seems fairly necessary to fight the more popular decks like Grixis Pyromancer and Gush Mentor. Taxing their mana at this rate can usually hinder their development and makes an extra turn off Time Walk a bit less painful.
Initial Thoughts
This has been one of the more difficult brews that I have seriously considered and heavily tested. My initial Jund variant with Abrupt Decay was better against Workshops and Oath but was more difficult to assemble the pieces to combo out and win. The new Naya variant seemed a bit more focused and able to assemble the pieces to make it a more viable Vintage deck. Although challenging so far this has actually been exhilarating and resulted in an interest in Vintage that (despite random games and interesting interactions) I had previously lacked. I look forward to continue to test and design this brew so that I may one day return to announce a successful and competitive Vintage brew.
As a Bonus
I have included where I actually started and left of the with previous Jund version of the deck. Maybe this can give someone an idea where to start should they want to try refining this archetype.
Vintage Combo Loam
Happy brewing to each and every one of you. If anyone has an idea for a brew that they would like to see, I will gladly take requests and challenges on twitter. 🙂
Aaron Gazzaniga manages a restaurant and in his off time has been an avid magic player/brewer since 2003. Having begun in Odyssey Standard Block and always favoring control and prison style decks, we come to this moment in time where Aaron finally gets to talk about and share his ideas. If you want to contact Aaron tweet @aarongazzaniga