On Friday the gaming community received an invitation to what might be the social event of the season, One Night in Karazhan, the latest Hearthstone Adventure. The set comes out on Thursday, August 11th (ten days!) and will feature a free prologue adventure which will reward two of the sets new cards. From the official press release:
Equip your dancing shoes and make sure you're properly attuned, because you're invited to the hottest party in the Eastern Kingdoms! Blizzard Entertainment today revealed One Night in Karazhan™—a brand-new Hearthstone® Adventure that takes players inside Medivh's tower, Karazhan, for a truly enchanted experience.
So what does it all mean? Let's take a look at what Hearthstone's latest adventure has for players and fans alike!
Welcome to Karazhan
For starters there will be 45 new cards released in the Karazhan adventure. Two of the cards will come in the aforementioned prologue adventure, nine of the cards will come from class challenges, and the remaining 34 will be spread out across four wings of the adventure. As with past adventures, players will be able to buy the full adventure for $19.99 or purchase each wing individually for $6.99 or 700 gold (you can't use gold to get a discount on buying all four wings at once).
The theme of Karazhan is very light-hearted. Medivh, Azeroth's most powerful mage, has gone missing (we'll learn why in the prologue adventure) and it's up to the player to navigate through Medivh's tower, which is the eponymous Karazhan. PC Gamer has this preview of one of the earlier fights in the adventure, including some of the new cards.
There are more cards revealed than the video lets on, but let's talk about what's really important, which is the new game board. If you watched the video above, this topic was kind of glossed over at the end but it's critically important. Are we getting an awesomely interactive board like Gnomes vs Goblins or something less enticing? Let's take a look at the game board.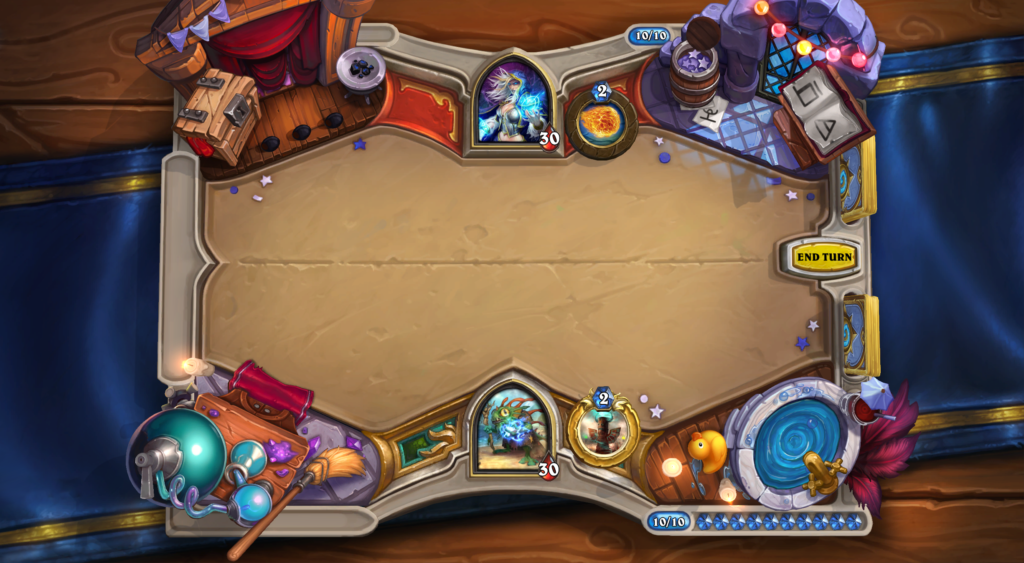 Okay, I'm excited. How can all of these things not be interactions waiting to be enjoyed while your opponent is mercilessly drawing their whole deck off of Gadgetzan Auctioneer? In the top-left we have a stage and a locked box. Maybe there's a mini-game in the game board to get that box unlocked? The top-right has an arcane tome and a… barrel of stars? Okay. Bottom-left looks like it could have come from the set of Fantasia so hopefully that broom does some dancing. Lastly we have the bottom-right, and clearly most important quadrant, as it features a rubber duck. I assume it is the most deadly prop on this board.
Alright, alright, what about the cards? For casual players a new adventure is nothing but excitement. New cards. New board. New story. Fun for the whole family. But if you're trying to climb the ladder, qualify for tournaments, or make it to the world championship, a new expansion could be a blessing or a curse. There's no denying the metagame on the ladder right now is getting a bit stale. Aggro Shaman, Zoo-Lock, and some kind of Warrior deck have been the cream of the crop for at least a month now. Will Karazhan change that? Let's take a look at the cards revealed in the official announcement.
This slideshow requires JavaScript.
At first glance, The Curator seems incredibly powerful. You can easily make sure that the only beasts, dragons, or murlocs in your deck are all versatile utility cards. Not to mention that getting a 4/6 body and drawing three cards is a pretty solid investment at the cost. Barnes, the other legendary, seems much more niche in application. Ethereal Peddler also seems incredibly narrow in focus while Ivory Knight and Firelands Portal are probably going to be poor to mediocre considering the cost. Kindly Grandmother isn't bad, but the days of Deathrattle Aggro are long gone. Last, but certainly not least, we have Enchanted Raven, a 2/2 body for a one-mana investment. I expect this to become extremely popular in Arena where tempo is king. It might even find a home in constructed, but I wouldn't hold my breath.
So there you have it. The first wing of Blizzard's latest adventure drops in just over a week and we'll be sure to have all the news as it unfolds.
What We Learned is a weekly feature here at Hipsters of the Coast written by former amateur Magic Player Rich Stein, who came really close to making day two of a Grand Prix on several occasions. Each week we will take a look at the past seven days of major events, big news items, and community happenings so that you can keep up-to-date on all the latest and greatest Magic: the Gathering community news.