I was initially planning on writing more on [casthaven]Ad Nauseam[/casthaven] this week but want to put in more time piloting the deck before I get into sideboarding strategy and the like. Fortunately, there is a lot going on in the Modern metagame with plenty of data provided by two consecutive weeks of SCG opens. I chose to examine the top 16 decks of both SCG Cincinnati and SCG Charlotte in order to discuss the metagame going forward, though this is likely to change with potential bannings and unbannings in the upcoming B&R announcement.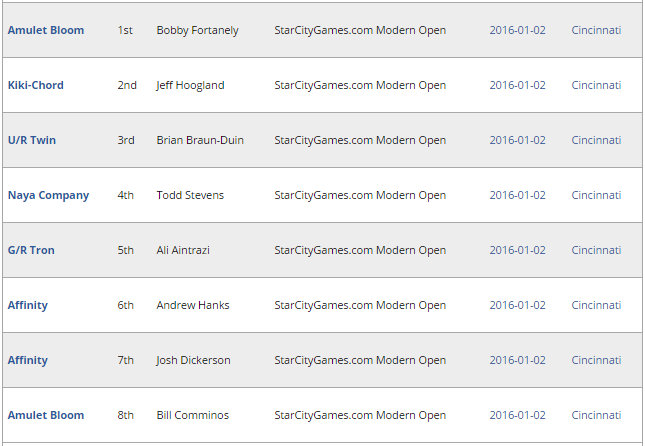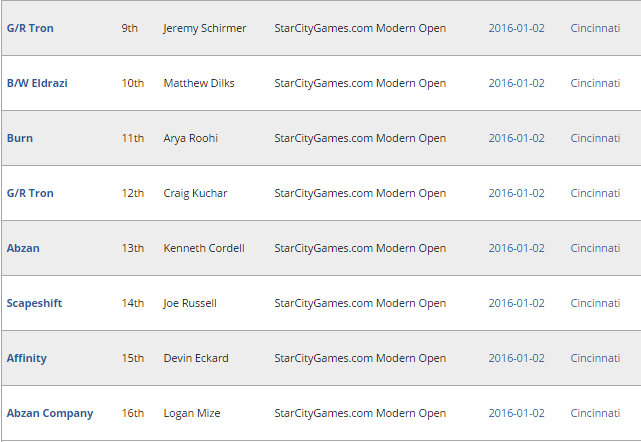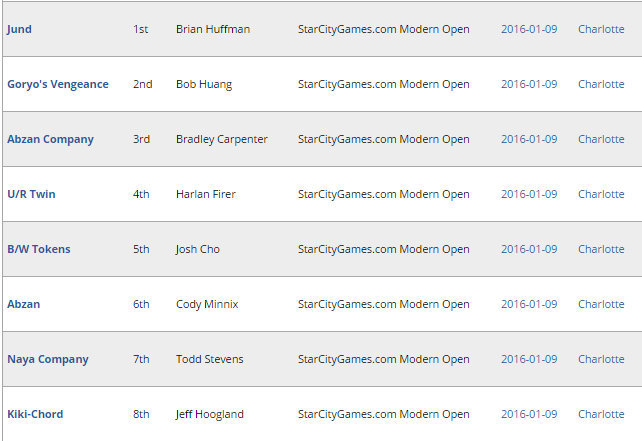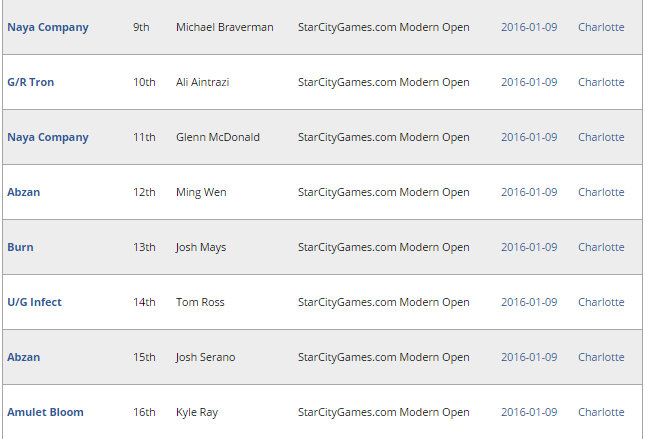 Top 16 Breakdown (SCGCin & SCG Char) 
1—Jund
2—Abzan Company
2—UR Twin
4—Abzan
4—Naya Company
2—Kiki-Chord
4—GR Tron
2—Burn
1—Infect
3—Bloom
3—Affinity
1—Scapeshift
1—BW Eldrazi
1—BW Tokens
1—Grishoalbrand
The top 16 of each event was reasonably diverse with Abzan, Naya Company, and GR Tron being the most represented decks. There is a healthy mix of Aggro (12 decks), Midrange (6), and Combo (14) though these categories tend to be somewhat porous and don't properly address decks with multiple game plans. Despite having a good representation of multiple archetypes, I am always interested in the decks that didn't show up at the top tables. Noticeably absent here are any Grixis lists—neither Grixis Twin nor Grixis Control are represented at all here. In fact there is a surprisingly low number of [casthaven]Kolaghan's Command[/casthaven]s at all floating around, with only one Jund deck in the top 16 of either event.
Despite there being only one Jund deck, GBx is represented in four Abzan top 16's. Though [casthaven]Siege Rhino[/casthaven] took a bit of a vacation from Modern, the tusked menace is back in full effect alongside full sets of [casthaven]Lingering Souls[/casthaven] and [casthaven]Path to Exile[/casthaven]. I'm certainly no expert in GBx but Junk seems to be favored over Jund because [casthaven]Path to Exile[/casthaven] is the better removal spell against Bloom Titan and all of the [casthaven]Voice of Resurgence[/casthaven]s running around in the [casthaven]Collected Company[/casthaven] decks. Junk has a leg up over Jund in the GBx mirror, [casthaven]Lingering Souls [/casthaven]does some work against Affinity (though Kommand is good here as well), and the sideboarded [casthaven]Stony Silence[/casthaven] can potentially mise a game from the unfavorable Tron match-up. While no one is disputing the efficiency of K-Command and [casthaven]Lightning Bolt[/casthaven], perhaps white is where you want to be right now.
Another big story is that Bobby Fortanely took down Cincinnati with Bloom Titan. Including Bobby's big win, the deck put up three finishes in the top 16. This only served to add fuel to the ban [casthaven]Summer Bloom[/casthaven] fire with Fortanely himself saying the deck should be banned in an article for SCG. With the deck putting up results and showing up quite a bit at the top tables, we saw a lot of decks playing maindeck [casthaven]Ghost Quarters[/casthaven] and lots of [casthaven]Fulminator Mage[/casthaven]s in sideboards. One of the breakout decks from the tournament, Josh Cho's BW Tokens deck, seemed designed to take down the Primetime Player.
BW Tokens - 5th - SCG Charlotte
While BW Tokens hasn't made any waves in the format lately, Cho's deck looks sweet. The inclusion of [casthaven]Gideon, Ally of Zendikar[/casthaven] makes so much sense here as it does everything you want a Planeswalker to do—gives you tokens, pumps your team, and gets in the red-zone himself if the occasion arises. Other than that, I really like the six hand disruption spells in a heavy combo metagame and think the [casthaven]Ghost Quarters[/casthaven] in the maindeck and three Fulminators in the side do a lot to shore up the Bloom/Tron match-up. I also like the three [casthaven]Auriok Champion[/casthaven]s in the main as I think the card is criminally underplayed in the format. Assuming you can resolve one against Twin, they can't combo with Exarch and only have [casthaven]Cryptic Command[/casthaven] in the main to remove it. Champion is also a house against Jund/Grixis just gaining you life, blanking removal, and blocking [casthaven]Gurmag Angler[/casthaven]/Tasigur all day.
Cho's solid run at Charlotte paired with his mulitple on-camera wins is most likely responsible for Champion's substantial price spike: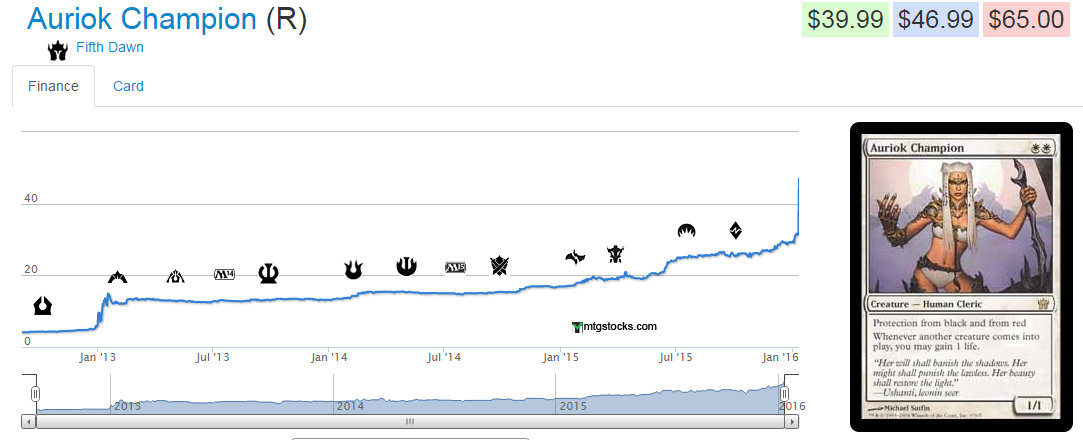 Yup. $45 for this super soul sister.
The other breakout deck from the past two weeks is Matthew Dilks' B/W Eldrazi list:
BW Eldrazi - 10th - SCG Cincinnati
Much like the BW tokens list, Dilks chose to play a bunch of hand disruption and a full set of [casthaven]Ghost Quarter[/casthaven]s in the main. Unlike the tokens list, B/W Eldrazi is all about playing giant threats early thanks to your [casthaven]Ancient Tomb[/casthaven]s—er—I mean [casthaven]Eldrazi Temple[/casthaven] and [casthaven]Eye of Ugin[/casthaven]. This deck has been making a huge splash online and seems to be the real deal, so prepare yourself for [casthaven]Blight Herder[/casthaven] into Ulamog shenanigans.
In terms of Magic, Shawn Massak is a Modern enthusiast, with a penchant for tier two decks, counterspells, and pre Eighth Edition frames. In terms of life, Shawn lives in Brighton, MA where he works as an employment coordinator for people with disabilities, plays guitar in an indie-pop band, and spends his free time reading comics, complaining about pro-wrestling, and wishing his apartment allowed dogs as pets.