It's that time of year again! With (American) Thanksgiving only a few days away it's time to think about the time-honored tradition of holiday gift-giving. Of course, gamers are a deceptively difficult community to buy gifts for. It's not as easy as walking into Toys 'R' Us and buying whatever's trendy. You can't just pop into the local game store (assuming you even have one close by) and just get the hot game of the season. No, a lot of thought has to go into getting gifts for gamers and we're here to help. This  year we're expanding our guide to more than just Magic the Gathering products, but we'll still highlight some of them. More importantly we'll talk about the best board, card, and video games and also some great ideas for clothes and accessories for the gamers in your life.
Magic the Gathering
Battle for Zendikar Holiday Gift Set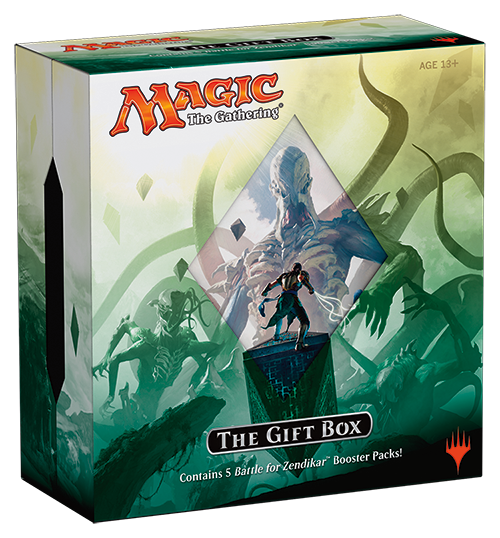 There's very few gifts that are better for the Magic player in your life than the annual holiday gift box. For $25 you'll get five booster packs of Battle for Zendikar, a promo card, and the box itself which has some dividers and stickers for organizing cards. There are also 20 basic lands, but unfortunately they're not the sexy full-art lands that came in the fat pack. Either way, the five packs almost pay for the whole box, and any Magic fan will be thrilled to have another box they can fill with cards.
Commander 2015 Decks
If you know that the Magic player in your life is a fan of Commander (sometimes also called EDH) then you can't go wrong with any of these five offerings. These are a bit more expensive than the gift box, running $30 apiece. Some stores have deals if you buy all five, so if you're looking to pick them all up make sure you call around and find the best deal. Each deck is completely playable on its own and can easily be upgraded making them an ideal gift for casual players and long-time players alike.
Gaming Supplies from Cool Stuff Inc.
If you're not sure exactly what Magic cards to get, then get Magic supplies! Cool Stuff Inc is as good a place as any and better than most when it comes to ordering supplies. This includes protective sleeves for cards, boxes for cards, dice, counters, mats to play on, and so many more items. And if you're really unsure what to get someone, they offer Gift Certificates! You can't go wrong.
Board & Card Games
Pandemic Legacy
If you've never played Pandemic then you've been missing out on one of the best board games of recent memory. Z-Man Games steps it up a notch with the new Pandemic Legacy. For those of you not familiar with the Legacy game concept, the idea is pretty simple. Every time you play the game the decisions you make as a group alter the game permanently. Sometimes the board changes, or character abilities change, but whatever it is the game will take on a life of its own to reflect your play group. It's currently the #7 game on Board Game Geek and it's the only game from this year in the top 50!
Arena of the Planeswalkers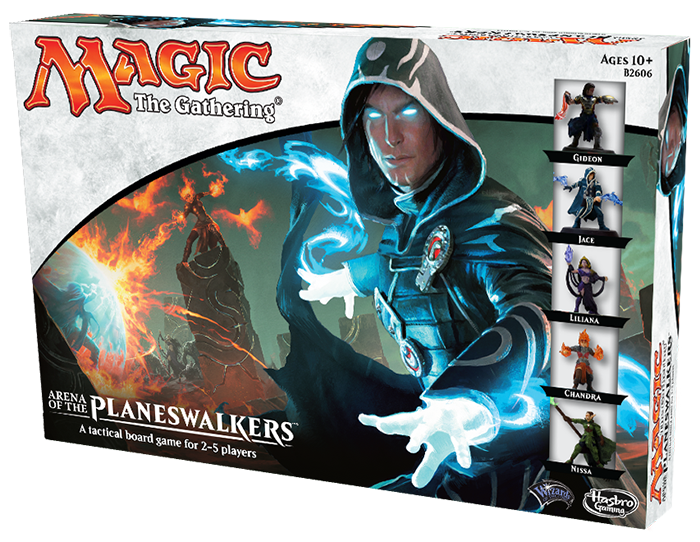 Uh oh, I managed to slip another Magic-themed gift into this list. Well it turns out that Hasbro designed a new board game using the flavor of Magic the Gathering's planeswalkers doing battle with each other. It's a grid-based combat game with some nice looking miniatures and plenty of Magic flavor for the board gamers in your life who happen to be Magic fans as well. It's a great crossover game for fans of multiple genres and good for groups.
Netrunner
I would be remiss if I didn't bring up one of the most wildly exciting card games out there (besides Magic) in Netrunner. This game was originally designed by Richard Garfield who also created Magic the Gathering. 20 years later Fantasy Flight Games bought the licensing rights and recreated the game for a modern gaming community. If your gaming friends already play Netrunner you can pick them up some expansion packs. If they've never played Netrunner then get them the core game and they'll never stop thanking you.
Video Games
Fallout 4
If there's a trendier game right now then I don't know what it is. Fallout 4 appears to be living up to all of the hype but don't take my word for it, check out this review courtesy fellow Hipster's writer Jess Stirba.
Rise of the Tomb Raider
My wife and I are big Tomb Raider fans and thoroughly enjoyed playing the series reboot together. The sequel looks amazing but it's only available for the XBox One and the PC right now (and the Playstation 3 if you have one collecting dust somewhere). If you know someone with one of those systems and a penchant for adventure games then this one should be at the top of your list.
Overwatch
Overwatch technically isn't available yet but it's currently in beta and as most of Blizzard's products go it has a lot of potential. If you know someone who is a big fan of Blizzard, first-person shooters, or both, then this is the game for them. You can pre-purchase it now to give the perfect gift.
Clothes and Accessories
Think Geek
Think Geek is the premier source of geek apparel, gadgets, and more. Head over to the site, pick a fandom, and then wake up in a shopping-haze wondering where the last few hours of your life went and why your credit card statement is twice as high as expected. Well at least you got your holiday shopping done, right? My personal favorite are these book-ends.
Athena's Wink
I'd be remiss if I didn't take an opportunity to shamelessly plug a local geek apparel company run by some good friends of mine here in Queens. If you've been to PAX or Katsucon or any number of other conventions you've likely already run into these fine folks and you may even already own one of their geek-themed hats or flasks.
Star Wars
If all else fails and there's nothing on this list that helps inspire your gift-giving adventure then you can always fall back on the new Star Wars movie which is accompanied by several metric tons of new Star Wars merchandise.
What We Learned is a weekly feature here at Hipsters of the Coast written by former amateur Magic Player Rich Stein, who came really close to making day two of a Grand Prix on several occasions. Each week we will take a look at the past seven days of major events, big news items, and community happenings so that you can keep up-to-date on all the latest and greatest Magic: the Gathering community news.