A lot of things happened on Monday. Two new planewalkers were spoiled, enemy manlands were revealed to be in Battle for Zendikar (BFZ), and further down on r/MagicTCG a card named Bring to Light was…brought to light. Being a Johnny at heart, this is the kind of card I love, so let's go over the text.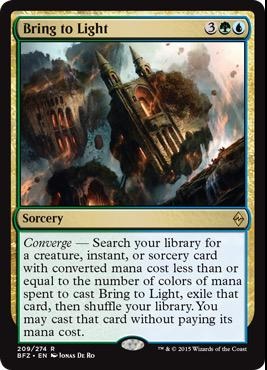 Bring to Light (3GU) Sorcery: Converge — Search your library for a creature, instant, or sorcery card with converted mana cost less than or equal to the number of colors of mana spent to cast Bring to Light, exile that card, then shuffle your library. You may cast that card without paying its mana cost.
The question about Bring to Light and Restore Balance is whether it changes the composition of the deck or whether it just adds redundancy to the deck. While you could take out the cascade spells in order to play cards that cost 1 or 2 mana, and just play Bring to Light to enable Balance, I think the cascade plan is still the most consistent way to rattle off an early Restore Balance. Here is a recent-ish budget version of the deck posted by SaffronOlive back in April.
Saffron Olive's Restore Balance
The basic gist of the deck is to suspend a Greater Gargadon or Nihilith and play out a bunch of borderposts, leaving very few lands in play. You play one of your 10 cascade spells which can only hit Restore Balance. Then you cast Restore Balance which should put you far enough ahead on mana and cards to win the game. If you don't have a large creature, March of the Machines can also function as a win condition, allowing you to animate all of your borderposts and smash in for the win.
Due to the density of colored mana sources, playing Bring to Light in this deck is a way to cast Restore Balance as well as finding March of the Machines and the one of removal spell (Oblivion Ring) if need be. That deck would look very similar to this one, just with a few adjustments to fit in Bring to Light. I cut one March of the Machines, since Bring to Light can find it anyway, and all of the Lingering Souls. While Lingering Souls is nice to discard to Restore Balance, it doesn't quite fit the combo-centric nature of the deck.
Bring to Balance
Though Restore Balance certainly isn't going to jump to tier one with the inclusion of Bring to Light, it does make the deck a little bit more consistent. While we're talking about consistency in Modern, it's possible Bring to Light could be played in a four color version of Scapeshift to act as additional copies of the deck's namesake spell. If you can splash an additional  basic and one searchable shockland you could reasonably hope to put four colors into Bring to Light's convergence cost and then just win with Scapeshift. An introductory list might look something like
4C Scapeshift
Not only does Bring to light function as additional copies of Scapeshift, it also allows you to tutor up a crucial Anger of the Gods, Roast, or even Snapcaster Mage. While the card is certainly a little clunky at five mana, Scapeshift does have eight ramp spells in Sakura-Tribe Elder and Search for Tomorrow, and could support a new innovation.
That's all I have for today, may the magic gods continue to rain sweet spoilers upon us.
At age 15, while standing in a record store with his high school bandmates, Shawn Massak made the uncool decision to spend the last of his money on a 7th edition starter deck (the one with foil Thorn Elemental). Since that fateful day 11 years ago, Shawn has decorated rooms of his apartment with MTG posters, cosplayed as Jace, the Mindsculptor, and competes with LSV for the record of most islands played (lifetime). When he's not playing Magic, Shawn works as a job coach for people with disabilities and plays guitar in an indie-pop band.