The other week I got into a fight with my wife. Well, not a fight, really; it was more of a teasing disagreement that arose while we were doing a little spring cleaning (please god soon)—or, as I call it, "deleting"—RE: the boxes upon boxes of old Magic cards I have squirreled away in our bookcase.
She's got a point. The boxes and loose booster packs could have been more consolidated and better arranged. But she didn't even really know what they were, was her issue. "Are you going to play with them? What are you doing with them?" she asked. (The joke's on her, though: I've got two *more* boxes of Gatecrash under my desk at work.)
But to answer my wife's question: What are these boxes?
One of my favorite things to do is draft sweet old formats in real paper Magic. I haven't been buying in bulk for long, but on my shelf I've got sealed boxes and/or loose draft sets of Return to Ravnica block, Theros block, Innistrad, Modern Masters, Rise of the Eldrazi (!), and, um, Fallen Empires. (Until this past weekend, I also had eight packs each of [casthaven]Time Spiral[/casthaven] and [casthaven]Planar Chaos[/casthaven]—but more on that in a minute.)
How do I get these boxes and packs? I'm no Magic financier (I can hear Matt Jones making a puking noise from here), but I like to make little plays here and there on cards I think will make a splash—or, more recently, on sealed product, because that (Limited) is where my interest as a player lies.
One of the best places I've found to pick up these old boxes and packs is at Grand Prix, where I make a circuit of the dealer tables and check out the pack and box prices. Usually these are quite high, and you're not getting a deal—but occasionally you can find bargains, or just ship a bunch of cards for credit to a dealer and turn them into an old booster box, like I did with Innistrad sometime last year. I know that's not *really* free money, but it kind of feels like it, given that I'm converting singles, which are of no use to me, into sealed product.
Also occasionally dealers like Card Kingdom, Channel Fireball, or CoolStuffInc have sales on sealed product—usually not the most coveted stuff, but that doesn't mean it's not fun or good. I snagged those boxes of Gatecrash, one of my pet formats, in that way from CFB last fall, for something like $85/box. In fact CFB has a "yard sale" on right now, with a lot of choice booster boxes on sale for pretty decent discounts, including a box each of Dissension and Guildpact for $330 and $300, respectively, or even Zendikar for $580.
Now, that might sound like an insane price to pay for a box of cards—and it kind of is—but for the Zendikar box, that works out to $16.11/pack, or $48.33 for a draft set. Pricey, sure, but if you hang with certifiable draft addicts (with relatively well-paying jobs) like I do, it's not unreasonable every once in a while to fire a classic draft for $50 or so. And, of course, part of the reason these old boxes are expensive is because they contain valuable cards. According to online buylists, for instance, there are 20 Zendikar cards worth more than $5, and the real prizes—the fetches—are all $25 and up. So, if you redraft the rares based on winning record at the end of the draft, as we do, everybody ends up getting back some value.
The main thing you're paying for, though, is entertainment—and, let me tell you, there's not much that's more entertaining than rediscovering an awesome (and invariably crazy) old draft format with seven other friends. And that's just what we did at Tony L.'s house in the Lower East Side this past snowy Sunday, with a $40 Time Spiral block draft. (The price was a bit lower than I had anticipated, because the [casthaven]Future Sight[/casthaven] packs—sky-high in price thanks to [casthaven]Tarmogoyf[/casthaven]—were supplied by my good buddy Carl R. at a nice discount. Thanks, Carl!)
Unfortunately I didn't take many photos, because I needed all my mental energy to wrap my head around the format, which probably permanently holds the record for craziest, most wide-ranging draft format: 667 total cards in the full block; 40 mechanics/keywords; time-, color-, and future-shifted cards; contraptions and fortifications (!?). It was totally nuts.
So what did I do? I first-picked a [casthaven]Fireball[/casthaven] ([casthaven]Conflagrate[/casthaven]) over [casthaven]Gemhide Sliver[/casthaven], which is a card I quite like. BORING! In retrospect, I'm not even sure [casthaven]Conflagrate[/casthaven] is such a great card; it just takes *so* much mana to make something happen. Granted, I got a two-for-one during the course of my matches, killing a three- and a one-toughness creature for *nine* mana, and at another point I could have combo'd out Gabe R. by casting it and flashing it back in one turn—but still, it's just very, very expensive. I was rewarded in pack three by another [casthaven]Fireball[/casthaven], this time in the form of [casthaven]Molten Disaster[/casthaven], which is arguably much better—though unfortunately I never drew it once during my matches. Here's the deck: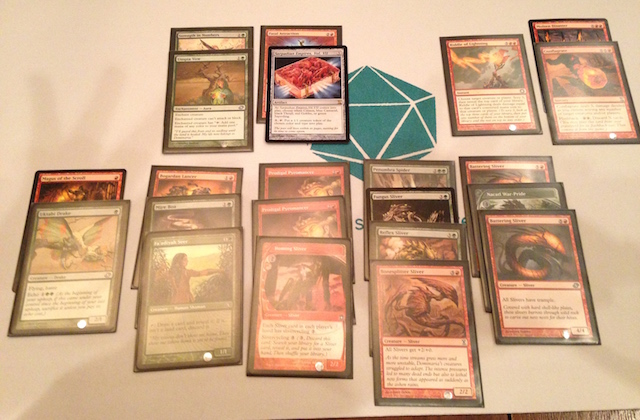 And in more legible form:
Gruul Slivers + Pingers
Long story short, I 3-0'd the draft and had a great time doing it. Rob and I had a weird slivers face-off wherein we kept fatesealing each other, and I kept having to decide whether or not he was next-leveling me by keeping a land on top, and then deciding thusly whether or not to use my [casthaven]Fa'adiyah Seer[/casthaven]. My MVPs were [casthaven]Nacatl War-Pride[/casthaven], which is totally insane; [casthaven]Magus of the Scroll[/casthaven], which totally took over a game against Gabe R.; and honestly [casthaven]Sarpadian Empires, Vol. VII[/casthaven] (we got ourselves a reader!), which either created endless chump-blockers or helped me build up an overwhelming token army. Oh, and the pair of [casthaven]Prodigal Pyromancer[/casthaven]s were totally sweet, too. I never got to live the dream and endlessly grow my [casthaven]Fungus Sliver[/casthaven], but hey, you can't win 'em all.
We redrafted the rares at the end of the event, and because I was the only 3-0, I got to first-pick a [casthaven]Damnation[/casthaven]! (And then a [casthaven]Tolaria West[/casthaven].) (Our teams tied with six match wins apiece.) Rest assured I'm going to try to ship the [casthaven]Damnation[/casthaven] card *real* quick, before Modern Masters 2 drops and (potentially) obliterates its price. Until next week (and GP Cleveland), happy drafting, kids—old or new!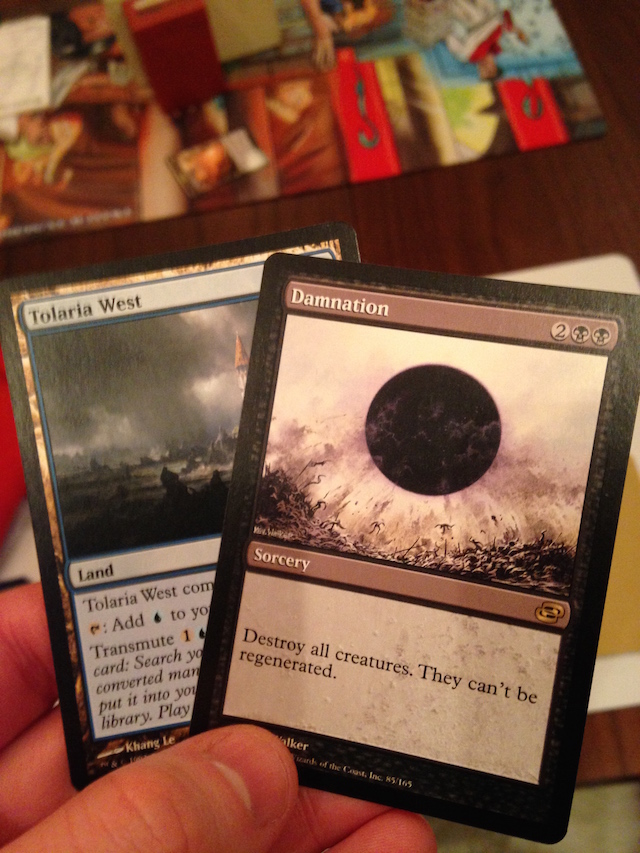 23/17 is a Hipsters of the Coast column focused on Limited play—primarily draft and sealed, but also cubing, 2HG, and anything else we can come up with. The name refers to the "Golden Ratio" of a Limited deck: 23 spells and 17 lands. Follow Hunter at @hrslaton.