In one day the entire landscape of Modern changed. Last weekend UR Delver players went on luxurious Treasure Cruises, Scapeshift players Dug Through Time searching for their win conditions, and Pod players, well, they activated Birthing Pod. Come this Friday, none of that shit is going to fly. Dark Confidant will find his way back onto the scene, Geist of Saint Traft will attack with Angels in UWR decks, and maybe Zoo will actually be a real deck.  I am anxiously awaiting Pro Tour DC to find out what the best and brightest have figured out about the shape of the new format.
Until then, we have some time to brew. What better place to start than with the recently unbanned Golgari Grave-Troll.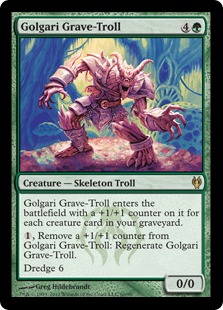 Now, let me start off by saying that I think Golgari Grave-Troll is a safe card to have in the format. While Grave-Troll is a powerful graveyard enabler, the lack of graveyard based strategies currently in the format and the availability of strong graveyard hate should prevent the card from being truly abused. Right now, the only graveyard centric decks in the format are Dredgevine, Instant Reanimator, Living End, and Assault Loam (though it's a stretch to call the last one a real deck). According to MTGTop8, these combined account for roughly 1% of the format. Grave-Troll should  enable new graveyard strategies and slot fairly neatly into Dredgevine, though its inclusion certainly won't catapult these decks from fringe strategy to tier one status. What Troll should do is make each deck a bit more powerful, as dredge 6 fills the graveyard very quickly, and a bit more consistent, as each deck has an additional graveyard enabler. Seriously though, these decks won't be breaking Modern any time soon.
Let's generate a few sample decklists.
All in Dredge Chapin Style
This is an update of the deck Chapin took to Pro Tour Born of the Gods in February 2014. Chapin finished 298th place and said in his article after the fact that he wouldn't recommend playing the deck as it was very skill intensive and didn't have the raw power of the other combo decks. Here are the changes I made to the deck:
Out—
1 Life from the Loam
1 Skaab Ruinator
2 Stinkweed Imp
3 Misty Rainforest
In—
4 Golgari Grave-Troll
3 Polluted Delta
I cut the one of's in the list right off the bat. Life from the Loam was in the deck to dredge cards into the graveyard and continually activate landfall on Hedron Crab and Bloodghast. However, the loam engine is pretty clunky in here and the 10 fetch lands in the deck should be more than enough to continually activate landfall. Skaab Ruinator was like the 5th Vengevine in the list, but I'm not convinced that Dredge needs a slower more mana intensive Vengevine. Stinkweed Imp comes out solely because dredge five isn't quite dredge six. While there are some situations that you want to cast Stinkweed Imp on curve, the additional dredging power Troll offers coupled with the ability to close out grindy games makes me prefer the Troll. Lastly, I switched the Misty Rainforests for Polluted Delta. Delta is able to fetch all the green sources in the deck while also being able to fetch a basic Swamp if need be. It's also much cheaper, which certainly counts for something.
I really want to cram Narcomoeba into this list since they are free most of the time and can be cast as the second spell for Vengevine in a pinch. Furthermore, they are easily sacrificed to Drowned Rusalka or Viscera Seer to trade in for Bridge from Below zombie tokens. Yet, without Dread Return in the format, I think the upside of a free 1/1 flier isn't high enough to warrant its inclusion in the deck.
Next let's examine a Woo brew.
Travis Woo Complex Dredge Update
In July of 2013, Travis Woo wrote about Complex Dredge and did a few videos of the deck in two man queues on MTGO. The deck is called Complex Dredge because of the litany of choices you have after dumping stuff in the graveyard. Do I skip my drawstep to dredge Stinkweed Imp? Do I spend my mana on flashing back Lingering Souls or Faithless Looting? Do I reanimate Iona here or Loam some lands to my hand and retrace with Raven's Crime? The skill intensive nature of the deck certainly doesn't make for easy decision making.
Out—
2 Raven's Crime
1 Borborygmos Enraged
1 Unburial Rites
In—
4 Golgari Grave-Troll
One issue I had with Woo's list is that there was a lot of stuff to do once you got stuff in your graveyard but not enough ways to put stuff in there. The full set of Raven's Crime felt redundant, since you only need one copy in the graveyard to trigger multiple instances of retrace. The multiple copies of Unburial Rites also felt a bit unwieldy due to the mana cost of playing them or flashing them back. Lastly, Borborygmos is a card you only want to Rites into play as casting it for eight is a  bit of a stretch. With Troll, you have another dredger alongside Stinkweek Imp;  you have more four ways of filling the graveyard quickly, four more cards to discard to Liliana, Faithless Looting, and Smallpox.
Dredgevine Update
Out—
1 Life from the Loam
1 Golgari Thug
3 Stinkweed Imp
2 Marsh Flats
In—
1 Grisly Salvage
4 Golgari Grave-Troll
2 Bloodstained Mire
This is a potential update to B4nn3D21's list on MTGO from April of last year. I have to say, while this deck certainly benefits from Grave-Troll's dredge six, I'm not sure if it's better than Stinkweed Imp here. While Chapin's Dredge list had sixteen one-drops to trigger Vengevine, this list has eight. I think there's a good chance you might need to occasionally cast Stinkweed Imp as part of the two creature cost for Vengevine. With Golgari Grave-Troll costing five, I don't see many occasions where you'll have the mana available to cast Grave-Troll and another creature. Regardless, I added a third Grisly Salvage to help put those Grave-Trolls in the bin and swapped out Marsh Flats with Bloodstained Mire since it can fetch Stomping Ground.
These sans-sideboard lists are obviously untested but should provide some kind of starting point for Golgari Grave-Troll decks in Modern. I'm excited to play with Golgari Grave-Troll, though, as I said earlier, I'm not holding my breath thinking it will be in a top eight list at the pro tour. Graveyard strategies certainly get better with the addition of Big Daddy Dredge but perhaps still lack the raw power of other dedicated combo decks in the format.
Anyone have other thoughts on Golgari Grave-Troll or lists they are working on? Feel free to post them in the comment section.
At age 15, while standing in a record store with his high school bandmates, Shawn Massak made the uncool decision to spend the last of his money on a 7th edition starter deck (the one with foil Thorn Elemental). Since that fateful day 11 years ago, Shawn has decorated rooms of his apartment with MTG posters, cosplayed as Jace, the Mindsculptor, and competes with LSV for the record of most islands played (lifetime). When he's not playing Magic, Shawn works as a job coach for people with disabilities and plays guitar in an indie-pop band.