It's beginning to look a lot like Christmas. Everywhere you look people are talking about how Walmart is going to be open on Thanksgiving, or how the holiday decorations are going up a month too early. We here at Hipsters of the Coast understand your frustration but also can't resist the tide. So without further ado, let's kick off the holiday season with our annual shopping guide for all the Planeswalkers in your life.
2014 Magic Gift Guide
Boxed Sets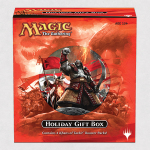 It was announced back in September so you may have forgotten about this year's Holiday Gift Box. This is a solid gift choice for all of the planeswalkers in your life. Included in this set are booster packs, basic lands, plastic dividers, a sticker sheet, a promotional version of Sultai Charm, and of course, the collection box itself. You can't go wrong with this gift.
If you're looking for something a little more specialized you'll want to check out a few different options. If you're looking for a casual out-of-the-box product, then get your hands on Duel Decks: Speed vs. Cunning. If your gift recipient enjoys the challenge of building their own decks, then you'll want to get them the latest edition of the Deck Builder's Toolkit. Last but not least, if they enjoy Commander, pick them up one or more of the latest pre-constructed Commander decks.
Supplies

One of the most indispensable tools for a tournament-attending planeswalker is their supplies. This includes playmats, sleeves, tokens, dice, and the like. Next time you get a chance find out what their favorite supplier is and then help them stock up. Some of the most common brands are Dragon Shield, Ultra Pro, and KMC.
If you're looking for something with a more unique touch this year, then take a look at Inked Playmats. They make custom-designed sleeves and playmats and their work is top-notch. Just don't get anything offensive or your planeswalker may find themselves leaving tournaments early.
Gift Cards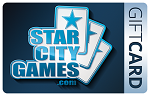 Sometimes it's difficult to know exactly what to get for the planeswalker in your life. When that happens I highly recommend getting them a gift card. The most comprehensive site, full of hard-to-find foreign cards, foil cards, and other rarities, is Star City Games. It's also one of the only sites that offers gift cards.
If you'd rather support your Local Store, then I highly recommend checking out Wizards' store locator to find a store near you, if you aren't already familiar with one.
Collectibles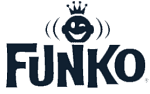 Last but not least, be sure to check out the full range of the Funko Magic collection. This is a new line of figures that came out this year which features your planeswalkers favorite planeswalkers in all their glory. I personally have three of these on my desk and would be happy to try to make room for the other nine in the collection.
If you're buying me a holiday gift this year that was a hint. I currently have Ajani, Chandra, and Garruk. Please coordinate buying me the other nine. Or, at least Nicol Bolas.
Pro Tour Update
Top 25 Rankings
The team tournament in Nashville last weekend had an impact on the top rankings, especially helping (13) Jacob Wilson, (15) Tom Martell, and (17) Sam Black make big gains. Also, (25) Andrew Cuneo rejoined the rankings, knocking out Christian Calcano. The top five spots remain locked in, but with a huge tournament coming up this weekend in New Jersey (see below) we could see more changes coming up in two weeks.
The Quick Hits
Well, it was many, many weeks ago that Abzan Ascendancy was a wallpaper and now we have Jeskai Ascendancy graving our desktops. If you're a fan of Kung Fu Panda then this is the wallpaper for you. It's got pretty much everything you could ask for in a movie parody. As far as Magic art goes, it's also not too shabby.
Grade: B

The Week Ahead
Unless you've been living under a rock for the past few weeks, you should be well aware that Grand Prix New Jersey is coming up this weekend. This is shaping up to be the biggest tournament of the season with almost 2,000 players pre-registered, an impressive number for a Legacy tournament. Anyone who is anyone will be making an appearance in beautiful… Edison, New Jersey? Alright so it isn't exactly a tourist destination but it's a pretty central location in the northeast region which means it will be easy to get to. It's also within easy travel distance of Philadelphia and New York.
The guests of honor include John Avon, Zoltan Boros, rk Post, Jeff Menges, Christopher Rush, Zack Stella, and Matt Stewart. If you're not already planning to attend make sure to check out the coverage, but I strongly recommend trying to make your way to New Jersey.
If Legacy's not your thing, check out Grand Prix Madrid which will feature the Modern format and likely a few European pros. There will be streaming coverage of GP Madrid so you'll have plenty of coverage to choose from.
What We Learned is a weekly feature here at Hipsters of the Coast written by former amateur Magic Player Rich Stein, who came really close to making day two of a Grand Prix on several occasions. Each week we will take a look at the past seven days of major events, big news items, and community happenings so that you can keep up-to-date on all the latest and greatest Magic: the Gathering community news.