A week and a half ago, we saw hundreds of players descend upon Philadelphia to compete in what has become an annual tradition, and one of the most high-profile Legacy tournaments of the year, the Legacy Champs at Eternal Weekend. In the days leading up to the tournament, I had my heart set on a super spicy list that Carsten Kotter had posted, several days earlier, on Star City Games. Look at this thing, it's beautiful:
I Ain't Sayin' She's A Gold Digger
My contributions were getting the list down to 60 cards (cutting the Fire//Ice seemed like the most reasonable way to go about that task) and a few tweaks on the sideboard. I wanted another piece of graveyard hate, so I shaved the Explosives for a Relic of Progenitus, which I thought might also do some good work at slowing down opposing delve decks. A player from my local store would later tell me that he chose Tormod's Crypt as his added piece of graveyard hate, due to the ability to recur it with Ruins, and I don't disagree.
In any case, as the title and featured image might lead you to believe, I did not play the above list. (for the record, after further testing, I think that it needs more work and probably isn't a great call for the GP; but it does slaughter Miracles, if you're into that.) There was a perfect storm of three factors that led to me calling an audible at the last second (almost literally speaking). First, while walking from breakfast at the famed Reading Terminal Market to the tournament site, I came to the realization that the Pennsylvania Convention Center is actually really freaking huge and spans multiple buildings, and that we were to be located at the furthest possible point from Reading. Then, there were some issues that caused the player meeting to start over two hours later than it was supposed to. Finally, due to record-breaking attendance, we would be playing TEN rounds of swiss. TEN ROUNDS! That's a lot! For the next year, I only need to play seven rounds in the first day of any Grand Prix, just to give you a little perspective. The combination of these factors, along with the fact that I had to wake up at 4am to catch a 5:30am bus to make it to the event on time, caused me to question whether I would burn out by playing all of my matches to time and not having time to get food. While I've been capable of putting up strong results in the past, while playing in a less than ideal physical and/or mental state, it's typically been with a list with which I have a greater familiarity (i.e. Miracles).
I turned in my decklist and just had a bad feeling about it, due to the various suboptimal conditions that I felt might cause me to crash. That's right, I turned in my decklist. Then, I pulled out another list, went to the judge table, and told them that I turned in the wrong list, and handed them this (that's what I meant by literally the last second):
Sneak and Show
That's right, a combo deck! I've dabbled in Omnitell and Reanimator in the past, and I'll occasionally stream some High Tide, but by and large, I've mostly played "fair decks" (some people argue that Miracles is not fair, but I consider it to be one). I took the stock lists that were running a pair of Jaces and cut my favorite Planeswalker for two Digs, instead. I figured that seeing seven cards and keeping two is a pretty good way to find one or both pieces of my two-card combo, with eight of each piece, or a combo-piece and a piece of protection. I didn't have a whole lot of experience with the archetype, having only played it the previous two weeks at my local store's Monday Night Legacy, but a pair of 3-1 finishes coupled with the fact that the new breed of Delver decks was skimping on disruption had me feeling pretty good about jamming Flying Spaghetti Monsters down my opponents' throats. I also figured that win-or-lose, I'd have plenty of time between rounds to feast on the glorious roast pork sandwich at DiNic's. Spoiler: the line was so long, that even with me finishing some rounds within 15 minutes. My misplay was trying to go during peak lunch hours, as my roommate had little trouble getting his pork on around 2 or 3 PM. Duly noted for the next time I'm slinging spells in Philly. I did have plenty of time to hit the bar in between rounds, which I found is good for when you're jamming a broken combo that doesn't have a terribly complex execution, as it will give you that extra bit of liquid courage to just go for it, if you're the type that can be hesitant or wants to wait for things to be perfect. Sometimes you don't need perfect. But that bit I said about complex execution—don't drink between rounds if you're going to play something like TES or Doomsday.
I'm not going to do a formal round-by-round report, partially because I don't remember all of the details on account of having more free time to kill between rounds than the amount of time I actually spent playing Magic (wooo combo!), but here's the quick breakdown.
Round 1: Lose 1-2 to GB Pox—thank god for byes in NJ
Round 2: Win 2-1 over Death and Taxes—this is supposed to be as close to an autoloss as it gets, right??
Round 3: Win 2-0 over ???—some of these quick 2-0 wins weren't super memorable, as they often play out the same way
Round 4: Win 2-0 over ???—see above
Round 5: Lose 1-2 to UR Delver—see above (I only remember the deck, because I remember my losses)
Round 6: Win 2-1 over Death and Taxes—somehow won the unwinnable matchup twice in one day… over my roommate, no less. The fact that he drew ZERO copies of Karakas helped.
Round 7: Win 2-0 over Shardless Sultai—his early Thoughtseizes weren't enough to stop me from quickly steamrolling him
Round 8: Win 2-1 over Jeskai Delver—after dropping game one, Griselbrand's lifelink led the comeback from one life in game two!
Round 9: Loss 1-2 to UR Delver—he got me in the third game off the explosiveness of double Swiftspear.
Round 10: Win 2-1 over UR Delver—I think I would've been on serious tilt if I went 0-3 against the deck that I expected to see a ton of and believed I had a good matchup against
Just two short days after my top 64 (decent for a deck that I don't have much practice with, but it's certainly not as impressive as last year's top 16), I took the deck to another strong finish at Monday Night Legacy, going 3-0-1, and having far more time than I'm used to between rounds to get a beer. The draw was a split in the last round because I was tired and wanted to go home, but I probably would've gone 4-0, since it was the bye that goes by the name of Burn—oh wait, jk! I ended up in the exact same position the following week, but told my Burn opponent that I was up for playing it out. I lost because I got a little bit too conservative and thought that lifelink would be safer than annihilator 6 when I had the choice of which monster I wanted to Show. As it turns out, lifelink doesn't do anything when they Show in Sulfuric Vortex. Lesson learned.
My Two Cents On Containment Priest
After all this recent success with the deck, posting an insane record of 19-6-1 over the course of Eternal Weekend and four weeks of Monday Night Legacy, you might think that I'm going to run it back at Grand Prix New Jersey. Then this gal got spoiled.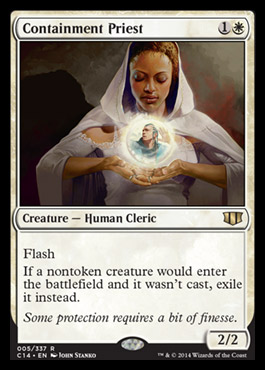 I wouldn't say the sky is falling for fans of Sneak and Show or Reanimator, but this lady is quite the nuisance for anyone hoping to win via the old cheat-a-fatty-into-play plan. Some are shrugging her off as just another Meddling Mage. Except she has flash. And she shuts off multiple combo pieces, rather than one. And she dodges REB/Pyroblast. Ok, ok, she does have the minor downside of not pitching to Force, but that aside, she has me ever-so-slightly considering switching out a 'clasm or two for Volcanic Fallout or Polymorphist's Jest going back to Miracles and running her in my sideboard in place of Rest In Peace. Yeah, did you really think I was putting my baby away for that long? I only have to play seven rounds on day one of the Grand Prix, and the two byes mean that I probably won't have to worry about seeing weird/fringe decks in the early part of the tournament.
I'm not 100% locked into Miracles, but I'm leaning that way, and interestingly enough, Containment Priest helps with a lot of the matchups where we want RIP, and then some. Against Dredge, it is basically a Grafdigger's Cage with legs; it is slightly worse than RIP, in that they can still hardcast their creatures, and then get bridge triggers via Cabal Therapy, but slightly better in that they typically board Nature's Claim, which will not hit our little priest. Against Reanimator, it might actually be better, in that it also shuts off their Show and Tell plan. She's ALL upside against Sneak and Show, Elves, 12-Post, and even Death and Taxes (vial), as we never bring in RIP for these matchups, anyways. She's a little worse in the Storm matchups, as she does not shut off Past in Flames, but I don't think it's a huge deal. She is also slightly worse in Tarmogoyf matchups, but we're seeing a bit of a downtick in those, and 'goyf's old pal, 'goose, has all but disappeared. The matchup where I think she is MUCH worse than RIP is lands, but I think it might be worth exploring a split. A 1/1 split between RIP and Priest actually works perfectly for the sideboard against ANT in my configuration of Miracles, since I never bring in more than one RIP, anyways. We'll see, though.. the unfortunate thing about the timing of this year's Commander release is that it allows very little testing time before the Grand Prix.
That's it for this week. Next week, I'll do a short-term metagame analysis in the post-Cruise format. Our sample size will be relatively small, but I think it's worth throwing out most of the old data, since the format has completely been turned on its head. If I have time, I'll also try to do an update on the Legacy "cheat sheet" that I developed before GP DC Chantilly.