With Pro Tour Magic 2015 in the books, it's now time to open a new season of Pro Tour competition. Several key announcements made in the past few weeks have significantly changed the roads which players can take to qualify for the Pro Tour. Today we're going to take a look at each path to the Pro Tour in detail, and see what it really takes to play on Magic's biggest stage.
Pro Tour Qualifiers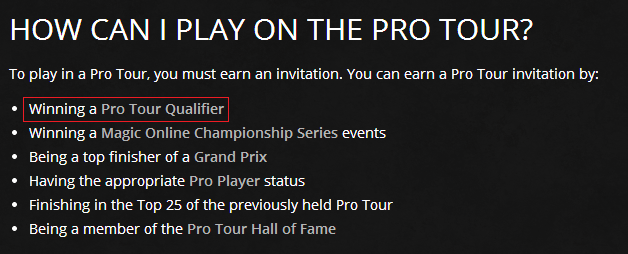 A Pro Tour Qualifier is the mark of the amateur tournament grinder. It is generally an enormous event, featuring 100~400 players, all competing for one single top prize: an invitation to the Pro Tour. Sometimes running for 9 or even 10 rounds of swiss, with a cut to the top 8, these events are widely regarded as an extraordinarily painful experience. Regardless, players enjoy them immensely. Every season features PTQ events across the globe and the grinders plan out their travel schedules and hit the road. The goal is to play in as many events as possible, hoping to run hot long enough at one of them to bring home the big prize.
These events as we know them are going away early next year.
Until the end of February you'll still be able to grind the old-style of PTQ events. The next season of these tournaments begins in September, runs for three months, and feeds Pro Tour "Dewey" in February. Then, in December, things get weird. Two seasons will run simultaneously. First, the classic-style season of PTQ events described above will run through February and feed Pro Tour "Hewey" in April. Meanwhile, a whole new system of PTQ events will begin.
Starting in December the PTQ system going forwards will have two tiers. The first tier is a local qualifier tournament. Once each season (a three-month period) every advanced game store in the Wizards Play Network can run a PTQ Qualifier (or PTQQ) in whatever format they like. These will be large tournaments at your local stores. The store will set the format and they'll be able to put a cap on attendance, offer pre-registration, and so on and so forth. Each of these events will award a single invitation to one of 31 Regional PTQ tournaments (or RPTQ).
The RPTQ events will all happen on the same weekend (see my last article for speculation on the dates) a few weeks after their respective PTQQ season, and they will award invitations to the Pro Tour. For events with 128 players or less, four invitations will be given out to the top four finishers. For events with more than 128 players, eight invitations will be awarded to the top eight finishers. These tournaments will be awarded to hand-selected advanced plus WPN stores which can accommodate the volume.
For most amateur Magic players, this will be the best way to qualify for the Pro Tour. Prove your skill on the local battlegrounds and then battle the rest of the regional champions for a shot at an invitation.
If you can't get to the PTQQ or RPTQ events in your area, then you can rest easy knowing that a similar system is also coming to Magic Online. From Wednesday through Saturday you can play preliminary events which qualify you for a final event on either Saturday or Sunday. Each of the Saturday/Sunday events awards an invitation to the Pro Tour. There's plenty more information in that link, so if you play Magic Online check it out.
Magic Online Championship Series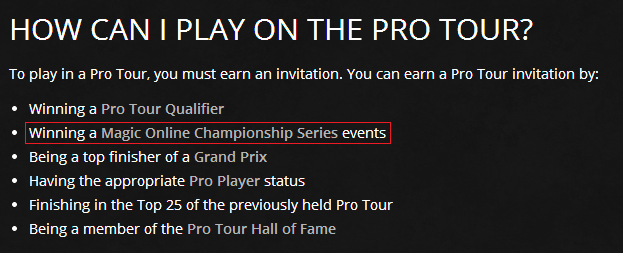 If you're able and willing to play Magic the Gathering Online then you can qualify for the Pro Tour through the Magic Online Championship Series. I don't think it's a stretch to say that this is the most difficult way for amateurs (no previous pro points) to qualify for the Pro Tour. These tournaments were actually absent for some time, but have recently returned. If you though that the new PTQ system had a lot of tiers, you haven't seen anything.
In short, you need to win a ton of tournaments on MTGO, or spike one of two last-chance qualifiers with 1,024 players each. Then, you get to play in a 16-player event that sends the winner to the World Championship (see below). This is a lot of work and requires a lot of luck (mostly due to MTGO's random-number generator). However, for people who don't have easy access to PTQ or Grand Prix tournaments, this is a great option.
Grand Prix Tournaments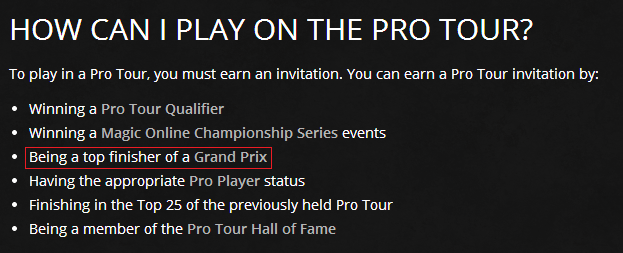 Finishing strong in a Grand Prix tournament will qualify you for a specific Pro Tour event. Each "Grand Prix Season" is tied to the Pro Tour that it feeds. The current season ends on August 24th and feeds Pro Tour Khans of Tarkir. The next season, which is the final season in 2014 will start on August 25th and run until December 7th and it feeds the February Pro Tour event. The 2015 seasons begin on December 8th. Their schedules were announced at Pro Tour Magic 2015.
So now you know how many events there are, and when they're taking place. But how do you actually qualify for the Pro Tour through the Grand Prix circuit. A few weeks ago an announcement was made about this very topic. First off, for individual Grand Prix tournaments, the top eight competitors will receive invitations and airfare to the Pro Tour event fed by that season's GP events. For team Grand Prix tournaments this applies only to the top four teams.  These changes took effect in time for the tournaments this weekend in Portland and Utrecht, meaning the top eight finishers in Utrecht and the top four teams in Portland will all be invited to Pro Tour Khans of Tarkir.
To address the issues of growing attendance at these public events, this invitation policy was actually expanded upon. All individual tournaments will be capped at 15 rounds of swiss (9 on day one and 6 on day two) from which all players with 39 match points (13-2-0 or 12-0-3) who do not qualify for the top 8 will receive an invitation to the Pro Tour as well. Meanwhile, team tournaments will be capped at 14 rounds of swiss (9 on day one and 5 on day two) from which all teams with 36 match points (12-2-0 or 11-0-3) who do not qualify for the top 4 will receive an invitation to the Pro Tour.

To improve your chances of getting to the top of a Grand Prix you'll want to have byes in the event. For the purpose of this discussion there are two ways to achieve this. First, you can compete in Grand Prix Trial events. These are held globally by your LGS and they are also held at Grand Prix events on the day before the main event (normally Friday). You can learn more about these events here. The other way to obtain byes is by meeting certain thresholds of Planeswalker Points during the course of the year (beginning in June). For the rest of the 2014 seasons (through November 30th) you need 400 seasonal points for one bye and 750 for two byes. Starting with the 2015 season (in December) you need 1300 annual points for one bye and 2250 for two byes (these began accruing on June 2nd).
Having two byes is incredibly helpful if you want to finish at the top of a Grand Prix, but not necessary. You'll need to win seven of nine rounds on the first day of competition, and then you need to finish with no more than two losses at the end of 15 rounds to earn that invitation. It's a steep uphill battle, but it has a lot of other rewards including cash prizes and pro points. My advice is to always play in Grand Prix Trials for events you think you may be attending. You don't need to grind the Grand Prix tournaments themselves, but you should try to attend the ones that are close to you geographically. At the very least, these events award a ton of Planeswalker Points which will help you earn byes for future events.
The Gravy Train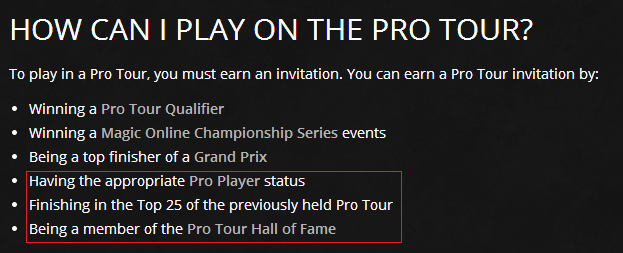 The Pro Players club is a three-tiered benefit system for players who perform well in high-level events. You can earn these points in the following ways:
Finish in the top 8 or with at least 33 match points at an individual Grand Prix (Award between 1 and 8 points)
Finish in the top 4 or with at least 30 match points at a team Grand Prix (Award between 1 and 6 points)
Participate in a Pro Tour event (Award between 3 and 30 points)
Participate in the World Magic Cup (Award between 2 and 8 points)
Each match win in the Magic World Championship (1 point per win in Swiss, 2 per win in the top 4)
Once you've racked up 20 of these points you become a Silver member of the Pro Players club. 36 points gets you a Gold membership and 48 points secures Platinum membership. Each level has plenty of amazing perks. Just achieving Silver level automatically qualifies you for the next Pro Tour immediately after you qualify. Achieving Gold gets you invited to every Pro Tour for the rest of that pro season and the next. The rest of the perks, such as byes at Grand Prix events and World Magic Cup Qualifiers also help you keep yourself invited to Pro Tour tournaments.
The top 25 finishers of each Pro Tour event also get invited to the next Pro Tour event on the schedule. This is a difficult way to sustain your status as a Pro Player, but rewards a strong finish at the most challenging of tournaments. This should be considered a bonus for a strong finish. You have to get to the Pro Tour first in order to qualify in this manner.
Finally, there's the Pro Tour Hall of Fame. Members get invited to every Pro Tour for the rest of their life. If you've never played in a Pro Tour then you won't be eligible for this for at least another 10 years. Don't get your hopes up.
World Magic Cup

The World Magic Cup is a slightly different tournament but still in the vein of the Pro Tour. Qualifying for it means access to pro points and possibly qualifying for more Pro Tour events. Getting into the WMC means qualifying through one of two means. The first is the very difficult. Finish the pro season with the most pro points in your country. For some countries this only means a handful of points. For some it means well over 20. Depending on where you live, it may make more sense for you to try to achieve this goal and become your national champion. For others, there is another path.
The World Magic Cup Qualifiers are three tournaments held in each participating nation on three weekends after the final Pro Tour of the season. These events are invite-only to residents of a nation who meet a certain threshold of Planeswalker Points. The threshold is based on your country and varies from 100 for smaller nations like Panama and Iceland all the way up to 500 for larger nations like Japan and the United States. Invites are also given to players from each nation who are current pro club members or hall of fame members.
Each player can play in one, two, or all three of the events they are qualified for so long as they are not already qualified for the WMC itself. The winners of each of the three WMCQ events, along with the aforementioned national champion, will make up the national team that competes at the WMC. Competing at the WMC awards a cash prize and a pro point award as well. Also, members of the top 8 finishing teams are invited to the first Pro Tour of the following year.
This is a very challenging side-path to the Pro Tour which requires you to be one of the best of the best in your home nation, and then beat the best of the best from each other nation. It's no easy task, but it is nonetheless one of the many paths to the Pro Tour.
Pro Tour Update
Grand Prix Utrecht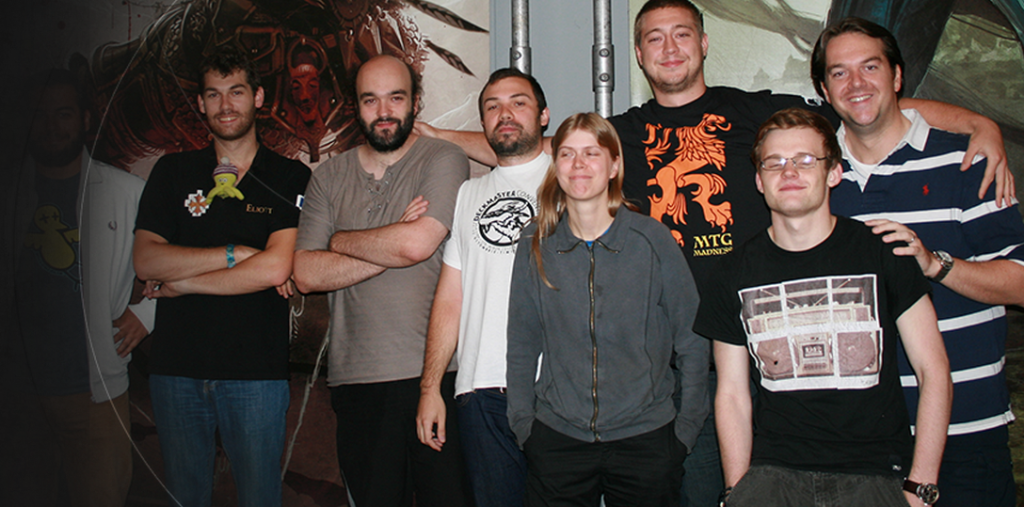 With the majority of pro players still in Portland after the Pro Tour, the Standard environment in Utrecht this weekend looked much more like the format before Magic 2015. The top 8 featured three mono-blue devotion decks, two of which met for a mirror match in the finals. When the dust settled, Austrian student Oliver Polak-Rottmann walked away with the title of GP Champion. Two of the top pros did return home to Europe after the Pro Tour and participated in this event. In fact, at the end of the first day, (6) Stanislav Cifka was in 7th place overall while (23) Patrick Dickmann was in 56th overall. Day two was a bit of a roller coaster for both players. They eventually finished in 38th and 39th place overall with 33 match points each, good enough for a single pro point in the new system.
Grand Prix Portland
Meanwhile, Grand Prix Portland was absolutely stacked with pro players looking to wind down after the rigors of Pro Tour Magic 2015 last weekend. Making it to the final four were two teams sponsored by Channel Fireball. The first consisted of Eric Froehlich, Paul Cheon, and Luis Scott-Vargas. The second featured Owen Turtenwald, Reid Duke, and William Jensen. The two teams were destined to face off in the opening round of the final four and it was the Pantheon team of Turtenwald, Duke, and Jensen who would advance to the finals. Once there, they dispatched of Eric Severson, Benjamin Weitz, and Josiah Skallerup, a group of friends who have previously had very little pro-level success. Turtenwald and Jensen had just finished in the top 8 of a Pro Tour and decided this time they wanted to go home with a victory.
Just missing the cut for the top four were a number of impressive teams including the Japanese powerhouse squad of Yuuya Watanabe, Tomoharu Saito, and Kenji Tsumura who finished in 10th place with 33 points. David Ochoa, Josh Utter-Leyton, and Tom Martell finished in 17th place overall. In the end though, no team had a more impressive finish than the 46th place Kaech family, pictured above, featuring a father/son/son combo. After defeating Ari Lax, Craig Wescoe, and (18) Alexander Hayne to move to 4-0, they managed to slide into day two and put up a very impressive 24 point finish (8-6 overall).
Congrats to Team Pantheon for winning Grand Prix Portland.
As expected, the Pro Tour really shook up the standings. (3) Reid Duke's reign as the top-ranked player in the world came to an end with both (1) Jeremy Dezani and (2) Owen Turtenwald surpassing him. (4) William Jensen made the biggest jump, climbing 16 places off the back of his strong performance in Portland. Meanwhile, Nam Sung Wook and Pierre Dagen both fell off the rankings entirely. This made space for newcomers (5) Ivan Floch, and (13) Yuuki Ichikawa. Finally, the Top 25 temporarily becomes a Top 27 with five players tied for 23rd place with exactly 46 points. They include the previously unranked Patrick Dickmann and Martin Juza along with Shahar Shenhar, Raphael Levy, and Eric Froehlich.
The Quick Hits
What's up with those eyes? No seriously, they're creeping me out. Is there a big stick wedged up Ob Nixilis's nether regions? Is he trying to take an exceptionally painful poop and this is his Matt Jones-style poop-selfie? It's very difficult to determine what the former planeswalker is up to in this image, but it doesn't seem enjoyable. I can't look at those eyes for much longer.
Grade: C

The Week Ahead
Next weekend is the first round of the World Magic Cup Qualifiers. We'll find out who the first team members for each of the national teams will be. For some reason there's no coverage of these events so you'll have to keep your ears to social media to find out what's going on. We'll have a full report in a few weeks once all the results are in.
What We Learned is a weekly feature here at Hipsters of the Coast written by former amateur Magic Player Rich Stein, who came really close to making day two of a Grand Prix on several occasions. Each week we will take a look at the past seven days of major events, big news items, and community happenings so that you can keep up-to-date on all the latest and greatest Magic: the Gathering community news.